With global warming impacting retail cycle, isn't it time to totally do away with spring and fall?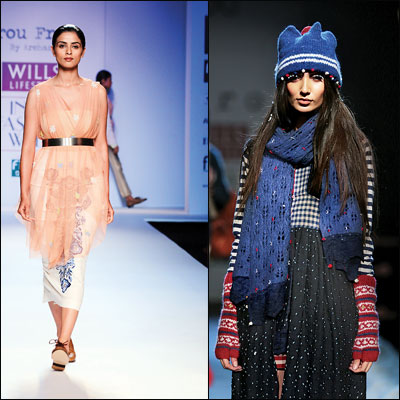 At the recently concluded WIFW, designer Aneeth Arora of Pero was perhaps the only designer whose collection looked actually fall winter. Designer Archana Rao of Frou Frou chose to showcase a spring summer line while Anupama Dayal showed totally bridal pieces. Isn't it high time for a reality check? With global warming greatly impacting retail sales, isn't it time to have clothes which are trans-seasonal and wearable all time of the year. Considering there is no winter in South of India, wasn't it a foolish decision to ape the West by starting Autumn/Winter seasons in India? While the FDCI shows Autumn Winter, LFW shows resort at the same time.
Today we need a wardrobe which is not dictated by seasons but one that easily transcends seasons. Let's see what the industry experts have to say…
Wendell Rodricks, Designer
This had to come about at some stage. With global fashion, everyone has realised, since the 80s that there are warm climes in many parts of the new wealthy world while a European winter is on. Which is why cruise collections came into play. Later cruise morphed totally into resort. Big designers like Lagerfeld began showing Chanel cruise in Miami, Sydney and Brazil. That trend continues today because there is no way that winter clothes can be sold in the southern hemisphere that have a reverse season versus Europe. And this philosophy is now being applied to India as well.
Dev, Designer Dev R Nil
An evolved fashion conscious environment is all about wearing clothes that are ever lasting and not just a fad. Wearing clothes that are trans-seasonal help in picking a piece and wearing it in many ways than one at various times of the year, for example, a shift dress can be worn in summer just by itself and in winter with smart layering. Also, people are travelling more than ever before going to various weather conditions all around the year; having trans-seasonal pieces in the wardrobe is always a great idea.
Anjana Sharma, COO, Fashion Director, Stylista.com
In India we are taught to always save. How many of us really shop for a fall wardrobe? With smart layering, we can easily dress up for the mild winter we face. When I travel to Europe I layer myself in Pashmina. I think we should stop blindly aping the West and not have fall and spring demarcations. As far as monsoon is concerned, let's be honest - people who actually buy fashion will never get wet since their lifestyle is totally car to carpet. In fact, more than rain wear we haven't tapped into leather accessories area, which can be our great strength.
Tina Tahiliani, Director, Ensemble
Mumbai doesn't really have clearly defined seasons; the weather is almost constant throughout the year. On the other hand, in Delhi there is a starker difference in the seasons. Therefore in Delhi you see some differences between winter and summer fashion. The diverse climatic conditions in our country pose a unique challenge in trend forecasting. In Mumbai, the trends can be carried forward from summer into winter, similar fabrics and colours could be worn during both seasons but in places like Delhi you would be more careful. For example, we would not sell velvet after the winter.
Anita Dongre, Designer
Fashion is becoming trans-seasonal catering to the wants of a global consumer who wants fashion outside of the typical seasonal stuff , they seek year round styles since the seasons have become erratic, more so in India, where we typically do not have very fierce summers or snowy winters barring a few exceptions. In the Indian scenario, we don't necessarily create a winter specific collection- our interpretation of winter wear comes through bold dark colors, slightly heavier fabrics like raw silks, tussars etc but the change is not so dramatic or drastic, you wouldn't see wool jackets or trench coats.