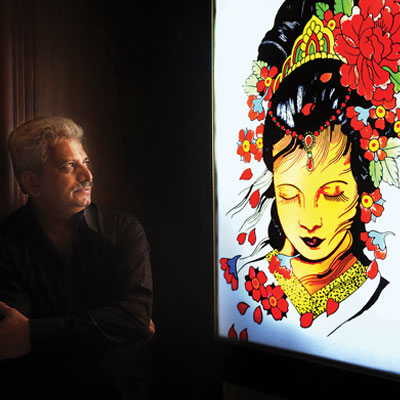 From apprentice steward to becoming the first employee to display his paintings in the legendary Taj Mahal Palace hotel, it has been a three-decade long journey of honing craft and career for Newton Thomas D'Souza.
In the 33 years since he joined the Taj, the food and beverages service manager has risen up the ranks and also carved a name for himself as an artist who can bring the most achingly beautiful images alive on sheets of glass. The multi-talented Newton is a sculptor, dancer and a fire juggler too.
His exhibition of 36 stained glass paintings, marking the 175th birth anniversary of Jamsetji Tata, is now up at the 110-year-old iconic structure. Fifty per cent of the proceeds of the exhibition — inaugurated by Ratan Tata in the presence of Taj Group chairman Cyrus Mistry — will be donated to the Tata Cancer Hospital to benefit children afflicted with cancer.
A true moment of achievement for the 52-year-old son of an electrician who began with virtually nothing. "We didn't have money while growing up. My father worked as an electrician at Bombay Dyeing Mills and earned around Rs25 when he started working. Although he got paid a little more by the time he was married, it wasn't much when there were nine children to feed," Newton says in a matter-of-fact tone.
But this wasn't to deter Newton, whose only qualification was an SSC certification. When he was 18, he saw an advertisement in a local newspaper about a vacancy at the Taj. He immediately applied and joined as an apprentice steward on his 19th birthday.
"I didn't even know what it meant, but I was happy to have got the job," he says.
Back in the 1980s, he adds, people considered the Taj a stepping stone to a job in the Gulf and several employees would quit within a few months of joining. When Newton joined, his interviewer asked him whether he had plans of quitting. "I told him that I hadn't taken up the job with the intention of leaving. The thought hadn't even occurred to me," says Newton.
And thus began his journey at the Taj. Soon after joining, he was posted at the cake shop in the hotel where he realised he enjoyed wrapping boxes in unusual ways. "People noticed and appreciated the creativity involved in the gift wrapping," he says.
Soon, he had progressed to making thermocol decorations for events being held at the hotel and had also started dabbling in candle-making. "An ice cream festival was coming up. I borrowed bowls and beautiful tall glasses from the hotel kitchen and made the scoops out of coloured wax. These 'ice creams' were then displayed at the festival," says Newton. He then started making elaborate bar set-ups for banquets at the Taj. When he wasn't working his regular shift, you could find him hunched over a new project in his small one-room house in Dhobi Talao.
How it all began
A visit to the Shrine of Don Bosco's Madonna in Matunga had left an indelible impression on a young Newton. To see sunlight filtering through the 23 stained glass panels with the rich hues of red, yellow and peacock-blue dancing across the interiors of the church was nothing short of divine, Newton says. "That day, I prayed that even if I could paint 10 per cent as well as this artist had, I'd be content."
"Not many artists use stained glass as a medium. This is because it takes a long time to make a glass painting, but only a second to wreck it," adds the self-taught artist who held his first exhibition at the Bajaj Art Gallery in 1996 with the money he got from selling his first two stained glass paintings.
From then on, there was no looking back. A second exhibition at the Jehangir Art Gallery in 2000 featured not just his paintings, but also sculptures.
A man of many talents, Newton is an avid dancer and a master angler who enjoys fishing trips as much as he loves painting. He has also won an award for kite flying from the state government. Two years ago, he decided to try out fire juggling and realised he was good at it. Since then, he has performed at several events. "If you can dream it, you can do it," Newton says simply, when asked how he has managed to excel at so many different things.
Brush with celebrity
Over the years, Newton has met many celebrities, including MF Husain, the late Bal Thackeray and industrialists such as Dhirubhai Ambani. "But one of my most memorable experiences was meeting Mother Teresa and a few of the nuns who worked with her. We had food and coffee ready for them, but they didn't touch any of it. They said they would only share it with the people they serve. It was a beautiful experience."
He remembers in vivid detail the 26/11 terror siege of Mumbai. "My wife Veronica and I were at home when we got a call about the terrorists having entered the Taj. Without a second thought, we ran to Bombay Hospital — where my wife is matron of the main operating theatre — and asked for the victims who had been shot at to be admitted there," Newton says.
For three days, the couple didn't return home, working tirelessly to ensure that they could save as many lives as possible. Their contribution is still remembered. "Some of the chefs from the Taj who were injured in the firing send letters home to my wife every year, saying that if they're alive today, it is only thanks to her," Newton adds proudly.
When the Taj threw its doors open for the first time after the terrorist attack, Newton and Veronica were among the 1,000 guests present at the hotel.
Dwelling on his long association with the Taj, he says old employees were completely loyal to the company but that factor is missing in the newer crop. "The old staffers are not as educated and spoke poor English. But they knew that when a guest arrived, he or she had to be treated like god. This generation doesn't think that way, and work ethics have declined over the years," he says.
Newton imbibes the values instilled in him by his employers to a T. "I am a poor man who rose to what I am today because of the Taj."
Newton believes that his life took a turn for the best, the day he joined the Taj in 1980. "I was born in the Taj, I live with the Taj, and I will die for my Taj," he says. It could be dismissed as maudlin and even old-fashioned by a younger breed of workers, ever impatient to move on. But that is his work ethic, his credo in life.