The artwork at KGAF is proving popular but are people losing out on the social messages in favour of a good photo, asks Anam Rizvi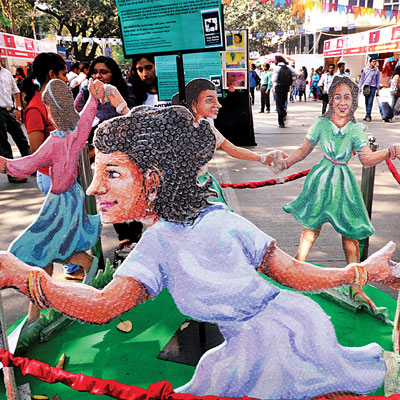 Four cut-out figures of children enveloped in bubble wrap hold hands as they are placed in a circle. People glance at the figures, laugh, joke, pose with them and move on. Volunteers beckon, trying to educate the youngsters about the gravity of protecting children from sexual abuse, a concern the installation represents by showing how a bad touch can break a child just as a single poke can burst the bubble.
Kala Ghoda Arts Festival (KGAF) is a time for Mumbaikars to explore their arty sides and revel in the city's creative gifts. Charities, NGOs, students and professionals use the opportunity to address social causes. With a crowd full of people wanting to have fun, how much of the message is lost in transition?
"Even if an installation has a message, it has to be appealing. It is a piece of art and thus people will pose with it and take pictures. KGAF is after all about life in Mumbai," comments Brinda Miller, festival director at KGAF.
As people pose with the guitars made by Gibson GuitART for Good, one wonders if the message that the group are trying to convey about breast cancer prevention is being lost in the process. "People who are active on Facebook are the ones who take may pictures. We constantly have to tell people not to touch the installations. We explain the concept to them. However, people do come up to us with messages of support. Though some people leave weird message almost 90 per cent of the reviews in our visitor's book are positive," says Lopes. "We are making sure that we are here after college to explain the project to the people," comments Sheth.
Ankur Rajput, says controlling the crowd is difficult for him to manage. "Many people have not seen public art. In their minds, it should make a good picture," confirms Miller.
Though topics as diverse as environment, the journey of life, technology and industrialisation have found voices in the installations, one subject predominates this year's collection — women. Ankur Rajput and Sachin Chaskar have an artwork called Ladka Ya Ladki, which is a cut out of a women's figure made of reflective material. If you pose in front of it, you see a bowl in which goldfish swim in thr space where the womb is supposed to be. This project highlights female foeticide giving out the message that one should not discriminate against the girl child. Fine arts students Saviya Lopes and Shriya Nair have created 'Imbalanced Justice' which features law books and the gender symbol for women in a weighing scale. The scale is tipped in favour of the law depicting how the law is not neutral towards women. Women from Dharavi have made sarees with messages written on them demanding that they be protected from rape. "It is a trend this year," comments Miller about the number of installations addressing issues around women. "In fact one of our workshops this year is a self-defence class."
But, this does not mean that subjects are lacking at the festival. Students and professionals are working to educate people on a variety of causes. "Magic Bus is a part of KGAF for the first time and we are trying to garner support for our cause," says Sophie Bereau, sustainability manager at Magic Bus. "KGAF is a great platform to engage with youngsters and hopefully get volunteers."
Urbino, a project created by four college students, Devansh Chandak, Kevin Chhadva, Khyati Parmar and Jinali Sheth, shows how industrialisation is creeping upon greenery using a domino effect. In their installation, greenery is flowing into the drain. "Our installation also has a green side where people can click pictures.There is so much activity taking place there," says Sheth.
Marisa Lobo, programme officer at Arpan who are responsible for the bubble wrap installation says, "Often people don't understand and we have to explain to them. However, most people do take home the message."
Even if it is just for a good click, the installations at the festival this year are attracting much attention.