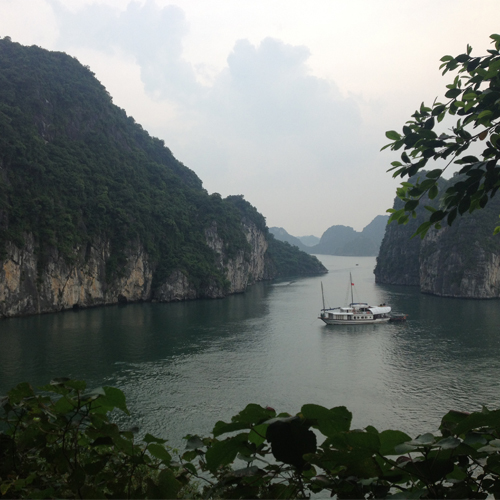 Despite a history most are familiar with, contemporary Vietnam is less chronicled. While my jottings and observations from a six-day trip across Hanoi, Ha Long Bay, and Ho Chi Minh City may not do justice to this narrative, here is an attempt nonetheless.
Hanoi
Hanoi is Vietnam's modern day capital (Ho Chi Minh was the former capital city), and the country's second largest city. The first glimpses of downtown Hanoi resemble parts of Delhi's markets: crowded, open air, with shops haphazardly set beside each other, each selling more or less the same products. The street I stayed on reminded me of Kolkata's Camac Street, with a precarious balance of high-end stores and small roadside stores and joints.
If I had to compare Hanoi to an Indian metropolitan, it would be Kolkata, from its grand Dalhousie Square-like government buildings, to the Victoria-memorial-esque structures that have sprung up in honour of Ho Chi Minh. Much like the war, Ho Chi Minh remains etched in Vietnamese history and its physical manifestation is in the form of several memorials and palaces, much like Mustafa Kemal Ataturk in Turkey.
Popularised as the city of lakes, natural beauty surrounds the otherwise concrete landscape of Hanoi, from West Lake to Hoan Kiem. It is on the banks of these lakes that a lot of the evening action is centred.
One often warns pedestrians to stay cautious of traffic in India, but in Vietnam, road safety takes on a whole new meaning. The inordinate number of scooters on the roads makes for an eternal bike race, which you are caught in the middle of. The trick is to fake an air of confidence and walk calmly, and you will see that the bikers adjust around your path. Somehow, Vietnamese pedestrians and bikers have learnt to co-exist in a chaotic harmony.
Wake up and smell the coffee
Chances are you have heard of Viennese coffee, but not Vietnamese coffee. As an avid coffee drinker, I can safely say Vietnamese coffee is a perfect blend of strong and sweet. While I am generally sceptical of even a trace of sugar in my coffee, Vietnamese coffee defies the principle that sugar drowns out the taste of coffee. Another flavour that Vietnam is famous for is coconut. All its ice creams, vanilla or chocolate, has a trace of coconut in it.
Vietnam is a non-vegetarian eater's paradise. Even the chips are prawn flavoured. I won't completely write off vegetarian food, since the veggie dishes we ordered were delectable, but the variety is definitely limited. These are my top three favourite eats:
Spring Rolls: These are nothing like the spring rolls you would have invariably eaten at Chinese restaurants. True to the artistic nature of the Vietnamese, some restaurants make you delicately wrap the stuffing in an unusually thin sheet of rice paper, similar to the way Peking Duck is served in Chinese restaurants, but with more finesse.
Pho: Vietnam's famous noodle soup is plentiful in Ho Chi Minh City; while there are pho-24 joints across the city, the original and oldest restaurant will ensure a more authentic experience. Here there is a vegetarian option too – the 'brisket' is your safest option if you are not comfortable experimenting with meat.
Korean barbeque: One of Ho Chi Minh City's specialties. Won's Cuisine provides great ambience and serves delicious Korean food. An entire night spent searching for a good Korean restaurant ended with us at a German Tavern, which was the only eatery open past 10.00pm. Despite all the action, restaurants close fairly early in Vietnam.
Ha Long Bay
Ha Long Bay is a pleasant change from the rush of Vietnam's cities. While we missed being able to see beaches, such as An Hoi, which was highly recommended, a day and a half cruising in Ha Long Bay was a sensual delight. It was also the perfect stopover between Hanoi and Ho Chi Minh City.
The water in Ha Long Bay is more green than blue. The beaches may disappoint, especially if you have seen the Caribbean or Mediterranean, but the true claim to fame of Ha Long Bay is its rock formations. The majestic shapes that rise out of the water, and the limestone formations inside these caves are your real life geography and chemistry lesson on stalactites and stalagmites. The changing colours and enchanting shapes are a testament to nature's beauty.
Ha Long Bay's fishing villages on the other hand are a living manmade beauty, and a testament to how adaptive and enterprising the human race can be. Entire communities, whose livelihoods depend on fishing, live in the midst of the sea on floating houseboats along with their families. Their children even attend floating school. A visit to one of these villages, however, will force you to question whether it is really the 'fishing' or the constant influx of tourists that make this model financially viable.
The 'local villagers' who take you on a boat tour are planted by an external agency, something that is visible from their uniforms. From the donation boxes where tourists can contribute to the village's development, to an exhibition that explains its history and evolution, to the oyster farm tour which explains the process of making pearls and unsurprisingly ends in a jewellery store, the 'tourist-attraction' factors plays a significant role in aiding the survival of these clusters.
Ho Chi Minh City
Ho Chi Minh City, or 'Saigon,' has an elegance and charm that distinguishes it from Hanoi. The famous Don Khoi Street is donned with high-end designer stores and smaller posh boutiques, and resembles Boston's Newbury Street. Life in Saigon is more fast-paced, but unlike Hanoi, it is better planned, has more green spaces, and is easier on the eyes. Walking around the city, you will definitely not feel (nor miss) the dust and grime of Hanoi.
Ben Thanh Market reminds me of Istanbul's 'Grand Bazaar'. The chaotic indoor market requires extensive bargaining if you want to buy fake designer accessories, local handicrafts, or souvenirs at a decent price. It is a good one-stop shop for 'all things locally Vietnamese' and Chinese, if you're a fan of fake luxury designer brands.
Saigon's backpacking district, at the intersection of Pham Ngu Lao and De Tham streets, is Vietnam's Paharganj. Filled with endless rows of budget hotels, student hostels and travel agencies, and a dearth of locals, it's one of the more hectic parts of the city, but worth a visit for the adventurous.
My favourite moments in Saigon were spent near 'Hotel Majestic,' which was used by spies and reporters during the Vietnam War, Saigon square and Don Khoi Streets. Some of the no-brainer sightseeing spots are the Cu Chi tunnels, which the Vietnamese soldiers used as hiding spots during the war, the Vietnamese War museum, which wonderfully chronicles the tragic period in the country's history. The Reunification Palace, though a testament to a more joyous event, turned out to be the most disappointing of the three. While the palace itself represents an important historical juncture, the actual tour is a rather repetitive affair involving one diplomatic hall after another.
Like most cities, the locals can tell you a lot about the society and culture of a place. The Vietnamese are courteous and polite. Despite their lack of fluency in English, they make a genuine effort to help tourists. At moments like these, one cannot help but compare how competence in English is so aspirational in Indian society, when in many other countries the locals seem perfectly happy speaking their native languages.
The Vietnamese embody a unique simplicity in their lifestyle – women with the highest of heels and most expensive bags or clothes are perfectly comfortable riding a scooter with the signature facemask that protects them from the pollution. Tiny plastic stools on the footpaths of any given street are also common sight in the evenings, where people meet up for a drink after a busy day of work.
Sipping Vietnamese coffee on my last evening in one of Saigon's many open air sidewalk cafés, with the sound of whizzing scooters in the background, I could not help but admire how the two stories of Vietnam remain so neatly segmented. While its remnants of the past remain buried underground in the Cu-Chi tunnels and locked behind the glass walls of the War museum, its streets and people exude as much beauty and joy as the pain and brutality that the past symbolizes. Perhaps, time does truly heal, or it is easier to bury the past in underground tunnels – such is the story of contemporary Vietnam.