Victory over Vitiligo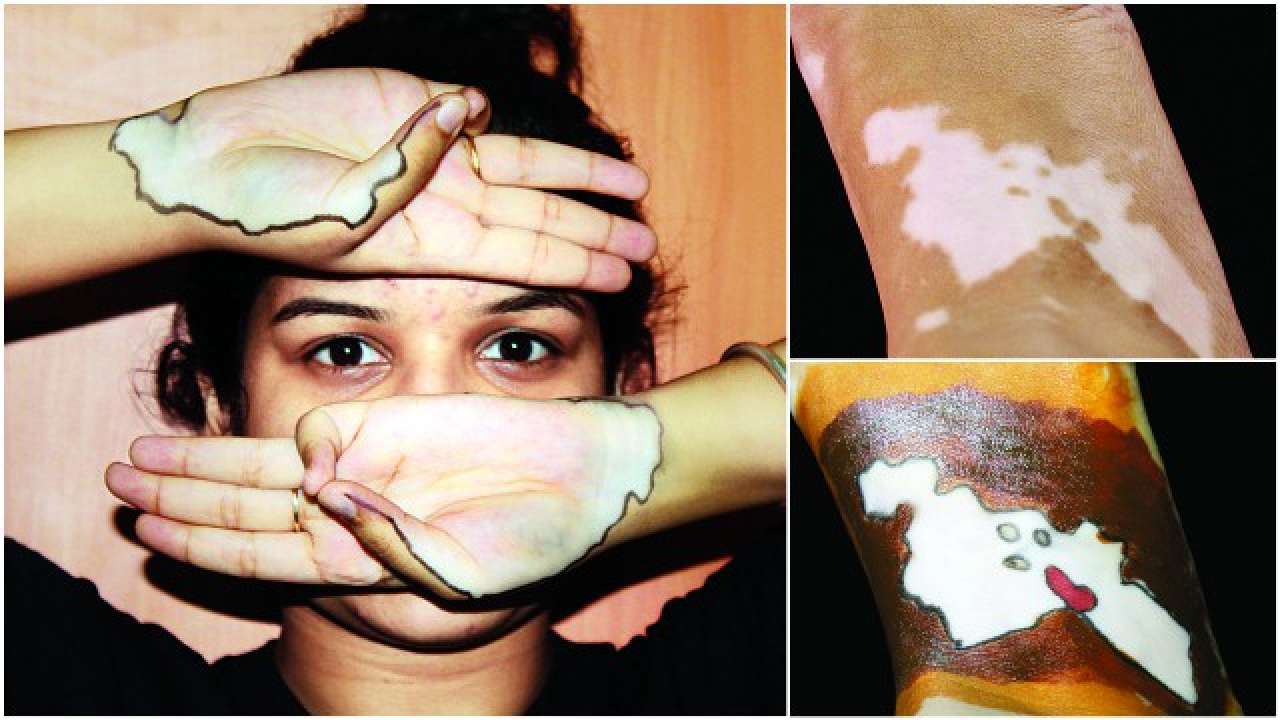 Kartiki Bhatnagar first began outlining her white patches (Left) and later saw in them different shapes to doodled on like a ghost with a heart (Right: before and after)
Written By
Updated: Jun 5, 2018, 12:10 PM IST
"Vitiligo spots start out small, like the size of a coin, but grow very quickly, just in a matter of months," says 17-year-old Kartiki Bhatnagar, who is currently pursuing high school at Delhi Public School, Rohini.
At the age of seven, white patches began appearing on her legs, face, hands, feet, thighs and other parts of the body. Much too young then, she didn't understand what her parents were so anxious about. "It didn't inhibit any of my physical or mental functions, so I didn't understand the frequent visits to the doctors and reason for all the havans." But what she did find out soon enough was that "people are scared of what they don't understand." Adults and kids alike would give her looks. Classmates would hesitate in approaching her, began excluding her from conversations and dropped her out of plans. "Months later, when they found the guts to talk to me, they asked whether it was contagious. People really don't know about vitiligo; sometimes relatives would assume I got burnt or would relate it to some other disorder another person they knew had." She herself reached complete clarity about vitiligo only around her pre-teens, curiously querying her parents about it and going through the medical reports. Although many would ask her to cover up her patches by wearing full sleeves and socks, her parents never encouraged to hide. But having lost friends and seeing her parents stressed and sad, she started to blame herself. "Only after thoroughly researching the subject and realising that nothing I had done could have caused it, was I able to let go of the guilt". The school also held a special class to explain to other students that Bhatnagar was normal. As per the National Institute of Health (NIH), the cause of vitiligo is not entirely known, but is believed to be an autoimmune disorder, where your immune system mistakenly attacks some part of your own body. Vitiligo then occurs, when it attacks the melanin pigment. In Bhatnagar's case, it was a consequence of the complete disintegration of her thyroid. Two years ago, Bhatnagar decided enough is enough and quit medication. "With ayurvedic medicines, you have to apply an ointment, then sit out in the sun at a certain time, etc. and homeopathic treatments throw up other problems like weight gain. Due to thyroid and all these treatments, my once silky hair have become wavy and even the texture is nothing like it used to be. It's was a lot of effort for my parents and very expensive. Even after all treatments, it can resurface anytime; vitiligo has no cure. So after eight years, I decided to stop." She only takes care of her food intake. Then just a couple of months ago came the turning point. Shreyas Kishore, a friend from another school, whom she met on and off for a project, said, "I like your dual skin tone. It's very cool".
At first, Bhatnagar thought he was "just being mean like others, making fun of me. But he assured me he was serious and pointed out how the patch on my leg looks the Apple logo. I denied it for a while, but on outlining the patch, I realised it's actually does." Soon Bhatnagar outlined all the patches and likened them to different objects as per the shape -- a crouching man, a snail, a heart... and then while idling around one day, also began painting them. She's posted the before and after (painting) pictures on the her blog called http://embracinglifeblog.com. "One day, without realising, I went for tuitions like that (one leg blue and one arm yellow), looking like a complete freak. Everyone was shocked. But when I told them about how I'd begun doodling on my patches, people started looking at it positively". After that day another kid with vitiligo also came ahead and told her "it's a very cool way of dealing with the disorder" and artist friends of hers are keen to doodle on them too. From feeling ostracised to now being emboldened, she has also started an Instagram thread called #barethemidriff after she was stared at while commuting on the metro ride, for sporting a crop top. "I don't understand that attitude, when a sari reveals far more. I have put up my own pictures and encourage others to post too. I want to desexualise the tummy". "I'm really happy today to have come out of the shadows, not through medicine, but with positivity," Bhatnagar signs off.