Using stamps as his prism, BG Verghese tells the India story in his latest book, giving the macro picture but also the little-known snippets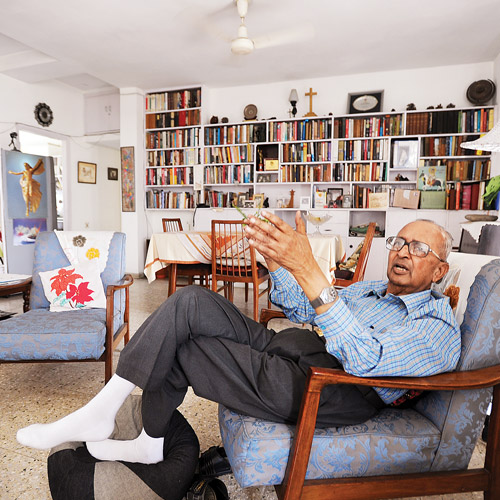 The 1977 general elections, held after two years of Emergency, were a landmark in Indian democracy. BG Verghese, then unemployed after being booted out as editor of Hindustan Times for his opposition to Indira Gandhi's policies, contested that year as the opposition's candidate from Kerala. Here's his account of those days, particularly telling for the many non-politicians in the fray this 2014:
I got word through LK Advani, general secretary of the new Janata Party, that in Kerala, where the combined opposition was led by the CPI(M), the steering council had decided to give three seats to independent candidates, and were offering one to me.
I said, I am no politician; I am an independent person. Advani said don't say yes or no; go to Cochin, meet EMS Namboodiripad, and then decide. So I met EMS who said Mavelikara would be the ideal seat because my hometown Thiruvalla is in that constituency and my family are well-known there. I said I have no party; I have no money. EMS said we too have no money but once you get in the fray, money comes. I said, but I want to get back to journalism. He said this is not an ordinary election — it's a plebiscite between freedom and authoritarian government. Do you think you'll have the freedom to practice journalism as you'd like to if that authoritarian framework won? I said no. He said, you must fight to be a journalist in an independent framework. So that's what I did.
I had never lived in Kerala, so my Malayali was very poor. Everyone understood English and they had someone to assist me. Lakshmi Jain and others raised funds for my campaign. At that time, the ceiling was Rs35,000 for a Parliamentary constituency. In Kerala, the state assembly was going to the polls, so I donated half of what I was allowed — Rs17,000 —to my colleagues.
I polled some 1,80,000 votes and BK Nair, the Congress candidate who was a well-known trade unionist, got some 230,000 votes — he won by a handsome margin. But I polled more votes in my constituency than Indira Gandhi did in hers or Sanjay Gandhi did in his. The emergency had touched the south very little. Because of censorship, there was no news and people didn't know what had happened. In the north, east and west, the Janata Party had swept the polls, but in Kerala, it got zero. I was very pleased. I had lost in terms of votes, but I had won a moral victory.
The day after that, I went to submit my accounts. I had spent less than 17,000; I had used my own car, so there were only the expenses of petrol and some food. One of Parkinson's laws came home to me — electoral expense, like all other expenses, expands with the money available. At the collectorate at Alleppey, they were astonished. It was unheard of — who submits election expenses? That's a tragedy and remains so.