With the sudden wave of all-veg, pan-Asian menus sweeping across Mumbai, it is celebration time for the vegetarian foodie, says Raul Dias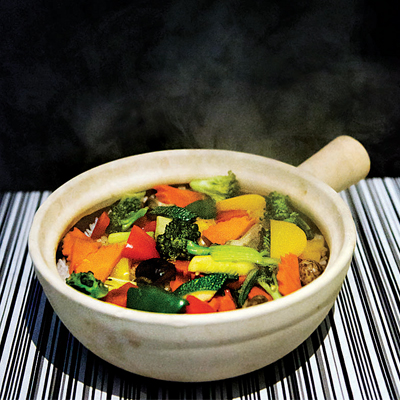 There's not an iota of doubt that Mumbai is a city where trends fluctuate as much as its Sensex. And when it come to food trends, you can bet your last cronut that they almost certainly will be subjected to a 'here today, gone tomorrow' kind of impermanence. Over the last few months, however, there has been one trend that seems to be gaining momentum and making a pivotal place for itself among the food cognoscenti.
Well, we are alluding to the concept of the all-vegetarian pan-Asian restaurant. Eateries basking in their new-found glory as repositories of exotic treats from hitherto 'undiscovered' lands—right from our neighbouring Myanmar to the Philippines!
"But how exotic can pan-Asian vegetarian fare get?" one might ask. Think again, say restaurateurs.
"We are used to believing that vegetarian food is very simple in nature. However, it is actually much more difficult to treat and experiment with. With the dearth of options for great vegetarian food places that are not solely Indian, a pure vegetarian pan-Asian restaurant can prove to be a great asset in any part of the country," believes Arjun Dhinsa, who, along with his mother Sanjog has started Girgaum Chowpatty's brand new Asian Street Kitchen as a tribute to the experimental vegetarian diner.
This meant making sure the Thai cooking staple nam pla (fish sauce) was replaced with a special fermented soy sauce, and poultry in the Peking 'duck' with the all-vegetarian wheat gluten called seitan that resembles meat in both taste and texture. "We also knew that we would cater to some non-vegetarians who would try a vegetarian meal with us. Which is why we have dishes like the nasi goreng and the Vietnamese pho, which are—though pure vegetarian—complex dishes filled with flavour," says Dhinsa.
The latest entrant into the all-vegetarian scene, which opened its doors in early May, is the exotic Burma Burma in Kala Ghoda. Dishing out everything Burmese from the Mandalay laphe thoke, a delicate salad made with fresh tea leaves, to the crispy bottle gourd fries called budhi kyaw, it is drawing in veggie gourmands by the droves. "Finally, we have a world class, all-vegetarian Asian specialty restaurant and are no longer compelled to eat at an ubiquitous, pan-Indian cuisine vegetarian eateries only," says vegetarian-by-choice Preetesh Sethia, who has long lamented the step-motherly treatment of a handful 'token' vegetarian dishes on the menu meted out to him and his ilk.
Interestingly, the pan-Asian restaurant chain 5 Spice's new King's Circle and Marine Lines outlets have decided to go down the pure vegetarian route. This, they say, is due to the demographic they are catering to in Mumbai's predominantly vegetarian belts.
On the other hand, though not solely pan-Asian in their cuisine, multi-cuisine vegetarian restaurants too have cottoned on to the idea of an exclusive pan-Asian menu. While Quesso in Andheri (W) offers unusual Thai offerings like veggie poh pia tod rolls, Flags in Malad (W) has on its menu pancitbihon, a noodle preparation from the Philippines along with Indonesian bahmi goreng—dishes that are far removed from your usual garden variety 'Chindian' fare like gobi manchurian and paneer schezuan.
It's not just the vegetarians and Jains who are welcoming this burgeoning new trend.
Despite being die-hard vegans for over a decade, Ujjla Manchanda and her family love to experiment with their food. "World over, the vegan options stand so many that it's a paradise for us vegan travellers especially in the US and parts of Europe. It's great that such options within the pan-Asian segment are also available in Mumbai," says Manchanda.
So, is this sans meat, pan-Asian restaurant explosion a harbinger for change, where we see the other über popular world cuisine restaurants like Italian and Spanish turn a new leaf (pun unintended!) and adopt an all-vegetarian avatar? Let's wait and eat...