Billboards en route Della Resorts (a venture by Jimmy Mistry), in Lonavala, advertise luxurious rooms and adrenaline pumping adventure activities, giving you a sense of what to expect once you arrive. Driving through the gates, we are surrounded by natural beauty and man-made elegance. Up the driveway and past the villas, we step into the lobby. Glass chandeliers hang over you, Chester seating (commonly used across his projects) in red and white leather, a Steiner grand piano at the far right hand corner and an electric fireplace creates the illusion of a three-dimensional opti-myst fire.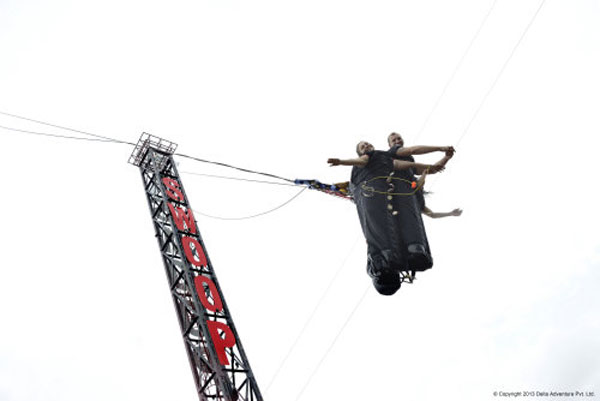 There are 30 tents and 51 superior rooms at the resort. Tones of gold, black, white, red and wood, leather Chester armchairs, contemporary mirrors of white and black glass, comfortable king-sized beds and sprawling washrooms lent our rooms an enviable richness. We grudgingly left our rooms and made our way to the resort cars which took us to where all the action, fun and screaming happens—the adventure park.

Did you enjoy sitting on a swing as a child? Have you been dying to sit on one lately but felt too grown up to do that? The swoop swing, India's very first (and the world's second) at Della Adventure Resorts, has been a favourite among adventure enthusiasts since June this year. It allows 1-3 people to take a go at once, raising you to a height 30 meters with a harness. Pulling a rip cord releases you to free fall at a dizzying speed of 130kmph, before you are swung back and forth. Make sure you keep your eyes open and see the world whizzing by or you'll miss out on the most exciting bit of the ride.

The bungee jumping station, making its entrance into the adventure resort in early August this year, has professionals from New Zealand to strap you up and run you through the safety instructions. A crane then lifts you up to a height of 45 meters from which you jump. If you're feeling nervous about bungee jumping solo, take a tandem leap with a friend. If you're not an adventure junkie, there are other things to do here. There's Jersey cows to milk or 18 dogs to take for a walk and games such as carrom, chess, pool, foosball and air hockey, .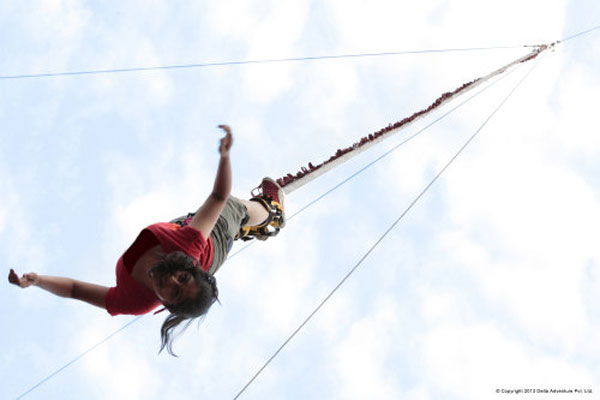 After all that that adventure, it's time to hit the spa. Body treatments and massage therapies leave me feeling relaxed—body, mind and spirit. Trained experts gently but effectively knead away aches and pains in areas of your body you did not realise were stressed until their magical fingers worked their way through. The soft music, dim lights, gentle but firm kneading, pressing, pulling, rotating of your wrists and ankles and the warm steam shower that follows calm the muscles overworked by yesterday's adventures, leaving you energised and ready to tackle the upcoming week of work.