Traditional flea markets are undergoing a radical makeover into curated, pop-up events offering indie brands and a festive atmosphere, finds Shraddha Uchil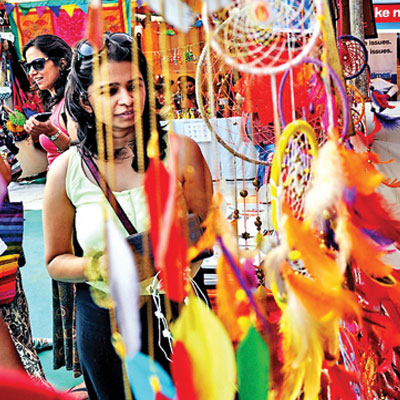 Think flea market and the first image likely to pop into your head is hippies — and maybe you — bargaining hard for assorted knick-knacks in touristy Goa or on a pavement in Delhi's Janpath. Well, think again. Flea markets are no longer the crowded streets where you haggle over the price of interesting 'junk' or export surplus stocks. They are making way for curated versions that offer the experience — the bustling crowds, the pulsating and vibrant atmosphere — while featuring small, kitsch brands from across India.
The Sunday Soul Sante in Bangalore and The Lil Flea — which was held in Mumbai in April and featured stalls selling everything from upcycled jewellery and home décor to customised footwear and funky bags — are two of these pop-up curated flea markets people are flocking to like there is no tomorrow.
So what's making these new-age flea markets so popular among a generation of mall-goers?
Alankar Jain, the co-founder of The Lil Flea, says, "There is this sudden boom of creativity in India. Flea markets are probably popping up because talented individuals are lapping up such opportunities. While they can't afford space in a mall, they can shell out money once in a while to be given space at a pop-up market."
While this explains the large number of sellers, what is it that draws people to these upscale flea markets? Aarti Gautam, an advertising professional, says, "I like the fact that at these curated flea markets I will find something which a hundred other people won't have," she says.
Making it work
Finding and bringing a large number of sellers together at one spot is not that simple. It involves trawling the Internet and a lot of networking to find new faces.
When Radhika and Parul Gupta started Black Taxi Creative Concepts three years ago, they featured 20 fresh brands. "We now have around 60 designers, and are constantly on the lookout for new talent," says Radhika. "Over time, the number of shoppers has gone up four times."
Alankar adds that when they announced their plan to hold The Lil Flea, they weren't sure how many people would show interest. "But within a month, 1,000 sellers said they wanted to be a part of the event. It was amazing."
"In addition, three curators came on board to handle the food, music and décor aspects," Alankar says. And it was a hit. The Lil Flea was an eclectic mix of great merchandise, soulful music and scrumptious food.
In September 2010, Asha Rao launched Soul Sante in Bangalore's Palace Grounds with 90 stalls which were rented out at Rs2,000 a day. More than 7,000 people turned up one day. Now, Rao organises five fairs a year on Sundays. The stall rent has been upped, but the Sunday Soul Sante's popularity has only grown. The flea market hosts over 200 stalls and sees a footfall of over 15,000.
Two to tango
Fizza Kanchwalla, who was part of flea markets in both Mumbai and Bangalore, says that they bring in a lot of people who wouldn't go to a boring exhibition. The response her brand has received was beyond her wildest imagination, she adds. "Not only did I have customers fighting over my pieces, but a lot more people are also taking interest in my products now," says Fizza, who markets her products — quirky bags, wallets and clutches — through her Facebook page Fizza Designs.
Lately, even malls have also jumped onto the flea market bandwagon. Flea@Nite, held at Select Citywalk Mall in New Delhi, offers designer clothes, jewellery and classy home linen at what high-end buyers might consider "throwaway prices". The live music and interesting food add to the "flea-like" atmosphere.
After the success of its first edition, The Lil Flea plans to come back again. And with a rising number of independent designers and the growing need for alternative entertainment in space-starved cities, the future of these new-age flea markets can only get brighter.