Why would two people with no film world connections invest their life's savings in the uncertain business of films? Shikha Kumar finds out from Avinash Singh, the director of Listen Amaya.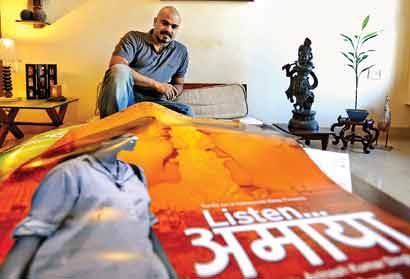 How many of you have watched a film or read a book and come away feeling you could create something as good, if not better? How many of you have actually gotten down to doing that?
Avinash Singh and his wife Geeta, who produced and directed their 'baby' Listen Amaya together, are perhaps one of the few people who can confidently say 'yes' to the second question.
A trip to the International Film Festival India (IFFI) in Goa one year got them thinking. "When we saw the quality of some of the films there, we realised even we had stories to tell," says Avinash, who has produced and directed films for Discovery and the National Geographic Channel.
It helped that they had a story ready; one that Geeta wrote eight years ago and that they intended to develop into a short film. They changed their mind after friends who read the script, suggested that they develop it into a full-length feature film. That led to the birth of Listen Amaya — the story of Amaya, a 22-year-old free spirit, and her turbulent relationship with her widowed mother after she discovers her mother has (gasp!) fallen in love again.
Working with veterans
"Most filmmakers are storytellers. I thought 'why not aspire to tell a story for a bigger screen?' I was willing to put my money where my mouth was," says Avinash. That's exactly what the couple did. They personally financed the film, a rare feat for first-time directors. Never mind that they had no film world connections and never mind that they had to move to Mumbai from Delhi lock, stock and barrel.
The film brings together veteran actors Deepti Naval and Farooq Sheikh after 28 years. The hunt for Amaya, played by actress Swara Bhaskar, ended at a Mumbai coffee shop. "Swara must've thought I was a stalker. She came and briefly chatted with someone I was sitting with at the cafe. After she left, I got her number and immediately called her," laughs Avinash.
With Naval and Sheikh already on board, Swara heard the script and said she would sign on the very next day. Was it intimidating for a first-time director to boss around the veterans? Avinash says working with established actors was a minor hurdle but they soon won their confidence because he and his wife were so sure of their script. "When Deepti and Farooq realised the script was like the Bible for us, their confidence was restored. It was at such a point that they became director's actors," says Avinash.
What budget?
The film, made with "1/4th the marketing budget of a big film", was shot in just 30 days in Delhi. "We didn't have a big budget so we never wasted time taking multiple shots. I believe taking optional shots is a sign of insecurity," says Avinash.
Geeta bristles at any perception that theirs is a niche or serious film. "Ours is a fun film. There may be five songs in it, but they are there for a reason," she says. "I do not understand the business of categorising cinema as mainstream or art. When you go to buy books, you never say you want a mainstream book or an indie book. So why should it be for film?" she adds.
While Avinash directed the film and also wrote the dialogues, Geeta is behind the screenplay and the editing.Did the fact that they had poured their savings into this 'baby', the fact that they were married and the fact that they seem to be very headstrong people lead to tension on the sets? Geeta laughs. "We were ready to throw things at each other," she acknowledges. But even though there was conflict over various aspects of the film, they made a great team. "We had very different thoughts and arguments, but the diversity made for a better film. We learned to keep our egos aside," says Avinash.
Beauty in the breakdown
The meticulous nature of the couple is reflected when Avinash talks about the close attention paid to their moodbook. "When people are happy, their eyes twinkle. When our characters are happy, we've focused the camera on that. If they're angry, we've shifted the light away. All these details play a huge role."
Listen Amaya has won awards for the Best Feature Film and Best Director Feature Film at the 2012 New Jersey Independent South Asian Cine Fest.
Avinash attributes this to the fact that theirs is a story told simply, yet one that urges the viewer to think and stays with him or her long after watching it. This has been the steepest learning curve of our lives and we are grateful that we got a chance to tell our story, he says. "We hope our work gets noticed. We're not here to save cinema. We just want to ensure that there's different
content."