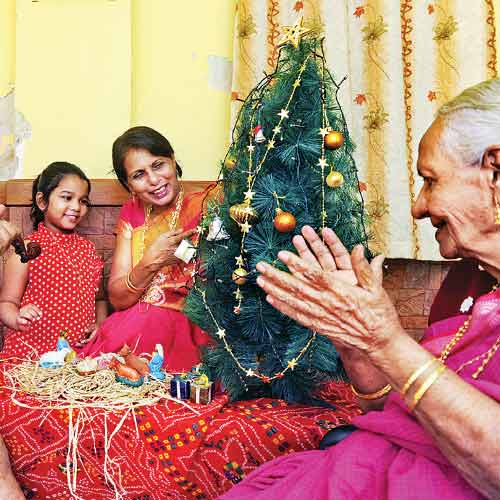 Eighty-seven-year old Clara Tixeira's eyes light up as she talks about her early childhood, growing up in the midst of paddy fields, vegetable patches and coconut palm groves on what is now Mumbai's Chhatrapati Shivaji International airport. "The men took boats out to fish in the Mitthi river which helped irrigate the vegetable patches and the paddy fields, yielding two seasons of rice because of the abundant water." She cracks up remembering the drunken revelries in the community of toddy-tapping Bhandaris who had converted to Christianity during the Portuguese reign.
In her now quivering voice, she sings nostalgically, "Mobai Naav, Amcha Gaav / Athem Ami Revala Kayela Zaaun (The village of Mumbai once belonged to us East Indians/ Now with it gone, where will we seek refuge?)."Applause and compliments on the song leave her emotional as she points to an old photograph of her late husband Braz Tixeira, an accomplished composer, musician, lyricist and singer. "This was his favourite," she reminisces.
Her son Cedric, who has inherited the family's musical legacy, puts an arm around his mother.
While his wife Jane and two daughters gather around for a hug to comfort the ageing matriarch, he says, "My father would play the puck mouth-organ and the ghumat at once. He wouldn't miss a single note as the mouth organ would be at his lips while both his hands kept beat to the tune. He worked in the Central Railway Parel workshop, came from a family that tended coconut palm groves and grew up in a thatched hut, but from him, I learnt to never stop dreaming big despite one's background."
It is perhaps this background that has led to the family becoming the unofficial custodians of the fast vanishing East Indian culture and history. A song he composed for his wife whom he met on stage and fell in love with, Tu Maza Jeev (You Are My Life) went on to become the title song for the first ever East Indian film by the same name which released in March. It had Shalmili Kholgade, a former student of Cedric at Hiranandani Foundation School, Powai where he teaches music, and a much-in-demand playback singer in Bollywood who has bagged a Filmfare award for her song Pareshaan in Ishaqzaade, in the lead as Shweta.
"A friend Nelson Patel supported us in this venture. I have begun work on a second script which will go on the floors by year-end." Like his earlier film, Cedric's wife, daughters and brother Hector are all helping out with the acting, singing, production and coordination work.
But Cedric's moment of honour came when the East Indian umbrella organisation, Mobai Gaothan Panchayat, asked him to compose an East Indian Anthem. "The huge number of hits it received on YouTube is a testimony of how much people want to connect with their roots," says the man whose album, Zunni Navi Mumbai, which released last month, is already generating a buzz.
This son-of-the-soil family from Juhu gaothhan commands immense respect in the community, but Cedric rue that the Marathi film and music industry doesn't even acknowledge them. "After all, shouldn't they be happy of how fiercely we have guarded our unique Marathi language and culture after all these years?" he asks.Will the champions of Marathi take his cue?