Irwin Allan Sealy, one of India's finest writers, is out with a new book after a decade. It tells the story of India through the pagoda he was busy building in that interlude. Manisha Pande talks to the famously reclusive author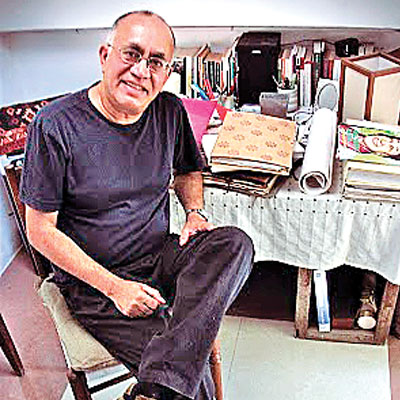 In a leafy little nook of Dehradun's Race Course Road lies the 433 square yards to which author and travel writer Irwin Allan Sealy has dedicated his new book, The Small Wild Goose Pagoda. The book comes almost after a decade after Sealy's last outing, Red: An Alphabet (2006), and it is this plot of land that has kept the author busy.
"I have been working with wood, iron, bricks and cement, which, to my mind, are just as important as ink and the world of letters," he says. His new novel documents this somewhat long interlude during which Sealy took to building the Small Wild Goose Pagoda. Written as an almanac, the novel is fittingly named after this enterprise.
The Small Wild Goose Pagoda is one of the two important pagodas in China's Xi'an city. The other is the Giant Wild Goose Pagoda, which Sealy didn't quite like. It was during his visit to Xi'an that Sealy took to the former and decided to build one next to his small brick house in the foothills of the Himalayas.
Sealy's pagoda is not a slavish imitation but has all the chief features of the architectural form. "It's a modernist pagoda. The book is the story of how it came to be built, the people who built it and their lives and stories during the construction. The hero of the story is Dhani, a family retainer and mali," he says. It is also, in a way, a meditation on our attitude to labour and how we look at manual work. "China is important in that sense because they recognise the dignity of labour," he says. Sealy himself is apprenticed to a bricklayer who has taught him "how to use his hands".
While the breed of 'New India writers' focus on dissecting the India we live in and its changing socio-economic landscapes, Sealy does not believe in such grand gestures. "The only India you'd ever really know exists within the confines of the piece of land you live on and the people who you come in touch with in the daily course of life," he says. In Sealy's India, we get a glimpse of the lives of his mali, Habilis, a master brick-layer and contractor; Victor, Habilis' assistant and so on. It is through their lives that Sealy paints a picture of Indian society.
Though he once considered himself a Dilliwala, Sealy is now a pakka Doonite and prefers being in the lush confines of his home — surrounded with litchi, jacaranda and peach trees and a rather tall gardenia — rather than in book launches or among the literati. A contemporary of Amitav Ghosh, Shashi Tharoor and Vikram Seth, Sealy's 1998 book The Everest Hotel was shortlisted for the Booker prize. Considered one of the most talented English writers, he has no patience with book festivals and launches. The "inner world" is sacrosanct and Sealy cherishes the quietude that allows him to carry on with his writing.
A new book, however, means promotions and Sealy admits he does see some logic to it. "Books like to be read, and perhaps I owe it to my books to make them reach out to readers," he says, adding that he won't mind a book reading or two.