Bambi Mathur, founder of Inara – Fine Jewels and Gemstones, picks her favourite pieces, showcasing styles and settings that are unusual but beautiful.
Bambi Mathur
Trained at the world-renowned Gemological Institute of America (GIA), Bambi Mathur believes in creating refreshing jewellery that is modern yet timeless.
Earrings in 18 K gold set with pear-shaped Tanzanites and baguette diamonds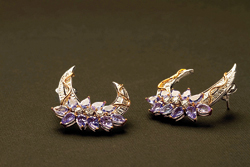 This tongue-in-cheek and bespoke design is from my Arabian Nights collection. The violet colour of the tanzanite makes this piece a mystical one, while the 'vine leaves' entwine themselves around the baguette diamonds.
Bracelet in 18 K gold set with D-shaped diamonds and intense red rubies from the New Burmese mines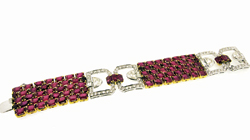 The bracelet's fluidity and lightness was a challenge, which we overcame. Each ruby is calibrated to perfection. The D-shaped diamonds and the Art Deco design make this piece worthy of any red carpet event. This bracelet would work well with a formal western outfit.
Earrings in Cognac-coloured citrine drops and marquise-shaped diamonds, set in 18 K gold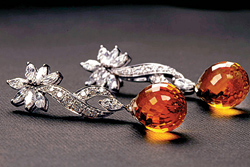 The lean and sensual shape of the earrings is inspired from a 'French curve', which makes it extremely feminine and allows a tremendous amount of movement, which is key to its design.
Diamonds set in 18 K gold necklace, with Tahitian and south sea pearls, with an option to change the pearl drops to pear-shaped diamonds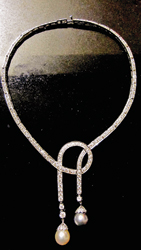 The inspiration for this necklace comes from a family heirloom of the 'Indore pears', belonging to HH Yeshwant Rao Holkar. I made it for his granddaughter, Princess Sabrina Holkar-Ellis, as an anniversary present from her husband. This piece epitomises elegance and style. It is something that fits well with most occasions, be it a wedding, a state gala or a black-tie affair.