Actress Manasi Parekh Gohil, who travelled to Gangtok, Kalimpong and Darjeeling, discovered herself along the way, as she recounts.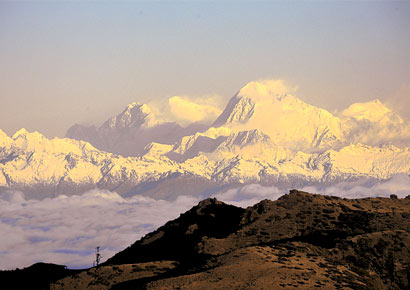 The North-Eastern part of India is like a jewel waiting to be discovered. Right from the beautiful Teesta river running through Kalimpong to the highest mountain ranges of Everest and Kanchenjunga, the beautiful monasteries, smiling people everywhere — everything about the North-East is just so picture perfect. Three of my closest friends and I decided to explore this region and suffice to say that we ended up discovering ourselves too along the journey.
We started our travels with Kalimpong, then moved onto Gangtok and finally reached Darjeeling. Kalimpong is a quaint, stuck-in-the-19th-century kind of town. There we visited a beautiful plant nursery, an English chapel and ate steaming hot Indian food.
Some of the best places we discovered were in Gangtok. The beautiful Lake Changu which is like the Pangong lake in Ladakh, 12,000 ft above sea level was my photographer friend Shraddha's delight! We also visited the last village of India called Kupuku! It's 13,000 ft above sea level and they have a beautiful rock which has Tibetan sayings inscribed on it. We took a break with some of the yummiest momos to be found at this height and a Tibetan delicacy called Thukpa which is a noodle soup. We shopped at the Chinese market at the village and also saw the Silk Route from where the Indians used to import Chinese silk years ago.
But the highlight of the trip would be the Kanchenjunga mountain range as seen from 14,000 ft above sea level. As I glanced at the majestic mountains I realized that nature has the capacity to dazzle you with its brilliance. Everything in life looks redundant and immaterial in comparison.
Darjeeling was great fun with its Mall Road and all the pashmina shawl shopping we did! Since we were there on Christmas eve, the town was buzzing.
The next morning we woke up at 3am and reached Tiger Hill where they have an observatory built during the British times. We were ready with our cameras to capture the glorious sunrise in all its shades and hues! By 4.45 am dawn started breaking and at 6.20 am when the sun was out of its slumber, the camera had captured hundreds of shades of yellow! And that is when we saw Mount Everest, bathed in the amber light! If I had to describe one vision that I will remember throughout my life then it would surely be this one — that of Mt Everest at the crack of dawn.
The trip was completed the next day but I was hungover for a week with all these images flashing in my mind. The Buddha said "The way is not in the sky, the way is in the heart". I have the North-East inscribed in my heart forever.