Celebrated jewellery designer, Robert Tateossian, speaks about style, luxury, Indian influences and his inspiring design trajectory.
Robert Tateossian
From investment banking to jewellery and accessory design, Robert Tateossian has come a long way, revolutionizing the cufflinks industry.
Everyone calls you the 'king of cuff links'. What do you have to say about that?
Nick Foulkes at Departures coined the title in the 90s and it has since been used over and over again. It is a flattering description and one I find humbling, especially as there are many other talented cufflink designers out there. It also gives me the drive to constantly produce innovative designs, which break the mould.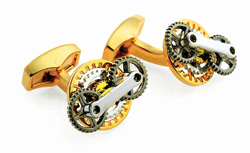 Tateossian RT Trio Gear Rose Gold
What's your definition of style?
Clean simple design is my ethos—nothing too fussy—quite uncluttered and Zen-like, and always with the introduction of an element of humour and surprise.
How do you see the Indian jewellery buyer? What is your vision for the Indian market?
Men seem to have a consistent level of taste in jewellery and accessories from continent to continent. They are attracted to classic items with a fashionable edge. They are also attracted to mechanical pieces such as The Tateossian Gear Cufflinks. I would hope that within five years the Tateossian brand would be much more established in the Indian market with corners in airports and perhaps a standalone store.
Has India inspired any of your collections? What's your take on the Indian aesthetic?
I take inspiration from many different cultures and India is no exception. The Indian gods inspire me and have led to two pieces in previous collections: Ganesha, the elephant God was the focal point for a pendant collection, along with the symbol Om.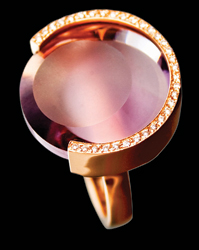 Rare stone pendant with Rose de France Amethyst in 18 K rose gold with white diamonds
Where does your artistic expression stem from? What inspires you to design seasons after seasons?
I'm motivated by anything I am exposed to: street art, fashion and the places I travel to. I travel 70% of the year so inspiration is a constant for me. Sometimes inspiration comes from novels, mythology and religion. I'm always thinking of new design. Even a wooden trellis wall covering behind a bar that I once saw in London has inspired one of my pieces, so I never seem to run out of ideas and steam. This is my passion!
Who is the Tateossian man and woman?
We have such an extensive range for men, everything from non-silver, silver, gold to our Rare Stones collection, which differ substantially in design and price. Because of this, men aged 18 to 70 wear our cufflinks and jewellery. For ladies, all our pieces are sterling silver and classic, so women of ages 30–50 seem to be after something lasting and special. For the Tateossian woman, quality is key.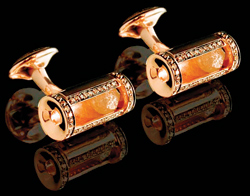 Diamond ballas and rose gold cufflinks
In what way do you think Tateossian jewellery and accessories complement Indian lifestyle and occasions?
Tateossian accessories are designed for everyday use as well as special occasions. Indian businessmen like to be polished and well groomed—cufflinks are the perfect accessory to complete a hand-tailored suit. Similarly, Tateossian cufflinks and stud sets are unique and perfect for the week-long celebrations and festivities that mark any Indian wedding. The pieces from our collections are conversation starters.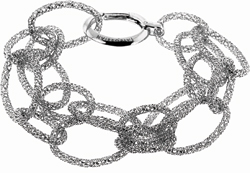 Double mesh silver bracelet
Last but not the least, how do you interpret luxury? What's your favourite accessory or jewellery piece—something that is close to you?
Luxury means different things to different people. It can range from something as simple as having "free time" while for others it might mean a "private jet". For me, it means being able to do the things I love whether it is something for myself or something to share with others, whether it is chilling out or making an extravagant purchase or giving a friend a lavish treat. In jewellery, this translates slightly differently to something that is meticulously crafted and where the aesthetic value comes first and the commercial value of the item is secondary.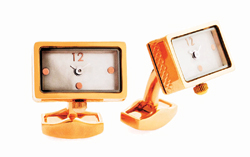 Tateossian RT Watch Mechanical MOP Piccolo cufflinks
—As told to Manish Mishra