Rama Sreekant and Monarose Sheila Pereira tell you how gold is making a grand fashion statement in furniture, fashion, food and much more
Gold leafing also known as gilding is an ancient art that was originally used for beautifying religious places and palaces. Today it is making a grand fashion statement in furniture, fashion, food and everything that spells luxury.
All that Glitters
Gilding can add a glamorous touch to your home. Shehzad Khan, Director of The Gold Leafing Studio, says, "This tradition goes back several centuries and I am the third generation in my family who is taking ahead this wonderful art form. Gold leafing was initially used for decorating furniture, idols, places of worship and the homes of the rich and famous. Today however, we have done gold leafing for various gadgets and other objects like shoes, laptops, mobile phones, musical instruments, etc".
Art of Gold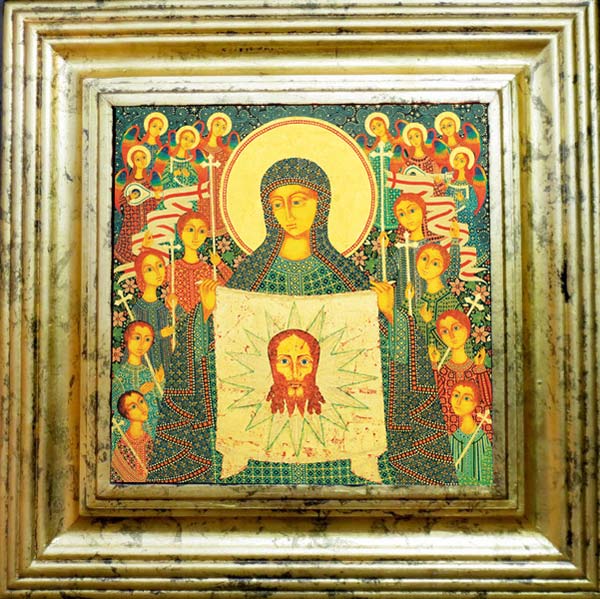 Veronica's Veil, Artist Paul B
Applying gold leaf requires expertise as well as an artist's eye. It is a fragile, expensive and devilishly fickle material to work with. Gilded in 24-carat gold and detailed in oils, noted artist Paul B's paintings are inspired by Biblical themes, parables and fantasy which he interweaves with experiences from his life. "My visual vocabulary dwells strongly on the structure and technique of the Byzantine orthodox icon," he says. Working reclusively for hours, painting layer upon thin layer of oils on canvas, he uses 24-carat gold leaf to deliver the final flourish.
Shoe me the gold
Designer Alberto Morretti has proved that he has the Midas touch by creating the world's first 24-carat gold shoes. He unveiled golden heels for women and loafers for men at the Monaco Grand Prix, in May 2013. Made in collaboration with HORO, the style has been kept simple as the gold speaks for itself as a luxury product. The shoes are covered with gold sheets applied one by one.
Eat that Bling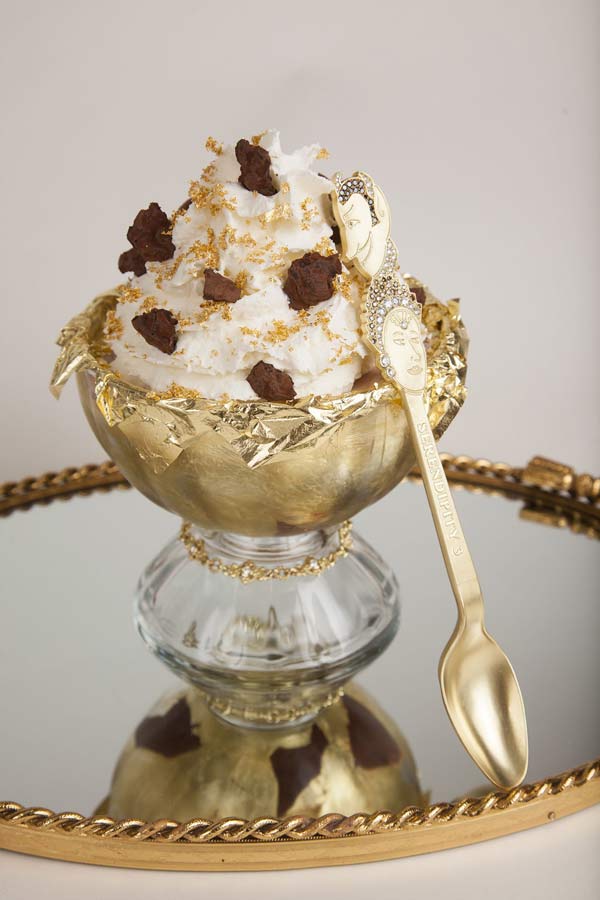 Edible gold and silver leaf has inspired connoisseurs to provide an extravagant decoration to create magnificent culinary offerings. And if you are on a gold trail of one such offering, consider The Golden Opulence Sundae, which is as expensive as it sounds. Priced at an astonishing US $1,000, this indulgent dessert earned a place in the Guinness World Records. Serendipity 3, a New York restaurant renowned for this delight, requires a 48-hour window to piece together this dream dessert. Crafted in honour of their 50th anniversary, the dessert uses the finest ingredients from across the world. Nestled in the goblet are scoops of vanilla bean ice cream from Tahiti, drenched in melted Amedei Porcelana (one of the world's most expensive chocolates), and topped with a 23-carat gold leaf. The sundae cradles a small bowl of caviar while standing alongside chocolate truffles and candied fruit. The only way to eat this? With the 18-carat gold spoon that Serendipity 3 provides, of course.
Shimmer and Shine
Top spas around the world are touting the benefits of 24-carat gold facials that use real gold leaf to firm up the skin, reduce wrinkles and provide a golden glow. Dr Apoorva Shah, tricologist and founder of Richfeel Health and Beauty Pvt. Ltd. says, "Richfeel's Gold Facial Kit is a powerful anti-ageing formulation, which is enriched with the goodness of gold foil, seeps deep into the skin leaving it revitalized, rejuvenated and glowing". Smoking cigarettes made of gold is a huge trend especially in the US and Europe. Shine 24K Gold Rolling Papers are just what its name suggests— rolling paper covered with edible gold leaf to "create the ultimate party atmosphere."
So, are you ready for the Midas touch?
@Rama Sreekant