One of India's experts on the art of stained glass speaks to Joanna Lobo about his journey creating an art form of pieces of glass.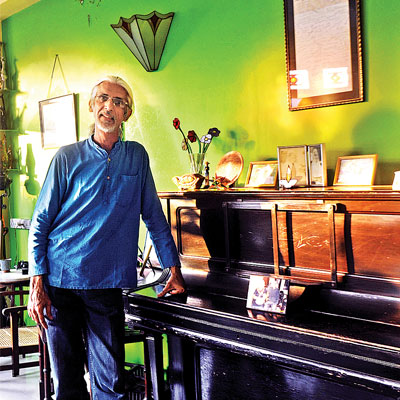 In Asad Hajeebhoy's house, there is no such thing as an ordinary piece of glass. Small, big, coloured, textured, broken...they all have value. Hajeebhoy is one of the most popular stained glass experts in the country; his works can be found adorning windows, doors, floors and lamps in homes and churches.
It somehow seems fitting that a gong forms the background sound (courtesy a ceiling-to-floor wind-chime) when talking about the one thing that most people identify with churches, stained glass. Hajeebhoy has a studio-cum-work-space in Bangalore but his family lives in Mahim, at a home that is a tribute to his work. There are delicate stained glass flowers in a vase atop a grand piano, a coloured butterfly and a clock that flanks the entrance to the kitchen, two ceiling lamps that are made with opaque glass and a small sun-catcher that gently throws sunlight across green walls.
Hajeebhoy's fascination with stained glass began when he was in Class 12. He met a retired person who taught him a little about how to create stained glass; it remained a hobby for him for many years. He returned to it after quitting his job and needing a break. "There was an architect next door who sold imitation stained glass, sticking coloured film with tape. I marketed it for him. I told him if I get an order for real stained glass then I would take it on," he says. His first order came from actor Rishi Kapoor's family, they wanted a door panel. They gave him the glass, the design and he executed the work and installed it at their house. A year after his first job he Hajeebhoy left for Muscat where he helped set up a stained glass manufacturing studio. It was a successful formula that he replicated in Bangalore when he went there in 1996.
Over the years, his Glasscrafters studio has crafted thousands of pieces of stained glass for homes, puja rooms and churches. The studio employs ten people, has 40,000 sqft of glass and has 150 varieties of glass. "I've indigenised the whole process and the equipment, barring the glass that we import from abroad," says Hajeebhoy who also makes and sells furnaces and conducts trainings and workshops for those interested in the art.
Stained glass is made up of different pieces of coloured glass that are fused together. It is not, as most people think, etching or painting on glass. The process of creating a stained glass piece begins with making a design, then choosing the colours, grinding (smoothing) the edges, getting the proper shape, and then fusing the pieces of glass together. There are two ways to fuse glass, the older method was the lead came method where the glass is embedded into lead channels which are then soldered together. The copper foil method involves using a copper tape between the glass pieces and soldering them together.
"In the old days, stained glass was only used for windows. The glass was painted with a metal oxide powder, the individual pieces were heated to a high temperature and once the glass gets soft, the oxide fuses with it. That's called staining. Silver oxide was popularly used for staining, that's how it got its name," says Hajeebhoy. Today, staining is used only when creating religious motifs, otherwise the glass can just be cut into the required shape.
The creation of stained glass is a process that Hajeebhoy hopes to promote as an art form and not just an interior designing concept. "Abroad it is an old art form. Today, stained glass is sold on a square-foot basis. It's a loss because you are working backwards — this is the budget and I have to finish it within this time," he says.
It's an art that has now become affordable. "For 25 years I have been selling stained glass at the same rate," says Hajeebhoy. Today, a small window work could cost between Rs2,000–3,000, a lamp would cost Rs5,000—7,000, a lampshade would cost Rs2,000—12,000 depending on pattern, colours and intricacy of the work, and a sun-catcher would be Rs200-300.
The beauty of stained glass is if a piece cracks, it can be removed and replaced. It's a recyclable art.