Preksha Malu on the sheer range of intriguing and plain wacky names in the villages of Meghalaya that left her bemused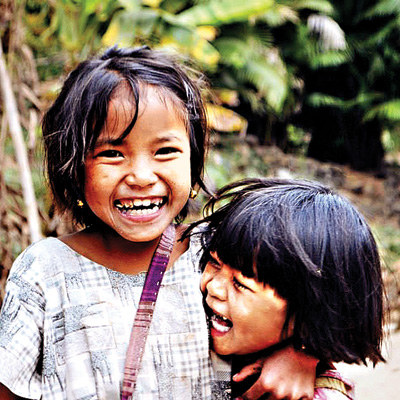 My name is Brilliant," he tells me. Not sure that I heard it right, I ask him the question again and am given the same answer. I ask him to spell it out and he says, "B-R-I-L-L-I-A-N-T." Still in shock, I ask him if he knew what his name meant and he smirks and says, yes, of course!
Later that night, I cursed my parents for not naming me Queen of England.
The young boy named Brilliant was a student from Nongstoin, a town in the East Khasi hills of Meghalaya. I met him at a football ground atop a mountain in Kongthong village, where I was shooting a documentary.
The names of the villagers I was staying with were equally unique. My fellow traveller Trishita boasted of meeting people with names like Feeding Stars and Moon Stars.
When I reached the village, I was first welcomed with a landslide and then by the village headman. I asked Dondor, my translator and a well educated gentleman, the headman's name. They chatted a little and he said, "His name is Coming Home." My eyebrows were the shape of the mountains surrounding me.
Coming Home Pohnong is a devout Christian and the headman of Kongthong village, which is known for its unique tradition of 'Jingrwai Iawbei' or lullabies. A mother in the village has a unique calling sound for each of her children. They call out if their children are roaming in the mountains or going to school and it's getting dark outside, and the children reply.
Apart from this tradition, I wondered where these names originated. These English words and syllables are used in everyday language and an article by my friend Sarah Hafeez explained it to me. She was stationed in Khrang village and came across more such names like To Be Humble, Joining Star Rani, Clever and Oral. She explained that British missionaries settled in the cooler hills of Shillong in the 1800s and English seeped into the traditional Khasi life. More than 80% of people in Meghalaya are Christians. One teacher she met told her about a mother who had named her daughter Toilet and how difficult it was for them to address a grown woman like that.
I asked Leo, a resident of Kongthong, about these names and he told me that parents just like the sound of some names. He then laughed and told me about his male friend Darling and two siblings in his neighbourhood, Sarkar and Order.
A closer look at the electoral rolls of this constituency reveals names like Primus Plus, Everlasting Son, Sting, Preciousful, and Newsonroy. It comes as no surprise that a Nationalist Congress Party leader from Meghalaya is named Adolf Lu Hitler Rangsa Marak.
I am getting Bangladeshi network on my mobile in this village and I wonder if this is the India I have grown up learning about. My name is alien to them and they are alien to me. Yet, all Indians are my brothers and sisters.