It's the land where coir making is the warp and weft of everyday society, where the rough and ready fibre extracted from the humble coconut is the kernel of sustenance for lakhs of families. Alleppey in Kerala is one place where the traditional coir industry still spins out dreams big and small, writes Minu Jain.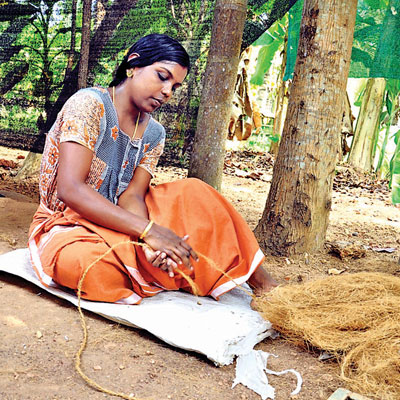 She fits the wispy threads into the rotating spindle and walks back and forth, deftly spinning coir from the mass of coconut husk in a sack tucked around her waist. It's an age-old continuum that has seen Kerala's fabled 'golden fibre' not just weave tradition and craft but also provide employment — and empowerment — through generations.
The rough and ready fibre is the warp and weft that provides the societal and economic underpinning of many a family. It has enabled women down the ages to hold their own. As it has for Shiji, who works eight hours a day in the makeshift shed behind her home in Nedumparakkad village in Alappuzha district, the centre of the coir industry, patiently churning out coils of coir that are sent on to be crafted into matting, mattresses, jewellery and more.
Shiji is one of the more than 3.5 lakh people, 80 per cent of whom are women, who form the backbone of Kerala's lucrative coir industry, categorised as a traditional sector which is second only to agriculture as a source of employment.
After all, it is the land of coconut – literally. 'Kera' meaning coconut tree and 'alam' for land. And the humble coconut, with an estimated output of 5,759 million nuts annually, is the kernel for sustenance for so many.
A day's work fetches Shiji about Rs260 for 75 coils. Her husband works as a labourer in a coir exporting unit close by.
She would make more as a construction worker but this is familiar ground, a continuation of a tradition. "This is all I've ever done," says Shiji, who hopes to collect enough money to buy another machine. "This one, I've been using since I got married," says the mother of one.
Their village Nedumparakkad, a short drive away from Alappuzha town, also known as Alleppey, is known in the region as the coir village with 80 per cent of its 5,000 odd residents engaged in spinning in one way or the other.
Coir is the common thread running through the lanes and bylanes of the village. The cooperative society, which sources the fibre from Tamil Nadu and then distributes it to those like Shiji, has 1,300 members.
The village also houses an automatic coir yarn spinning unit, manned, again, mostly by women who spin yarn on automatic machines, check it for flaws, sort by colour and spool it into giant coils.
"We have regularly been getting awards from the state government," says cooperative society president Reghuvaran, sitting in his office with a picture of the late Indira Gandhi occupying pride of place on the walls along with those of the founder president of the society and other office bearers. The society was started in 1977, he adds by way of explanation, when the Congress was in power.
The many awards – for best secretary, best output and best president — are lined up too to underscore that this is the home of coir, a critical starting point of a multi-crore rupee industry that is rapidly expanding in scope.
From Nedumparakkad, and villages like it, to the world; from workers like Shiji to homes all over with coir mats at the doorway and matting on their floors. That's the sweep, says Reghuvaran, whose society is one of the 600 registered with Coir Fed.
The state government is working towards expanding the scope of this industry — while exports touched Rs1,152 crore in 2013, up from Rs850 crore in 2011-2011, the domestic market is estimated at nearly double this.
"It shows that the policies formulated and implemented by the government have started to deliver results. We have been successful in finding new markets across the world for our coir products," Kerala's minister for revenue and coir Adoor Prakash told a gathering at the Coir Kerala event in Alleppey earlier this month.
The event that brought together stakeholders, including buyers, sellers, craftspersons and policymakers, was held in Alleppey, as it always is to stress that that this is where the world's finest coir is produced and processed.
According to the state's coir secretary Rani George, Coir Kerala 2014 saw delegations from 48 countries, including 17 like Algeria, Yemen and Egypt which participated for the first time. "Through market development initiatives, we hope to get more business and generate jobs," George told dna while emphasising the role of cooperative societies and self-help groups in the entire business.
The challenges are many, one of them being to diversify the uses of coir. While matting continues to be the major product for overseas and domestic markets, innovation is key. And so, coir is being refashioned to make acoustic panels for sound recording studios, cinema halls and the like — an environment friendly alternative to wood and fibreglass. The National Coir Research and Management Institute (NCRMI), which is spearheading research in this direction, has also developed 'geo cells' — cellular shaped coir meshes that can be placed on slopes under cultivation to reduce soil erosion and also encourage growth.
There is also the traditional handicrafts sector, where the tough fibre is crafted into delicate jewellery and even portraits. One artist who has given free rein to his creativity is KR Raghu who has made 500 coir products of famous personalities like president Pranab Mukherjee and cine star Mammootty and also made a 'biodegradable' Taj Mahal, priced at Rs26,000.
"The government should look to diversify coir products through various modernisation schemes. The new products should cater to the changing tastes of the people," said Union defence minister and Kerala MP AK Antony at Coir Kerala, stressing that the coir sector was the main income generator for lakhs of families and efforts to prop up the sector should be intensified.
The government also admits that the sector is in crisis. "The number of people taking up employment in the coir sector has fallen in the last couple of years. The government should focus on the coir sector and help the sector regain its lost charms," said Antony.
If not, the traditional industry could slip into decline with the young moving on to more lucrative and promising sectors.
Already, young Amritha, Shiji's 15-year-old daughter, says quite determinedly that she won't be following her mother and grandmother into coir spinning. "I want to be a teacher," says the Class 9 student confidently.
Her mother looks on proudly, smiles — and then gets back to work, working the husk to spin out yarn. After all, that has been the bedrock of their family till now.