When 'non-cook' Pia Arora married a master chef, she couldn't stop gloating over her good fortune — until her in-laws came visiting and she realised she was on her own.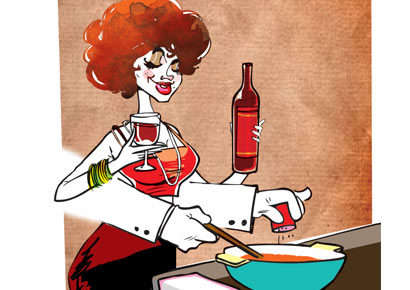 From Osho, the great master of spirituality and meditation, I learned the concept of duality. He said in life there is happiness and sadness. Wherever there is happiness, the ungodly head of sadness would be lurking close by.
"You are the luckiest girl in the world," everyone told me, when I pronounced that I was finally getting married, and not just to any man, but a full seasoned, five star hotel chef.
"He will make you dal bukhara and chicken gosht everyday." You will have the best parties; you won't have to work in the kitchen! You couldn't have asked for more!"
My kitchen, which earlier had one pot and no pans and a stove that I used as a side table, now has a pan of every shape and size, along with a chef's big knife and hundreds of ingredients and spices that I had never heard of. Who would have thought that 'Jaivitri' is not just the name of a woman being harassed on Saas bhi kabhi bahu? And how about 'Atar'? All I could think of was an iron to press clothes. 'Khada masala, ghost burrani, lobia', the list of vulgar words that I now use with nonchalant charm is endless.
It goes without saying that the chef, my husband makes food that makes you want to give up all ambitions in life, nail yourself down to a dining table chair, and never get up. All I need would be someone to pass me a book, every once in a while. How many of you have Hyderabadi biryani with lal salan for a Monday night dinner? Or Galoti kebabs instead of popcorn with a movie? How many of you can call your friends over and tell them your husband is going to cook, and then have him deliver a four course meal?
I was revelling in my grand fortune of being married to a chef when I felt something lurking around the corner.
Soon enough, my in-laws called to say that they would be joining us for dinner. I was thinking of what my husband could make that would floor them, and listing the ingredients he would need, when the chef called me from office. "Urgent work, I am going to Delhi tonight." "But your parents are visiting us tomorrow. Surely you can postpone for a few days. They must be dying to have your food!"
"Oh that's ok, they just want to spend time with us. You can fix them a nice dinner." Click.
What! Did he just say he was leaving me in the lurch without a drop of Javitri or Atar? How could I tell him that the only cooking I knew was putting pre-cooked frozen meals in the microwave? My husband had inadvertently made me dependent on him and I had happily rusted all my cooking skills.
My mind was racing to find excuses I can use to cancel this dinner. Me being a new bride and all that, if my in-laws discovered what a non-cook I was, they'll judge me forever. I finally decided I was not going to be a loser, I will make this work, I don't need the chef for every meal, there is a little chef after all in all women, isn't there? Or was that just a myth? I put on some Gloria Gaynor, "Oh, I will survive, I will surviiiiiiive", and opened a new bottle of my favourite South African dry red wine.
After two glasses, I entered the kitchen like a gladiator ready to take on his enemies, with all the pots and pans staring at me like the audience in an amphitheatre. I had a knife in my hand, which I was swinging around like a club. "No one will bring me down, I can make amazing food." Positive affirmations. "I will surviiiiiiiiive"
After five hours of slaving in the kitchen, and two bottles of wine to soothe my nerves, I realised I had made a full 3-course meal along with a dessert. The only problem was that the alcohol had got the best of me.
I tried out the food, and to my shock, everything tasted of wine, probably because that was all I could taste in my mouth. Horrified, I realised that the olive oil bottle I presumably emptied while cooking was lying quietly, full to the top, and on the other counter, lay a bottle of dry red wine. Empty.
My jaw dropped to the floor. Every dish from chicken korma, matar paneer to dal bukhara was now a heady cocktail, ready to punch anyone out of their senses. I checked the time, my in-laws would be here any minute. I was scrambling to find menus of food delivery places when the bell rang. I shoved half a tube of toothpaste in my mouth, had a perfume shower, and opened the door.
My in-laws stood there grinning. And holding a big bottle of Two Oceans dry red wine. "Your favourite, isn't it?"
I decided the only way I could survive this, was if my in-laws were in the same state of mind as I. And so it started. The night of three bottles of wine and three drunken adults. Taking advantage of the revelry and the wine, I quickly served them food before the effects of the wine could fade away. "We love the food. The best meal I have ever had. Our son is so lucky to have you."
South African wine saved the day, and the night. My in-laws left, intoxicated, happy, exuberant. I had passed the test. The chef called me the next day and told me how glad his parents were and how they loved the food and the wine. My face was red but I accepted his compliments. "I did it for you honey."
Happiness, Osho, happiness! I might not be a chef but I knew how to improvise.
As I was chatting with my friends later in the day, and parading the joyous relationship I shared with my in-laws and husband, my cell phone rang. Mother-in-law calling. Did she realise what I had done? Did she have a massive hangover? I answered the phone with a meek hello but she shrieked about the roaring time they'd had and how they would love to do this again. I was more than happy to do it, now that I had my secret ingredient. "But beta, this time we will do lunch as the Navratras have started, and we won't drink alcohol or eat meat for the next two weeks."
Here we are Osho, back at the sadness end of the duality. No alcohol.
Magic brownies?