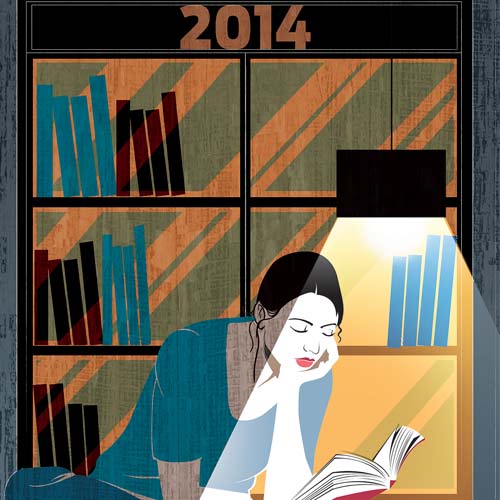 A new year for any book lover means stashing away those unread books from last year, clearing out available space for the new books that will be bought, dusting off those bookmarks and bookends, and making a list of titles that will then be divided into two piles — 'must read and therefore must buy' and 'stay away from'. This year's must read list has quite a few familiar names — JK Rowling (as Robert Galbraith), Haruki Murakami, David Mitchell, Mo Yan and Alexander McCall Smith. There are autobiographies from Stephen Fry, Vivienne Westwood, a biography of Prince Harry, and a celebration of the achievements of Winston Churchill. A few literary articles also herald the rise of self help books in the coming year. Here, we make a list of the books we would like on our bookshelves this year
The Illicit Worlds Of Indian Dance
Anna Morcom, January 2014
Until the 1930s no woman could perform in public in India; their roles were often played by men, some of whom were simply impersonators, others transgenders. Since the late 19th century, the livelihood and identity of these performers has diminished. Anna Morcom investigates the emergence of illicit worlds of dance in the shadow of India's performing arts by describing their struggle with stigmatisation and loss of livelihood.
Saffron Modernity In India: Narendra Modi And His Experiment In Gujarat
Christophe Jaffrelot, February 2014
In 2012, Narendra Modi became the first Hindu nationalist politician to be elected three times for CM candidature. Modi, who has a carefully cultivated communal image is a marketing genius. He has managed to combine his communication repertoire, Hindutva politics and economic modernisation to serve his profit. On the cusp of national elections, how will Modi or NaMo maintain this carefully-developed image?
The Underground Girls of Kabul
Jenny Nordberg March 20144
An Afghan woman's life cycle often begins and ends in disappointment: being born a girl and having a daughter. For some, disguising themselves as boys (bacha posh) is the only way ahead.
Nordberg follows some of these women — Azita Rafaat, a parliamentarian who once lived as a bacha posh, Zahra, a teenage student living as a boy, and Skukria, a hospital nurse who remained a bacha posh till 20. The book explores the historical and religious roots of this tradition.
Messi
Guillem Balague, September 2014
Lionel Messi's career has been a stellar ascent and shows no signs of slowing down yet. Born in Rosario in Argentina in 1987, he began playing football at a very young age, and it wasn't long before his skill and potential was noticed in Europe by Barcelona. He won the FIFA World Player of the Year Award in 2009, and the FIFA Ballon d'Or in 2010, 2011 and 2012. Guillem Balague's book attempts to getto the heart of the mystery and genius that is Messi.
HRC: State Secrets And The Rebirth Of Hilary Clinton
Jonathan Allen and Amie Parnes February 2014
Hillary Clinton is a powerful figure, a formidable stateswoman and the front-runner for the 2016 Democratic presidential nomination, marking one of the greatest political comebacks in history.
The authors have gone through 200 interviews with Hillary's intimates, colleagues, supporters, and enemies to create a remarkable portrait of the most important female politician in American history.
A Strange Kind Of Paradise: India Through Foreign Eyes
Sam Miller, February 2014
In this book, Sam Miller investigates how foreigners have seen and imagined India, from Alexander the Great to Slumdog Millionaire. Interspersed with accounts of St Thomas, Marco Polo, Ibn Battuta, Babur, E.M. Forster, Allen Ginsberg, Steve Jobs and many others is the story of Sam Miller's own twenty-five-year-long love affair with India. The result is a 2,500-year-long journey through Indian history, culture and society.
The Himalayan Face-off: Chinese Assertion And The Indian Riposte
Shishir Gupta
In April 2013, Indian troops spotted an advance patrol of the Chinese People's Liberation Army (PLA), 19 km deep within the Indian territory, a considerable distance from the Line of Actual Control. In this book, seasoned journalist and author Shishir Gupta discusses the various advances made by Beijing and India's political, diplomatic and military responses and foreign and defence policies.
Tibet: An Unfinished Story
Lezlee Brown Halper & Stefan Halper, March 2014
Tibet has always remained an enduring myth, a modern morality play about the failure of brutality to subdue the human spirit. This book traces the origins of the Tibetan myth, and the authors discuss how, after World War II, Tibet misread the diplomacy between India and China. Drawing on declassified CIA and Chinese documents, the authors reveal Mao's collusion with Stalin to subdue Tibet, double-dealing by Nehru, the diplomacy of Chou En-lai and how Washington see-sawed between the Chinese lobby and presidents Truman and Eisenhower, who initiated a covert CIA programme to support the Dalai Lama and resist Chinese occupation.
Women of Kashmir
Manisha Sobhrajani, May 2014
The narrative around Kashmir has been built around freedom fighters, insurgents and politicians — all of them men. In this book, journalist Manisha Sobhrajani reveals the other side of the conflict — the women, and their role in the freedom struggle for Kashmir, their suffering inflicted by both, the insurgents and the military forces, and their importance in the idea of Kashmir. She chooses women from all spheres of life to create a construct that will reshape the way one thinks about women from conflict areas.
Steve Jobs: The Wilderness Years
Brent Schlender & Rick Tetzeli
May 2014
This is being touted as the first comprehensive look at Jobs' career following his dismissal from Apple, an experience that kindled in him a burning desire to prove to the world that his initial success was no fluke. Based on personal taped interviews between Jobs and Schlender and other sources, this book will focus on the maturation of the most important business figure in modern history.
Servants Of The Goddess: The Modern-day Devadasis
Catherine Rubin Kermogrant, February 2014
This book follows the stories of five devadasi slaves in south India. Catherine Rubin Kermogrant sets out to make a documentary film about the lives of contemporary devadasis. Trained from an early age to sing and dance, they are taught that it is their sacred duty to provide sexual services to men. The book is a testament to the strength of women bound by a tradition that puts them on the borderlines of prostitution. The book also serves as an analysis of gender and caste relations in rural India.
Aarushi
Avirook Sen, April 2014
A fourteen-year-old girl is killed in her suburban home along with the family servant in puzzling circumstances. Within weeks, her dentist parents are the prime suspects; within months, they are as good as exonerated. Avirook Sen has followed the court case, examined all the police documents and interviewed key players among investigators, lawyers, family and Aarushi's friends. In Aarushi, he draws a brilliant portrait of the young woman, the aftermath of her death, and attempts to answer the biggest question — who killed her.
George And The Unbreakable Code
Stephen Hawking and Lucy Hawking, June 2014
On Earth, computer systems are acting strangely. The only common thing between these events is that they are good. Banks are handing out free money; supermarkets can't charge for their produce so people are getting free food; aircrafts are refusing to fly in war zones; and theme parks are giving free rides. No one knows where or when the next 'Random Act of Kindness' will happen, or who is behind them.
The Island Of Wounded Girls
Manjula Padmanabhan, July 2014
Youngest has saved his niece Meiji from certain death in the new Dark Age that has engulfed the world, only to lose her again to the Island collective. As he infiltrates the Island, his struggles — with the voice in his head and the inhabitants of a world gone wrong — only serve to steel his resolve to find the girl and escape once more. The book showcases the author's genius at creating searing landscapes and brutal worlds.
Leaving Time
Jodi Picoult, November 2014
Alice Metcalf is a researcher living on an elephant sanctuary which she runs with her husband, Thomas. Her studies look into how these animals react to grief. One night, Alice disappears, leaving behind only one witness: her three-year-old daughter, Jenna. Now, ten years later, Jenna is determined to find Alice. This is a book about the lengths we go to for those who have left us behind and about the staying power of love.
Panty
Sangeeta Bandyopadhyay
Translated from Bengali by Arunava Sinha, March 2014
Darkly glamorous and erotic heroines are the leads in these two novellas. In Panty, a young woman finds a silky panty in a guesthouse in Calcutta. A sensation of companionship envelops her; the sexual lives of the two begin to blur. In Hypnosis, a TV journalist on night duty has an unconsummated affair with a famous musician that leaves her shattered.
Journey Under The Midnight Sun
Keigo Higashino, May 2014
This one is a classic mystery by the million-copy cult Japanese bestseller and author of The Devotion Of Suspect X. When a man is found murdered in an abandoned building in Osaka in 1973, detective Sasagaki is assigned to the case. He begins to piece together the connection of two young people linked to the crime. Over the next twenty years we follow their lives as Sasagaki pursues the case to the point of obsession.
Mrs. Hemingway
Naomi Wood, May 2014
The book charts the lives of the four consecutive wives of one of the most famous writers of all time. The second novel by young British writer Naomi Wood, it paints a picture of complex marriages tarnished by lies and deceit and begs the question of how far each woman will go to retain her marriage. Told in four parts, Mrs. Hemingway interweaves the love letters, diaries, and telegrams of four very different women into one tale.
Every Day is for the Thief
Teju Cole, March 2014
The author follows up his highly acclaimed Open City with this novella which follows a man who visits Nigeria after years of absence. Along the way, the man reconnects with old friends, a former girlfriend, and extended family, and slowly begins to reconcile the profound changes that have taken place in his country and the truth about himself. Originally published in Nigeria in 2007, this revised edition is the first time it will be available outside Africa.
The Gospel Of Loki
Joan Harris, February 2014
The first adult epic fantasy novel from multi-million copy bestselling author Joanne Harris tells the story of the Norse God with the notorious reputation for trickery and deception. This is the unofficial history of the world's ultimate trickster. The Gospel... tells the story of Loki's recruitment from the underworld of Chaos, his exploits on behalf of his one-eyed master, Odin, to his eventual betrayal of the gods and the fall of Asgard itself.
Gone With The Vindaloo
Vikram Nair, January 2014
Vikram Nair's novel begins as a colonial adventure and ends with the conquest of the West by Indian fast food. Kalaam, a kathua, by caste a spinner of yarn, discovers that he has a god-given flair for concocting delectable recipes – a gift that he passes to his grandson Gone With The Vindaloo is a fun book that features pink colonial sahibs, ambitious wogs, pedigreed bawarchis, gross desi public school boys, a Russian heroine called Svetlana, godmen and Woodstock.
The Minor Adjustment Beauty Salon
Alexander McCall Smith, February 2014
As Botswana awaits the rains and the resumption of the eternal cycle, seismic upheaval is taking place at the No. 1 Ladies' Detective Agency. Not only is Mr JLB Matekoni attempting to reform himself into a modern husband, but after her marriage, Mma Ramotswe's challenging but irreplaceable associate Mma Makutsi has joyful news. Mma Ramotswe must now grapple with making tea, detective work and a new uncertainty.
The Last Word
Hanif Kureishi, February 2014
Widely considered one of Britain's greatest contemporary writers, in this latest novel Kureishi deals with a fading India-born writer whose autobiography is being written by a young energetic admirer of his work. Their conflicts and struggles are worsened by a publisher only interested in presenting the most salubrious account possible. The book is already enjoying a fair bit of controversy after claims that it has uncanny parallels with the life of author VS Naipaul.
Noontide Toll
by Romesh Gunsekera, January 2014
Vasantha retired early, bought himself a van with his savings and now works as a driver for hire in Sri Lanka. As he ferries new entrepreneurs, charity workers and families around the country, he reveals with self-deprecating wit and folksy wisdom their uncertain lives after the end of a decade-long war. Noontide Toll is a perceptive and sombre book that draws an extraordinary portrait of post-war Sri Lanka grappling with the ghosts of its troubled past.
Quick Takes
Il Divino Bambino
James Frey, August 2014
The hard-hitting new novel from the author of The Final Testament of the Holy Bible is a journey to contemporary Heaven and Hell with devastating personal significance
Cormoran Strike 2
Robert Galbraith (JK Rowling), August 2014
Book 2 in the Cormoran Strike after the highly successful The Cuckoo's Calling.
Colorless Tsukuru Tazaki And His Years Of Pilgrimage
Haruki Murakami
Published in Japan in April 2013, it sold more than one million copies there in its first six months. It follows the story of a 36-year-old man traumatised by rejection at high school.
Frog
Mo Yan
Set against the government's one-child policy in China, it is about a midwife in a rural community.
Nora Webster
Colm Tóibín
Set on the west coast of Ireland in the 1960s, the book will be out in June.
The Invention Of Wings
Sue Monk Kidd, January 2014
The book is by the author of the bestselling The Secret Life Of Bees.
The Bone Clocks
David Mitchell
The author of Cloud Atlas moves into the fantasy realm with a story that explores the nature of mortality.