Sparkling oceans, verdant hills, eight UNESCO world heritage sites, abundant wildlife, vibrant culture, quaint villages, delicious food, exotic fruits and warm, smiling people. That's Sri Lanka! Our intercity travel led us through winding mountains and lush tea estates, a typical sight along the coastline. Trains and buses (local and private) connect Colombo with the major tourist towns. While you can explore Sri Lanka on your own, we found a preplanned trip to be safer and inexpensive. If you also want to travel at your own pace, your personal car and driver-cum-guide is the best option.

We found their food similar to Indian food—fish, chicken, mutton or beef curry, rice and vegetables— but the preparation is slightly different and spicier. A must-try is Kottu, a mish-mash of a particular Sri Lankan bread, vegetables, spices, meat and /or eggs. Hoppers, made of rice flour and Pittu made with rice and coconut are other dishes worth trying.

To travel to Sri Lanka, you need an official authorisation known as the Electronic Travel Authorisation (ETA). When you arrive into Sri Lanka, you need to produce your passport to the immigration officer to obtain clearance and be issued a 30 day short visit visa in Sri Lanka. It is better if you carry along a copy of the ETA approval notice.

We discovered you could visit Sri Lanka within $500* (excluding air fare), if you stay for eight days, spending one and a half day at each place. Kandy, Sigriya, Bentota, Colombo and Nuwara Eliya are the tourist hot-spots. Hotels cost between $10-50 per night while you would pay $5-50 for food.

Kandy
One of Sri Lanka's world heritage sites, Kandy was the last of the Sri Lankan kingdoms to fall under colonial rule. Also home to Buddha's tooth relic, it is a religious and cultural centre. Kandy is also known for its gems, fabric, tea, and batik print works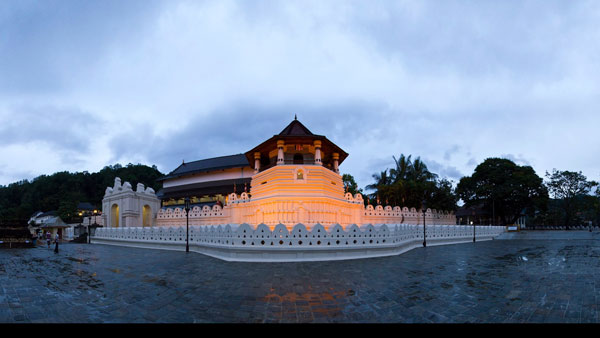 Kandy- Sri Dalada Maligawa (Temple of the Sacred Tooth Relic)
Image Courtesy: Oliver Zivkovic

Visit: Among the several tourist spots you can visit the Sri Dalada Maligawa (Temple of the Sacred Tooth Relic); Pinnawala Elephant Orphanage, home to abandoned and wounded elephants and the Ceylon Tea Museum. There are also several temples including, Gadaladeniya Temple, Lankathilaka Viharaya, Embekke Devalaya, Degaldoruwa Temple, Medawala Temple, Natha Devalaya and Galmaduwa Viharaya.

Hotels: Kandy View Hotel, Majestic Tourist Hotel, The Mansion

Restaurants: Aloy Restaurant, Devon Restaurant, Honeypot Restaurant and Guesthouse

Sigriya (Lion's Rock)
Located in the Matale District in the Central Province of Sri Lanka, Sigriya is famous for its ancient fortress and palace ruins on top of Lion's Rock. It is also known for its ancient frescoes, reminiscent of the Ajanta Caves in India.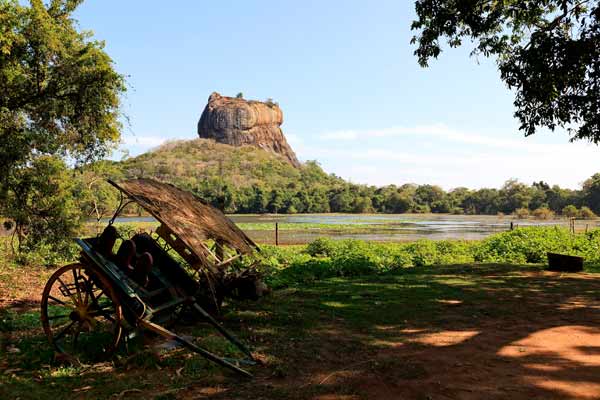 Sigriya- Lion's Rock in Sigriya is famous for the ancient fortress and palace built by King Kassapa in the 12th century
Image Courtesy: photographer Hans Wessberg

Visit: Sigriya Museum, the ruins of the ancient castle built by king Kassapa during the 5th Century AD and the lower level Lion's Gate. The view from the top (20 meters) is worth the climb.

Hotels: Wadula Hotel, Hotel Eden Garden, The Other Corner Hotel

Restaurants: Chuti, Croissant hut, Ahinsa restaurant

Nuwara Eliya
Nicknamed 'Little England', Nuwara Eliya is a well-kept, cozy town in the midst of tea plantations. It has great natural beauty, pleasant climate, and architecture that mimics an English country town. With breathtaking views of valleys, meadows, mountains and stunning greenery, Nuwara Eliya is the perfect place to relax.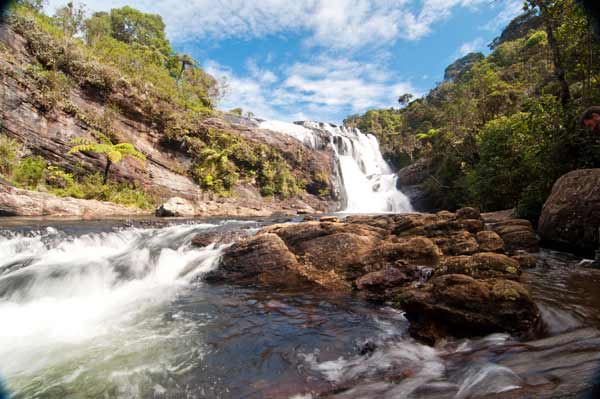 Nuwara Eliya- Visit Baker's Falls when you stop at Nuwara Eliya
Image Courtesy: Flash Parker www.flashparker.com

Visit: Main attractions include the golf and race courses, pony rides, trout streams, Victoria Park and boating or fishing on Lake Gregory. Also popular with bird watchers, it is home to many species of birds. From here you can also visit Horton Plains National Park, a key wildlife area of open grassy woodland and World's End, an 800m vertical drop. Other visits include Hatton, famous for tea plantations and tea factories, Baker's Falls and Seetha Temple, an important Hindu temple near Haggala botanical gardens.

Hotels: Mount View Cottage, Meena Ella Bungalow, Thuruliya Lodge

Restaurants: Grand Indian, Milano Restaurant

Colombo
The commercial and financial capital of Sri Lanka is also the largest city. A city like any other, you will encounter buzzing streets, traffic jams and skyscrapers. But a mix of the old and the new and the cultural and historical attractions, gives Colombo a charm of its own.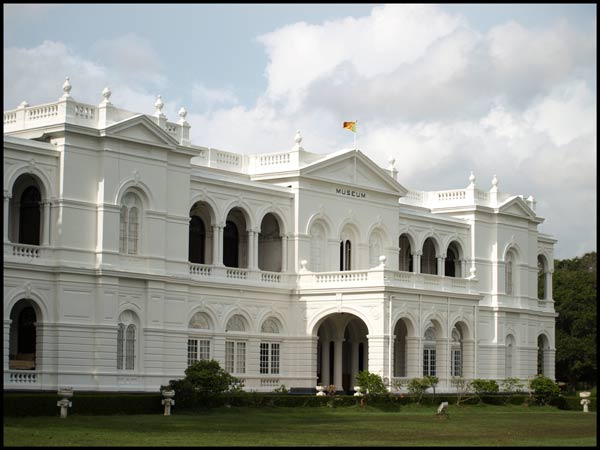 Colombo- The National Museum at Colombo is Sri Lanka's largest museum.
Image Courtesy: Harini Calamur

Visit: Independence Square, a heritage site, the National Museum, known for its collection of antiques and art objects; Natural History Museum, dedicated to the bio-diversity of the country, Kelaniya Raja Maha Viharaya, believed to be one of the earliest Buddhist dagobas in the country and the Bellanwilla Temple. There are also several art galleries, churches from the colonial period, the Galle Face Green Promenade and the zoo.

Hotels: Shalimar, Taibah Boutique Hotel, Clock Inn Colombo Budget Hotel

Restaurants: Royal Thai, Palmyrah, Bay Leaf Restaurant

Shopping: House of Fashion for clothing and accessories, Odel Department Store, where you can buy clothes, home products, packaged tea, coffee and souvenirs, especially the unique Sri Lankan mask.

Bentota
Bentota in southern Sri Lanka, is an ideal destination for water sports and is famous for its toddy production. Being a beach town, there's not much to see and do, except relax by the sea. There are beautiful birds, boat rides, the beach and the greenery! Do you need more? You can try snorkelling, diving, sailing, wind surfing, water-skiing, and deep-sea fishing at Bentota Beach, when the sea is calm from November to April.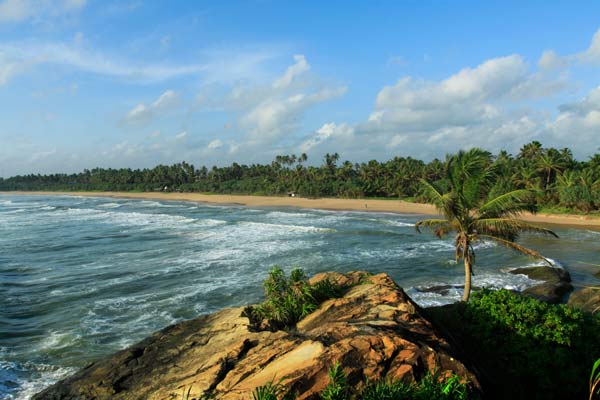 Bentota- Pristine beaches in Bentota are ideal for a relaxing holiday
Image Courtesy: Alastair Marsh

Hotels: Ypsylon Resort, Hotel Bentota Village, Mermaid Beach Cottage, Haus Berlin

Restaurants: Golden Grill, Escoffier, Panchi Villa Restaurant & Bar

Shopping: You can buy Batik, traditional masks and handicrafts, clothes, and wooden ornaments, semi-precious and precious gems at the Shopping Arcade located within the Bentota National Holiday Resort Complex and in Bentota town.


Other places to visit: Mt Lavania, Anuradhapura, Jaffna, Galle

*All values specified in US dollars.

Must Know

Girls should avoid wandering alone on the beaches (especially Bentota) at night
You may not find too many overnight buses between places, so ensure your intercity travelling is done during the day which is worth it as the views are great and you can make nice bus buddies
Sometimes when asking for directions, people say a place is approximately 4-5 hours away, while actually it may be an hour or even eight hours away
Avoid hotels recommended by the rickshaw driver. He's probably getting a cut.