Despite the numerous medals that Indian women won at the Commonwealth Games this year, for most women a career in sports is far from reality. Bhavisha Singh and Poornima Mahesh Dadarkar share their stories with Forum M Gandhi
The Karate Girl
Born in Hong Kong, 17-year-old, Bhavisha Singh's family moved to Mumbai in 2002. Her karate journey began when she took up the sport as a hobby at age six. By the time she was ten, she had earned her black belt. She participated in her first local tournament in 2004 and lost. But she did not give up. Today, a decade later, Bhavisha has won over 142 gold, 11 silver and 13 bronze medals in local, national and international tournaments.
Her participation in the 11th AKF Junior and Cadet Championship held in China in 2011 cost Rs 1,50,000—a rather expensive proposition for a middle-class family. But, in the interest of building a future for their daughter, her parents paid the price—for lack of other options. The Karate Association of India would not fund it, because it was a private tournament. According to Shihan Bharat Sharma, General Secretary of the Karate Association of India, "participants have to pay their own expenses unless it is an Asian Games or a Commonwealth Games (CWG) tour. Also, the state government decides whether or not to grant expenses. Moreover, karate comes in the 'Others' category in the Sports Ministry of India's priorities, making it unlikely that funding will be provided for this sport". But Bhavisha is still too young to participate in the 18-and-above only Commonwealth Games (CWG) and Asian Games.
Bhavisha and her team have been selected to represent India at the Karate World Championship, Germany. They need Rs 75,000 for registration, and around Rs 6,00,000, for their travel, stay and tournament expenses. They approached a few NGOs and the state government for help, but nothing worked out. Subsequently, Bhavisha decided to create a website to showcase her achievements, in the hopes of garnering sponsorship. This was when someone suggested that she contact 'The Logical Indian', a Facebook group that highlights social issues stories that mainstream media overlooks. The group set up a website for her (www.karategirl.in) where people can also contribute to send Bhavisha and her team to Germany.
Challenges notwithstanding, Bhavisha hopes to build a career out of karate. She tells us, "It is difficult for me to balance my studies and karate. It is also tough for my parents to manage my karate expenses. But, I am looking forward to excelling at karate and going on to start my own training classes. The women who won at the CWG are an inspiration. I see myself out there someday, winning a medal for my country".
The Girl in The Ring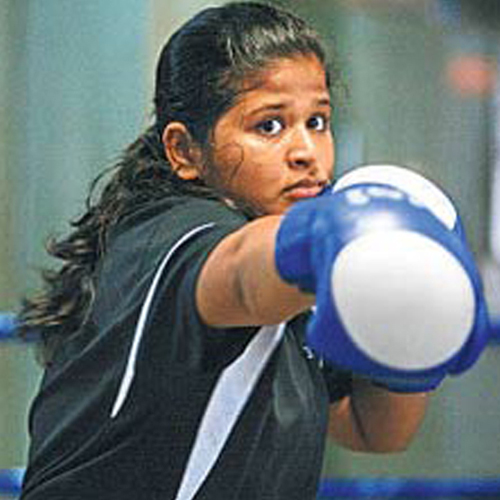 Poornima Mahesh Dadarkar, 21, grew up watching her father in boxing matches, but it was only as a teenager that she really took to the sport. As a kid, Poornima imitated what her father taught her elder brother. Her father was as excited about her boxing as she was and went on to teach her the basics until 2005, when he passed away. She tells us, "Even though I was a girl, my father never stopped me from learning boxing. In fact, he believed it would make me self-reliant." So, even after her father's death, she did not stop pursuing her dream of being a boxer. She may have started learning boxing as a hobby, but after 2008, when she won her first gold medal at the Junior Girls State Championship, there was no looking back.
After losing an academic year due to her focus on boxing, she struck a deal with her mother that she would pay just as much attention to her studies. As much as she would love to pursue boxing as a career, she won't because according to her, "In india, being a sportsperson is not a great career path. There is not a lot of money in it, and I have to support my family. I was lucky, I got to pursue it as a hobby; my brother had to quit boxing after my father expired, as he was then the sole earning member of our family".
A lack of sponsors means participants have to shell out tournament expenses themselves. Poornima says, "When we attend tournaments; they give us just Rs 100 a day; it becomes difficult to manage food and travel with this money. The other problem is favouritism during selections; but that can be controlled if one performs well."
According to her the problem with a boxing career is the lack of talent promotion. When asked if she has been inspired by Mary Kom, she says, "When I started boxing, I didn't even know who Mary Kom was. It was only after she won the Olympics that she was known. Until then, even she had to face a lot of challenges. There are a lot of other women in boxing who have won the Asian games, but, who knows them?"
@GandhiForum