Intolerance to air-conditioners and fans, even in India's hot summers, is not just about behavioural eccentricities. It could be a pointer to an underlying health problem, experts tell Yogesh Pawar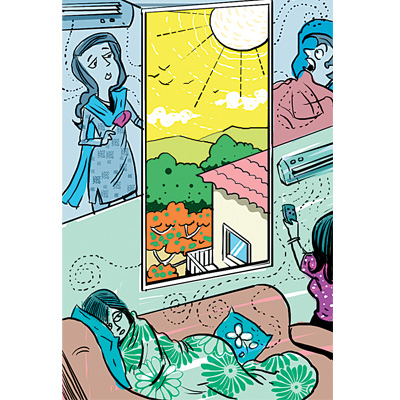 Malad residents Neville D'Sa and his wife Jeanne have been married for two years and were seeing each other for three years before that. Long enough, one would think, to get to know each other's quirks. "We have an argument almost every single day," complains Jeanne. The cause? "The air-conditioner and the fan all the time."
Neville, who works as middle-level executive with a pharma major, hates the fan being on and sleeps with a duvet even in May. "You know it's like a sauna. His clothes, the bed-cover, pillow and even the duvet get all wet with sweat and stink. I don't know how he sleeps like this?" Jeanne asks.
Neville, who also prefers warm beers and hates ice-cream, doesn't see the reason for the fuss. "It's just a reflection of the kind of warm person I am," he tries to joke and adds, "By the way I always do the washing at home, so I don't know what the issue is." On Jeanne's insistence, the lanky Neville has even been to both a psychiatrist and an endocrinologist. Both said he's fine. "That really got Jeanne's goat. She was hoping the problem would be identifiable and treatable," he laughs. "She's even cutting down on my favourite non-vegetarian stuff, saying that's contributing to the problem."
Reema Das, 27, and Rinku Mathur, 28, are roomies living out of a 1BHK flat in Kormangala in Bangalore. Both Delhi girls, who know each other since school, work for the same BPO and thought it made sense to be share a flat. "The A/C is barely on for a minute and Rinku will start sneezing. She hates cold drinks even iced-tea and cool fresh lime which she abhors," complains Reema.
The cold-hating Rinku has chosen the couch in the hall as her bed. "We've had fights because I want to put on the A/C in the hall while watching TV, but she gets angry that I'm encroaching on her space," says Reema.
Rinku doesn't see what the problem is. "Once we decided that the bedroom is hers and the hall mine, I don't see the point of making me suffer the cold. If she wants to watch TV, she should watch it without the AC."
It's reached a stage where Reema has decided to move out. "I think she needs help," she says wearily.
So are Rinku and Neville rare examples of 'really hot' people?
"No," laughs endocrinologist Dr Jatin Shah, "Between 3.5-4.5% of people can show such behaviour. The percentage for those with tolerance and preference for extreme cold of course is much higher. But we need to medically rule out thyroid problems which could also be causing this problem." According to him, hypothyroidism patients often complain of feeling cold all the time. This is very important, he says, particularly in hypothyroidism since patients have very mild or negligible symptoms.
Psychiatrist Sandeep Jadhav feels that this could sometimes be linked to mild depression or its onset. "A detailed diagnosis needs to be done to find out if this is pushing the patient to prefer heat." According to him, most patients of depression prefer the summer. "The long bright hours and presence of the sun lifts them out of depressive thoughts and the preference for all things hot may be an attempt to prolong that experience."
The Indian traditional medicine system of Ayurveda too makes a marked distinction between those prefer the heat normally and those who do so because of a health condition. "We decide body types on vaat, kapha and pitta. The vaat-types are generally dark, lean and quite tall. These people hate any kind of cold and are known to use thick bedsheets even in summer and avoid fans and A/Cs," says Dr Amit Mishra, a renowned Ayurvedic practitioner.
He sounds a note of caution about those who maybe avoiding fans and air-conditioners because of a latent problem. "A patient of mine was getting low-grade fever and did not want even the windows open. She would need a blanket to sleep. When I began diagnosis I found that her arthritis was causing a low fever. Once we treated that she went back to enjoying the open air, fans and even A/Cs."
Homeopath Dr AN Shroff is in agreement. "There will always be a small exceptional part of any population who will show such behaviour. Instead of terming it abnormal, understanding whether it is being driven by any other factors and treating them can be very important. As for the others it could even be a learned behaviour pattern."
Does this get Neville and Rinku off the hook? We sure hope it does.