Vegans are networking to come up with interesting ways to compensate for the absence of meat and dairy products in their diet, reports Shikha Kumar.
Monika Siriya, 29, eagerly awaits the monthly vegan potluck lunches in Mumbai. At these lunches, a group of 20 vegans in the city bring along a vegan food dish they have prepared, leading to a sumptuous spread of dishes like tofu bhurji, mock meats like sausages (prepared with wheat and soya), Gujarati kadhi (made with groundnut milk), baked potatoes, salads, various kinds of cheese, cakes and even vegan ice-cream.
"At one of these lunches, someone brought a delicious masala milk, where cow's milk was substituted with milk from almonds and brown rice. There is so much creativity," she says. Siriya confesses that these monthly affairs are a great opportunity for vegans to come together on a common platform. "It's a very light atmosphere. We share tips, recipes, talk about challenges faced while cooking, health problems, and also interact with non-vegans who are interested in this lifestyle."
Siriya and her husband have been strict vegans for two years now and she feels that her food options are anything but restrictive. She makes all the dishes that a non-vegan would eat by finding suitable alternatives. "I make tea with cashew milk. You just have to blend the cashews with water and it tastes exactly like milk tea," says Siriya.
These vegan communities are not restricted to Mumbai alone. Cities like Bengaluru, Chennai, Hyderabad and New Delhi have their own vegan groups that interact on a regular basis. The roots of veganism in India can be traced back to 1957 when the country played host to the first major event by the International Vegetarian Union, says Shankar Narayan, president of the Indian Vegan Society. Susmitha, a jewellery designer based in Bengaluru, is an active member of the Bengaluru Vegans group and made the switch to veganism 9 years ago. On her blog called blog.veganosaurus.com, Susmitha regularly posts interesting recipes of dishes like gulab jamun made with sweet potatoes, rolls with spicy peanut sauce and baked akki (rice) rotis. The dishes made by vegans vary according to the palates of the cities they live in. Vegans in south India look at interesting twists to the regular curd rice and idlis. "When I turned vegan, my first thought was how I would survive without curd. But curd rice is a common dish at our monthly lunches. The curd in the curd rice is made from peanut milk and the texture is near-perfect, apart from the taste," asserts Susmitha. There are also desserts like vegan chocolate mousse, which is tofu or avocado-based and chocolate truffles made with dates, cocoa powder and walnuts.
Like the Mumbai group, the Bengaluru vegan meet-up is open to everyone ranging from vegans, vegetarians and people who would like to learn about veganism and sample some dishes. "Apart from sharing experiences, we also have movie screenings, distribute leaflets and discuss how we can promote veganism," says Susmitha.
Most vegans ardently take up the challenge of working their way around non-vegan food. When Rithika Ramesh turned vegan three years ago, she took her love of cooking further by starting The Green Stove, a first-of-its-kind vegan bakery in Mumbai. "A vegan cake, that's made without eggs or butter, tastes equally delicious," she says.
Health benefits
Until eight years ago, macrobiotic counselor and chef Shonali Sabharwal was a hardcore non-vegetarian. However, she suffered from candida, a kind of yeast infection, and frequent trips to different doctors didn't help get rid of the problem. Her research revealed that dairy aided candida and meat led to a lot of toxic buildup in the body. "Cows are given growth hormone injections, the end products of which end up in our diet," she says. "I made the switch in phases, giving up my most favourite meat first and least favourite, last." The candida disappeared shortly after she turned vegan, apart from helping her lose a lot of weight. Today, Sabharwal prepares dressings like mayonnaise with silken tofu.
Vegans attribute a reduction in stress levels to a non-dairy diet. "When calves are separated from their mother, the cow undergoes a lot of stress, just like a human mother would. This stress hormone is passed on in the milk we consume," explains Monika Siriya.
There are a lot of myths associated with a vegan lifestyle, especially of not getting enough nutrients and vitamin B12 deficiencies, says Dr Nandita Shah, a vegan and founder of SHARAN, a non-profit organisation aimed at spreading holistic health awareness. "B12 deficiencies are common even in non-vegans. Alcohol consumption and microwaving products destroys the B12 vitamin," she points out.
Creamy Vegan Tofu Mayonnaise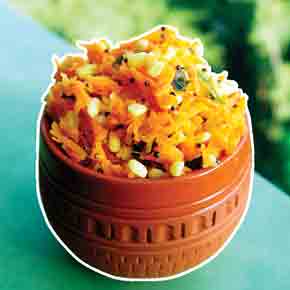 Ingredients
1 pack of silken tofu or any tofu which has a creamy consistency (you may need to add soy milk to get this)
2 tbsp lemon juicel1 tbsp miso (white)
2 tsp of olive oil
Method Steam tofu in a steamer for 3-5 minutes; let it cool for a bit. Add all the ingredients to your whipper and whip together. The mayonnaise is ready to eat.
Variation: You can also 1 tsp of mustard to it to give it a twist (especially good for your liver)
Courtesy: Shonali Sabharwal
Mashed and Sweet Potato bake
Ingredients
5 medium potatoes
2 sweet potatoes
1 cup spinach
10-12 baby corn
Pepper powder
Olive oil
Salt
Tabasco sauce
Bread crumbsl
Method: Preheat oven to 225°C. Boil, peel and mash potatoes and sweet potatoes. Blanch spinach and chop roughly. Slice baby corn into rounds. Mix all the ingredients except tabasco sauce and the bread crumbs. Press into a baking dish. Sprinkle with bread crumbs and press lightly. Bake at 225 °C for 10 minutes. Reduce heat to 180 °C and continue baking for 30 more minutes. Let it cool in the oven for 5-10 minutes. Serve hot with tabasco sauce.
Courtesy: Susmitha