Salim Arif's new play revisits Satyajit Ray's classic children's film in Gulzar style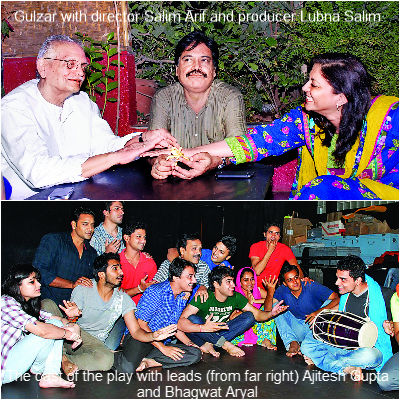 If Ajitesh Gupta was not singing and acting on stage today he would have been an Indian Navy fighter pilot. A career, if he had opted, which would have kept him financially sound while giving him a certain amount of prestige in the society that comes with men in uniform. However, the actor in him refused to bow down to social compulsions; the results of which were obvious struggles right from finding roles to earning a living – Ajitesh was not even able to pay his music teacher when he shifted to Mumbai! "But it's worth it. I enjoy what I do," says the young actor.
Working with stalwarts
The young talent has worked with many famous names in the theatre business already – right from Sunil Shanbaag to Manav Kaul. And now he is working with Gulzar and Salim Arif. "I have worked in many plays and with many actors but this play written by Gulzar saab and directed by Salim Arif is really my first big play with me in the lead," says the excited actor adding that the experience has been both exhilarating and overwhelming. "Who wouldn't want to work with Salim Arif? And top it with a story written by Gulzar himself. That's some good luck," he says.
Not really!
However, the story is not actually written by Gulzar but adapted in Hindustani from a story written by Upendra Kishore Roychowdhary in Bengali. Roychowdhary's grandson, legendary filmmaker Satyajit Ray, also made a film called Gopi Gayne Bagha Bayne on the same story. Meanwhile, the concept is same, Gulzar has made few improvisations in the story. "The idea is same but there are many improvisations in the script, keeping in mind the present times," informs the director adding that, "You will see the king hookd to PlayStation while small changes like a Moonwalk by Michael Jacckson will tickle the youngsters."
With a difference
The story is about Gopinath Gayne, the son of a poor grocer from a village, who wants to become a singer. Exiled into a forest, he meets Baga, who is exiled for playing the drums. Despite being really bad at their talent, the two want to make it big in their dream fields. While in the forest, the two entertain ghosts and demons who give them boons as reward for their talent. Not only they actually start singing and playing drums beautifully but also get magical shoes as reward. The two musicians get together and travel to many places. With the help of boons granted to them, they embark on an adventurous journey and the play goes on to depict their journey of rags from riches.
Sing along
It is not easy to sing while acting on stage but for Ajitesh that comes naturally. "I used to sing a lot in school. Being from a smaller town called Sitapur in Uttar Pradesh, it was not easy to fulfil my dreams of acting there. I took singing lessons in college in Pune and again in Mumbai when I started acting. I got the role because it necessarily required the actor to be a good singer," he says. But it was not easy to perform. "We were given 30 days to read the play. And when you do that – read a story again and again for a month – the character comes to you. However, when I started playing the character on stage, it was a different story altogether. I had to start my journey from scratch," he says.
Gulzar says...
"Writing for children is very difficult, more difficult than writing for adults. We have so much literature in our country but for children... none. Two of the richest languages in India – Hindi and Urdu -- have nothing for kids," says the legendary writer. But Gulzar also says that it's fun to write for kids. "I become them when I write for children. They don't let me feel my age," he says.
When and Where: June 15 at Prithvi Theatre from noon onwards