Simon Smith, a world leading sand sculptor, brings Shrek, donkey and their castle to life on the Calangute shore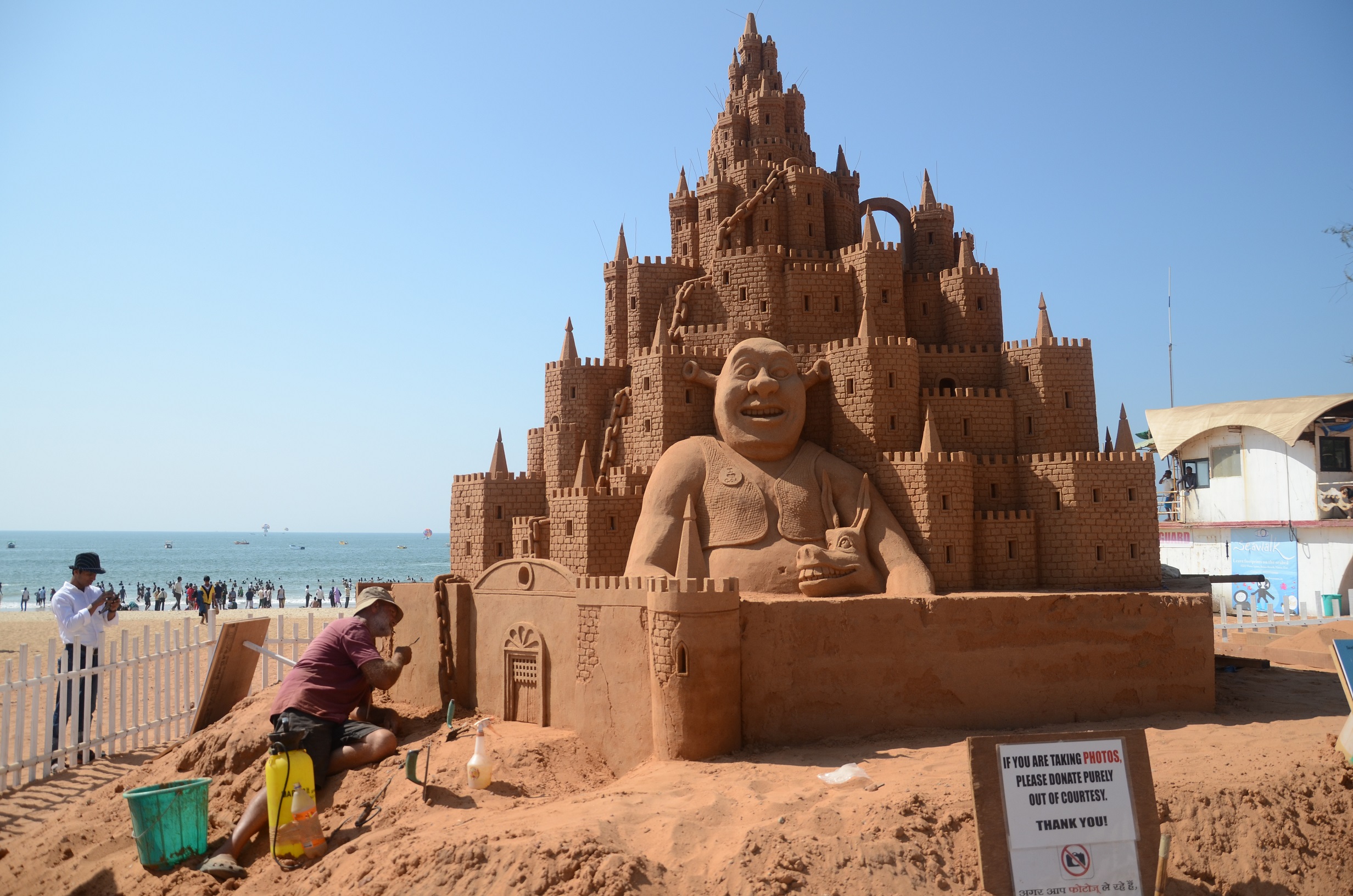 If you're going to be in Goa anytime from now until the 31st of May this year, make sure you head to Calangute beach. It may be more crowded than usual, but it will be worth the trip. As you walk down the steps that lead down to the sandy shores, just beside Souza Lobo, you will catch glimpses of Shrek and Donkey holding court from a 20-foot sand castle. Much like the tourists they seem to been enjoying basking in the Goan sun. But they're not the kind to sleep at sundown. If you happen to go down to the beach at night, the windows of the castle will be lit up with LED lights.

Sand Cult
Presented by Sand Cult, in association with Goa Tourism, the sandcastle has been created by the World Master People Champion, Simon Smith. It took him 21 days to finish it and it was ready by the end of January. What people find hard to believe is that the sandcastle has been built only with sand and water. Jerry Jose, Founder of Sand Cult, says "You need to choose the right kind of sand as there are two types–hard pack and soft pack. Tests are done to determine if the sand is suitable. If it is soft-pack sand, you can't go big and you can't keep the structure for long. The sand at Calangute beach is hard-pack, which is why it will be on display till the 31st of May." If you're in Goa for the carnival, make your way to Miramar beach, where you will see a sand sculpture based on Alice in Wonderland, by Indian sculptors. "This display will be up from the 15th of February until the 4th of March. The sand at Miramar beach is soft-pack, which is why it won't stay as long as the one at Calangute," explains Jerry.

Sand Cult
So why Calangute? Well the answer is pretty obvious; the hard-pack sand which proved to be the right sand needed and the popularity of the beach among the tourists made it the chosen beach. "People come to Calangute beach anyway and when they see the sand castle, the click pictures and post it online. It goes viral. They share this latest attraction on the beach with their friends; the word spreads and tourists keep coming." So with the hustle and bustle, how has this sand castle not been knocked down yet? There's a security guard 24/7 watching over it. So make sure your kids don't run amok.
/
Sand Cult
Patience, passion and dedication... Simon works non-stop from sunrise to sunset. Mumbai-based Averil Nunes walked in on Simon, 10 days into his creation. "He was so focused, that my attempts to get him to turn around and pose with his creation, drew no response. Shrek (complete with an I love Goa pin), Donkey with his trademark grin and the tower wall were done and he was fine-tuning the chain link that runs around the castle. Chip, blow, chip, chip blow — that was the rhythm he was working to that day. The birds had already knocked off the spire from the highest tower, so they had strategically stuck twigs into the towers to prevent birds from destroying them. The detailing is phenomenal–the cracks on an ageing castle, the grating of the castle gates, the peeling paint on the walls that revealed the underlying stonework... Now, if only Shrek's eyes would come to life. Sadly, the notice that read, 'If you are taking photos kindly donate purely out of courtesy', didn't draw too generous a response, at least while I was there."
Why Shrek? "We wanted to incorporate a children's character for kids to connect. And a castle as sand castles are always a big hit. So we decided on Shrek, as he has a castle and kids love him," says Jerry.

Sand Cult
So how did Simon get into sand sculpting? "Simon was a door-to-door salesman when cancer forced him to stop his work. He took some time off from the hospital to relax and unwind on the beach, where he started playing with the sand and discovered his hidden talent overnight. He won the World Masters People Champion in 2003 in Canada. Now he does this full-time. He can make anything under the sun. Cars are his speciality. People think it's a real car covered with sand."
While Simon's hands are his primary tool, he also uses simple tools like a palette knife, straw or pipe, carving, flattening (spoons) and pointed tools. Wooden forms and blocks are often used to compact the sand, which is carved by hand once the blocks are removed. For those inspired by Simon and intent on trying their hand at sand carving, all you need is–a bucket and a few carving instruments like spoons, ice-cream sticks and a palette knife (which you can buy at any art store) and a lot of patience.