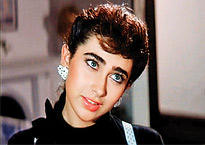 The wardrobes of Bollywood actors have, at times, set the trend for years after their movie releases. Fashion in films from the '90s, however, are a notable exception, finds Shikha Kumar.
I was five years old when I saw Andaz Apna Apna. I remember asking my mother why Karishma Kapoor was wearing orange-coloured lipstick in the film. She replied that "it would come into fashion soon". It's another matter that it never did.
This wasn't always the case. In Bollywood, fashion statements have differed with every decade — whether it was Saira Bano's body-hugging churidar-kurtis in Padosan or the bell-bottoms trend channeled by Amitabh Bachchan and Rajesh Khanna. Photos of my father dressed in bell-bottom pants in the '80s are a testimony how movie fashion often trickled down to the common folks.
Nineties fashion didn't make the same jump off-screen — not that it didn't make an impact. The decade is remembered fondly for the garish and outrageous costumes worn by actors in Bollywood. While the first person to come to everybody's mind would be Govinda for his flashy, multicoloured shirts and pants, there were many others who wore cringeworthy clothes.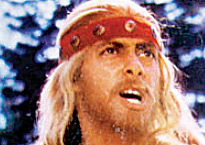 Before Manish Malhotra transformed Karisma Kapoor's sartorial taste, the clothes she wore in her films can best be described as tacky. Andaz Apna Apna might have acquired a cult status for its comedy, but it will definitely not be remembered for its costumes, especially Karisma's — at least in any positive sense. Along with a hairstyle that looked like a bird's nest above her forehead, she committed the sin of wearing stripes and polka dots together. Other fashion choices included a Snow White-inspired red and blue 'frock' and a pink dressing gown with layers of frills, complemented with a veil and a pink flower in her hair. Not to forget the constantly orange lips that looked like she'd had too much juice. She continued the trend in movies like Aatish, Jigar and Saajan Chale Sasural.
In Yeh Dillagi, Kajol wore short, tight-fitting frocks, and frilly school-girl skirts were her staple. She also wore an orange bedsheet-type garment while crooning 'I am sixteen' in Hulchul. The frocks phenomenon was carried forward by other actresses like Juhi Chawla, Tabu, and Madhuri Dixit in Hum Aapke Hai Kaun.
Akshay Kumar was another victim. While most would not remember his movies from the early '90s like Mr. Bond and Waqt Hamaara Hai, he wore questionable clothes in both. In one of the songs from the latter, Akshay is seen prancing around in a pink boat-necked t-shirt and jeans with a scarf draped around the left leg. A closer look will reveal that it is, in fact, pink embroidery on the jeans and not a scarf. In Aflatoon, he can seen wearing green pants paired with a dark green shirt that reminds one of tarpaulin sheets.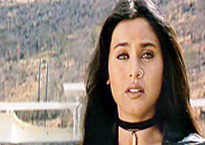 Salman Khan cannot be excluded from the list either. It's impossible to get over his his nearly-white wig and studded headband look in the period film Suryavanshi, and Hello Brother where he wore bright pink jeans as well as a red jumpsuit.
The list is exhaustive, with other instances being Rani Mukherjee's 'gothic' look in Bichhoo, replete with leather jacket, stockings, boots and a tattoo; Anil Kapoor in Laadla and a long-haired Saif Ali Khan in films like Surakshaa and Bambai Ka Babu. While '90s nostalgia sees many of us returning to many of the decade's trends, hopefully this one will be confinded to the cultural dustbin.