Skinny, tight and chic — wax-coated denims are the jeans to be seen in.
So when we saw Priyanka Chopra, Preity Zinta, Deepika Padukone in oh-so-tight-can't-breathe-in denims, some reacted with disgust, some with envy. While fashionistas pat the girls for their rock star gut. For the fashion oblivion, we are talking about wax-coated denims. So what are they exactly? How do you wear them and more such questions are about to be answered, so sit back and read on: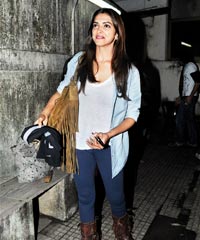 Sujata Assomull Sippy, fashion columnist and brand consultant, explains, "They are denims coated with a beeswax or some sort of wax glaze that give jeans a shiny look. You can even do it at home but you need to heat press the jeans to get the denims to really soak in the wax. It's a bit like giving jeans a patent touch. Some find them a great alternative to leather pants." But Sujata warns, "Anything with shine attracts attention, so if you are pear-shaped this is not the best trend for you as it will attract attention to the bulkiest part of your body!"
How to wear them: The silhouettes to team wax-coated denims are loose pastel hued T-shirts with black or cobalt blue blazers. The denims can be worn casually either for a movie or dinner. For the winters, pair waxed-denims with a cardigan, multi-tonal scarf and thick wedges to create a laid back edgy look. Team black peep-toes and a neon envelope clutch with the denims.
Designer Nidhi Munim further suggests, "Coloured wax denim is a fun way to add spunk to simple tops and shoes. Pair your plum coloured wax finished skinnies with a neutral top and a pair of neutral peep toes. Black wax denims also work to create an edgy, chic look. Paired with black heels, this look is super sexy."
To add a slightly formal look, throw on an embellished blouse, blazer and printed pumps and hit the town! Accessories should be minimal. No earrings, no neckpieces and avoid anything that's gold. However, if you have long tresses then leave your hair loose and messy.