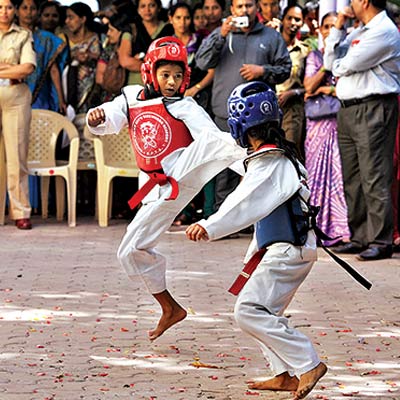 The Mumbai railway police on International Women's Day conducted an awareness and self-defence programme for railway policewomen and travelers on Saturday.
The programme was held at the railway police officers' ground behind Swami Narayan Temple in Dadar (east) between 11am to 4pm. The event started with the deputy commissioner of police (railway) Rupali Ambure, who is currently holding the charge of the railway commissioner, giving tips on safety to over 200 women. Policewomen and travellers were among those who attended the awareness and training programme.
Ajay Lokhande, a police constable with the railway police, who also teaches railway policewomen karate demonstrated a few quick self-defence tricks. With the help of 20 women personnel, Lokhande displayed the hand technique method to the audience which can be used in case one is caught in a situation while traveling in the train.
Sandeep Pal, a police inspector with Mumbai railway police said, "The idea behind this programme was to create awareness among women personnel and travelers at the same time. They were also advised to approach policemen if they come across any problem while travelling. In case they cannot spot a police personnel then it is always helpful to scream as this will not only alert the policemen travelling in the same train but also the passengers. In Mumbai the trains are never empty."