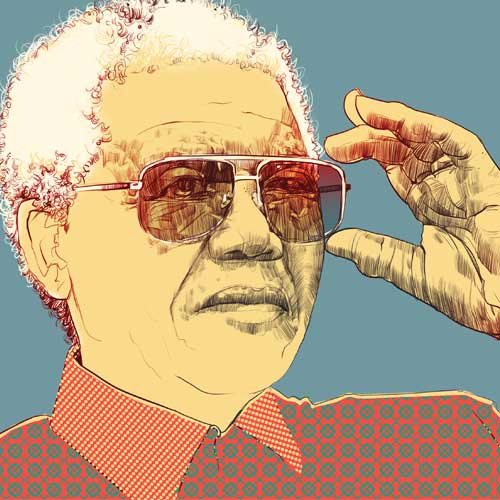 Dear beloved, beautiful and newly departed Tata Madiba,
By now you must have settled in and must be getting tired of posing for all those 'selfies' with Father, Son and Holy Ghost and playing with all those little angels running around your knees. It's been a long road Madiba and no one deserves the peace and quiet of eternal life more than you, so I was fighting the urge to write to you, but Madiba — sorry! Please! Put your heavenly rest on hold and spare a thought for what's just happened in India.
They've recriminalised homosexuality last week Madiba, turning the clock of progress centuries back. It was a criminal act against humanity. Men and women, who for decades had faced discrimination, subtle and overt in their homes, workplaces and in their daily lives, who'd had to constantly look over their shoulders, hide behind doors, face ignominious, barbed sarcasm, of threats, extortion attempts and insults, had been thrown back in to their man-made dungeons, just when they thought they would be set free. Some of these beautiful boys and girls who had brought their tiaras and tutus to dance the night away in a celebratory parade, expecting the judgment to go in their favor, broke down and cried on national TV Madiba, their tears mingling with the paint of pride symbols on their cheeks.
It was heartbreakingly sad the day the judgment came and we cried with them too. Every single man and woman, who knows right from wrong, and dignity from disfranchisement. Who knows that the fraternity of human beings would never be realised if discrimination and injustice against a few existed.
Dear Madiba, you of all people know what it feels like to be discriminated against, because of the colour of one's skin, the coincidence of one's caste or the chance of one's sexual orientation. You know that injustice. You stood up against it. You looked it in its face and stared it down for the coward it was.
And so, (even though I notice the insidious campaign to co-opt you into an icon of cuddly forgiveness) — I write to you today Madiba, to ask you to turn your wise and brave eyes on my country today.
To teach us the importance of standing up against brute power and its brutish consequences. To show us how there is no life worth leading if it is one of fear and shame and untruth. To give us that unimaginable strength that you had possessed, to never give up the fight for what is right.
Because nothing is more fundamental to a person's life and dignity than their sense of pride in who they are in the fraternity of mankind. Nothing damages the dignity of the human race more than the acceptance of injustice and untruth.
So give us a bit of your power Madiba, now when we need it the most, to face one of the darkest moments in the fight for our nation's soul. Look down on us and send us your moral wisdom...you who spent 27 years in solitary confinement, dreaming of hope. Some of my brothers and sisters have been in such cells even longer Madiba.
Come, walk with us in this long march to another freedom. With you by our side, can victory be far?
Yours sincerely etc

Malavika Sangghvi