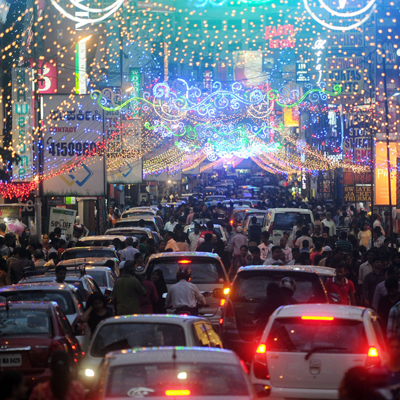 A stone's throw away from Chhatrapati Shivaji Terminus (CST), Mohammed Ali Road is known to serve as a transit route for workers and retailers. Nestled under the JJ Flyover, this road has more to look forward to during the month of Ramadan. It is this festive season when street food gains its right form with small hawkers nestled in every part of Mohammed Ali Road. More often referred to as 'Midnight Bazaar', this road gauges the apt description of a night life in Mumbai.
Named after the famous Mohammed Ali Jouhar, the leader of Khilafat Movement, this road stretches from Crawford Market and runs right up to JJ Hospital. The specific street food zone referred as Khau Galli has stories that start with shwarma, kebabs and end with shahi sherbet and phirnis.
Muslims breaking their fast and celebrating Eid-Ul-Fitr are not the only patrons of Khau Galli, Mohammed Ali Road. People from nearly all walks of life join the festive fervour to satisfy their gastronomic delight. It is during Ramadan season that the footfall multiplies 5 times than any other normal day. Mohammed Ali Road reaches its zenith with the display of mouth watering delicacies. The cooks are very busy preparing all through the day and keeping the best food ready.
The Minara Masjid at M Ali Road has a view of scores of worshippers, praying namaz earnestly. Once the sun sets behind the horizon, the fast is broken by first savouring almonds and then the rest of the food becomes the ordeal of the night. The meat and sweet experience, fried, toasted, grilled, chilled in front of one's eyes becomes the perfect efficacy to tinge the taste buds. Sweets best found at Tawakkal, kebabs made-on-order on fresh seekhs at Bar-b-que and of course the Biryani of Bademiya is something that you would get year long.
But here is enlisting the 10 food items you must grab, before the last day of Ramazan draws an end-
Burhanpur Jalebis
Chicken Shwarma
Tandoori Quail
Tangdi Kebab
Mutton Paya
Nihari-Mutton
Imaam Sharbat
Malpuas
Phirni
Falooda