Master the playful version of this fall trend with aplomb!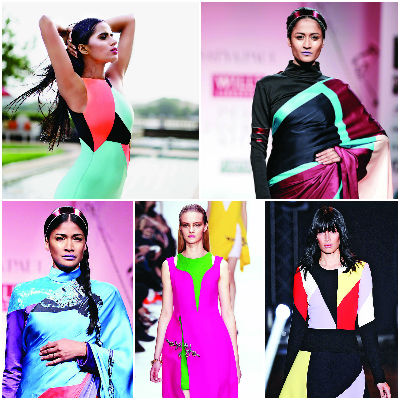 Raf Simons' Dior fall runway some strikingly colour blocked ensembles - he paired green shifts with pink tunics and offset blue with red in pieces. Roksanda Ilincic's London outing saw powerfully colour blocked sporty T-shirt dresses. Back home Masaba for her Satya Paul line clashed metallics in saris and separates. One can easily attribute it to the sporty chic trend prevalent for the last few seasons. However, understanding how to colour block pieces to accentuate your assets and slim your silhouette is crucial.
Fall needn't be boring!
Designer Nimish Shah of label Shift, who's done colour blocking for his fall offering says, "Fall can't be boring anymore. Designers are adding value addition to the collections. Colour blocking trend is an extension of the sportswear trend but laced with playfulness. It's more abstract and not linear. Colour blocking is a great way to create an illusion to accentuate body forms. For example, an A-line shift dress with upper and lower parts in two different colours echoes the length. A few seasons ago, Celine did an under-arm side seam area which made the waist look tiny. However, don't go crazy with it. It has to be soothing."
The colour theory
Designer Payal Khandwala, who's known for her colour-blocked ensembles says, "I am a little old school and since I love making colours,colour blocking is my thing. Of course, there are unwritten rules and dos and don'ts. You can't take six beautiful colours together and there has to be a fine balance and you need to walk the tight rope. Tame it a little with neutrals. I feel our eye still reacts and reads things in a certain way."
Colour blocking is here to stay
Designer Shivan of label Shivan and Narresh says, "The sheer reason behind the longevity of this trend has to be attributed to its versatility. Fall 2014 will see a variation of colour blocking with prints: the prints would follow a blocky and multi-hued approach to create blocking inherent in the print itself and would see lesser need of putting together separates to create a colour blocked ensemble."
However, he cautions that do not overdo the extent of color blocking, subtle and sober choice of colours work as effectively. "In case you go with brighter colour blocks, keep accesorisation to a minimal," he adds.
Make it work for you!
Designer Nachiket Barve says, "It's more of a style element than a trend like print. It's important to keep the proportion in mind and it has to work for you. Neon with neon is totally out and don't end up looking like box of crayons. Opt for dull with bright and neutral with colours."