Revel in the delicacy of filigree jewellery, inspired by the classic lace work, as we explore its grooves and niches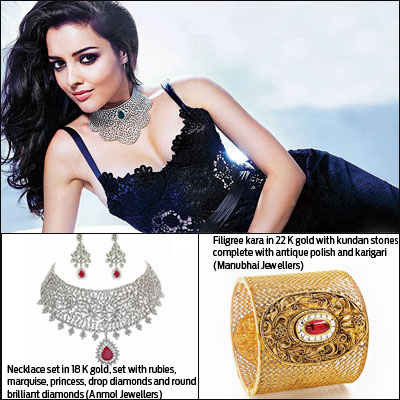 There cannot possibly be a trend alert for a jewellery form that has remained in existence for thousands of years. And yet, filigree jewellery tends to make a "comeback" every other season. Traditionally speaking, filigree is the art of rendering gold or silver wire into images of lace. As an art form that originated many decades ago, filigree jewellery was always made by hand. However, modernisation and the introduction of time-saving tools eventually started competing with the beautiful handiwork of talented craftsmen.
It's all in the details
Filigree is entirely about the finer details of the metal being used. Lace, a sensual and utterly feminine material, lends a metal an infinite variety of shapes, lines and curves. This could be one reason why women who have an eye for detail fall in love with filigree jewellery.
The vintage charm
Since filigree dates as far back as the 16th century, the motifs and inspiration for this jewellery can be found in vintage objects and ancient architecture. A popular design in this jewellery is the Portale design that was inspired by a wrought iron element over a doorway in Florence, Italy. Closer to home, the tarakasi style seen in Cuttack, India, also features traditional filigree work, revolving around images of deities.
Preserving the allure
Filigree-based jewellery has many niches and vacant spaces that quickly collect fibre from fabric, dirt, dust, etc. More often than not, the jewellery is very delicate and lightweight and must be handled gently. "Always protect your jewellery from sharp blows, scratching, chemicals, sunlight and heat and cold," advises Ishu Datwani, Founder, Anmol Jewellers, "Ideally, store your jewellery in a soft lined box or pouch. Try to keep pieces apart, so that they don't rub together or tangle up."
"Use a mild detergent with warm water in a bowl. Dip the jewellery for a minute and gently brush the same with a soft bristled tooth brush in the niches of the jewellery," suggests Samir Sagar, Director, Manubhai Jewellers, "However, if there is kundan work on your jewellery piece, you should avoid contact with any form of water, damp cloth, any other liquid or soapy solution. In this case, use a basic eraser (used for erasing pencil marks) or a dry soft bristled tooth brush to gently wipe of the dirt and grime. You could always take the jewellery piece to your nearest and trusted jeweller for a safe remedy."