Warm to beauty's new infatuation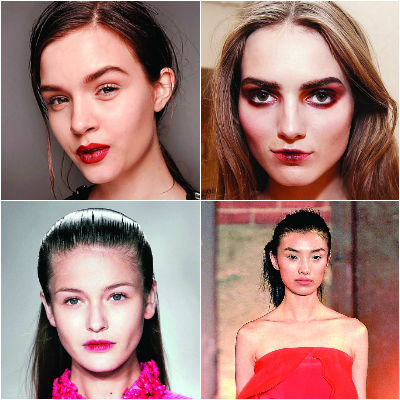 Models wearing popsicle-stained lips complementing fresh skin were seen on the runway of designer Christian Siriano at New York Fashion Week. The imperfect berry-tinted lip that resembles a red wine-stained mouth is beauty space's latest crush. The sultry lip was ubiquitous at the Prada fall 2013 runway show and spilled on to 2014 too.
Wear it with confidence
Virginia Holmes, Make-up expert, Fat Mu says, "Firstly with this trend, know you must wear it with confidence. You cannot feel shy about it. It's a head turning look so must be carried with aplomb, charisma and artistic application. Always prep skin before any make-up is applied, this includes lips. This is a lip look so please keep lips nice and smooth."
Major summer trend
Make-up artist Vipul Bhagat says, "Popsicle stained pout is a major summer trend. You get kiss-proof stainers from brands like MAC and Bobbi Brown and they work very well for working women who don't have the time to put the lip liner. Take a dark pencil and use your middle or first finger to tap it. Tap it on the lower lip and little bit on the upper lip. Do not put any outline. The lipstick goes away but the pencil doesn't."
Step-by-step guide to stained lip
1 Pick two colours: dark and light. All depends on how daring you can be. A deep purple and an orange... or maybe a red and popping pink.
2 Line your lips with the lip liner to provide a base for the lipstick in the darker shade you've chosen, or match as closest to it.
3 Apply the darker shade on top of the lip liner base to add intensity and to ensure look stays there for longer.
4 Take a tissue and blot your lips together focusing on the central part of your mouth. Do this until you see your natural lip emerging, a space has been created for your second colour.
5 Now take your lighter colour and using the lip brush add in your new lip shade. The lip brush means you can blend in the two colours. Visualise them both blending into one another. You can reverse this and use a darker colour inside and a lighter shad outside. That's a real Popsicle finish.
6 Remember that your finger is a great blending tool too...as long as it's clean.
7 Remember we re all artists so have fun with this and pop those colours.