He was in Jaipur for just three days but like the hero of his book Zealot, those days proved enough to put his stamp on the Zee Jaipur Literature festival. dna caught up with Reza Aslan and spoke to him about religion, being away from Iran and how to deal with controversy.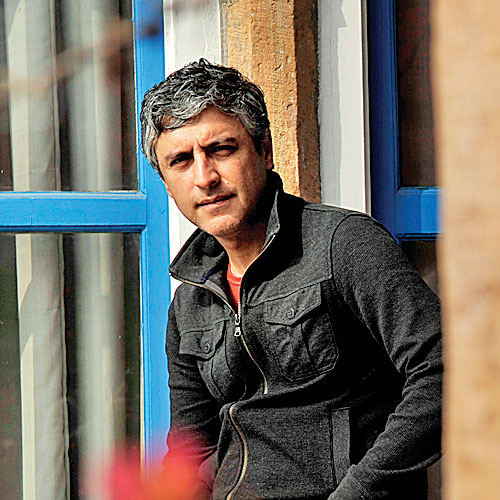 By the third day of the ongoing Zee Jaipur Literature festival, it became quite apparent that Reza Aslan was the star of the show. The religious scholar and author of the controversial The Zealot drew the biggest crowds wherever he went and kept them in splits with his witty remarks on otherwise serious subjects.
The line for his autographs increased with each session, leaving other writers alone and quite possibly left out. The signed copies of his books sold out. If there was anyone who didn't know about Aslan on the first day of the festival, they certainly knew him by the third.
Festival director William Dalrymple even went so far as to tweet that Reza Aslan was the superstar of JLF. The 'star' himself remained quite abashed with all the attention, blushing on cue to the frequent compliments from the audience.
One common subject the Iranian-American author addressed in his sessions was related to his country of his origin, and, of course, Jesus. "When it comes to Jesus, looking at him as human being in the world in which he lived, allowing that world to define who he was is something that even the most devout Christian rarely has an opportunity to do," he said, explaining the premise of his most controversial literary work.
He attributed the success of The Zealot to the growing audience for literary re-imagining of the lives of religious figures.
"Jesus has had such a profound influence on the world and particularly on 'western civilisation' and on people who are deeply spiritual but not interested in religion. These alternative takes on very important religious figures has really taken off. My first book 'No God, but God' was a historical take on Prophet Mohammed, in a way that most Muslims had never heard of before."
The success of his book was also accompanied with a lot of criticism. Right wing conservative Christians have expressed strong opposition to the book.
That hasn't deterred Aslan though, who would rather pick encouragement, "I get a dozen emails a week from Christians telling me that the book has actually empowered them; that this is the first time they've had an opportunity to understand what it means to say that Jesus was also a man, which is the foundation of Christianity - Jesus was both man and God. I think this focus on the man has been a profoundly moving experience for both believers and non-believers."
Incidentally, the other episode that shot Aslan to global fame involved an unenviable interview with Fox News, and questions of his credibility as a religious scholar in relation to his Islamic faith.
Recalling the incident, he says, "The best way to defeat the devil is to mock him, so when I am confronted with that kind of ignorance and xenophobia, I find that the best response is laughter and mockery." In one of the sessions, he added that he had wiped out the interview from his mind.
Does the fact that he writes and questions people's beliefs about prominent religious figures make him anti-religious? "I am a Muslim but I use the language, symbols and metaphors of Islam to help define what that means. I am a scholar of religion so I know not to take any religion all that seriously."
But then how exactly do religious scholars perceive religions? "The problem with religious people is they confuse religion for faith; these are two different things.
Faith is indescribable; religion is the way to describe it." Aslan argues that religion is not something to believe in, but rather a path to a destination, and not the destination itself. "Religious people say "I believe in Islam etc", but these are nonsensical terms. Religions are not things to believe in, they are signposts to God. The thing to believe in is God."
Religion wasn't the only thing Aslan expresses strong views on. He was also very vocal in his views on US-Iran relations and stressed upon them during his session on Leaving Iran: "The animosity between US and Iran runs very deep.
There is anger and hatred that goes beyond competing interests, beyond national identities, something like what's there between India and Pakistan. Iranians just do not trust America, and vice versa," he says. "So for me and all Iranian Americans, it becomes our principle task to become a bridge between these two cultures, to get them to trust one another," he adds.
Having left Iran as a kid, Aslan moved to the US following the revolution of 1979. "The early 80's were not the best time to be an Iranian in America," he shares. "As opposed to now, it's fantastic!" he quips. Did he have identity issues?
"As a seven-year-old kid, I did my best to distance myself from Iranian culture. In fact, for a good part of the '80s I pretended to be Mexican and learned how to breakdance!"
Talking about his experience of "fitting-in" he goes on to say, "I've had that larger national experience myself, when I first came to the US and was treated like an outsider.
For years, I felt like I was neither Iranian, nor American and then gradually I realised that I could be both and that it's easy to be both. Over the years, though, I feel like I have matured to the point where I feel very comfortable now with my dual identity."
Aslan, has also recently been in the news, for reasons other than his books. A documentary film 'The Square' by his company Boom Gen studios was recently nominated for the Oscars. An excited Aslan comments, "We develop stories from Central, South and West Asia and translate them for a global audience. We aim to use the media to change the perception that people have about this part of the world.
I can write a hundred books and it won't have the same effect that one good movie can have and so I rely on pop culture, TV, movies and music to write stories that change people's minds."
Was Aslan the star of Jaipur? If the frequent refrains of <span data-scayt_word="" reza"="" data-scaytid="37">Reza is so awesome heard were anything to go by, he certainly has added to his fan following.