Amrita Madhukalya speaks to four women with a need for speed and the drive to live their dreams.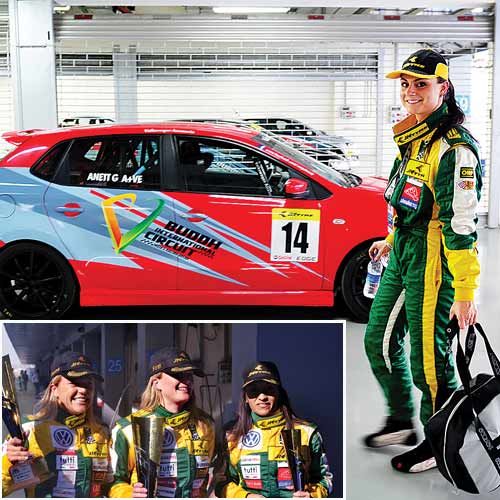 Last weekend, as cheers greeted young Chennai racer Vishnu Prasad's win at the inaugural JK Tyre Racing India Series, at the Buddh International Circuit (BIC) in Greater Noida, 10 (of a team of 14) women motor racers from the Netherlands, Hungary, Slovakia, Puerto Rico and Switzerland, also accelerated down the male-dominated track.
In the capital to participate in the JK Ultima Queens Cup, part of the JK Tyre Racing Championship, the Lotus Ladies (aged 16 to 41), became popular because of the efforts of 28-year-old supermodel Adrienne Benne, former Miss Hungary and a semi-finalist at the 2006 Miss Universe. "I started modelling when I was 16, but the monotony got to me. Friends at Lotus Motorsports in Hungary helped me organise the first Lotus Ladies Cup in 2011," says Adrienne, who has also been covering motor sports as a TV anchor for a while. The team was accredited by the Fédération Internationale de l'Automobile (FIA) in January this year, formally allowing them to participate in international races.
Anett György, the baby of the group, juggles school with racing. "I've been racing since I was 13, on go-karting tracks. I've been trying to join the Lotus Ladies for two years now, but because of regulations, I could join only this year," she tells me through an interpreter.
Sheila Verschuur, reigning champion at the Lotus Ladies, clocked 15:28.704 seconds to win the Queens Ultima at the BIC. Verschuur, who works for the Dutch army and learned the ropes from her racer father, strongly feels that racing is not just for men. "They say women cannot race, and we've proved that wrong. I've been champion for three consecutive years, and have
consistently performed better than many men."
You go girl!