A new chain of Chinese restaurants, China Bistro offers a refreshing menu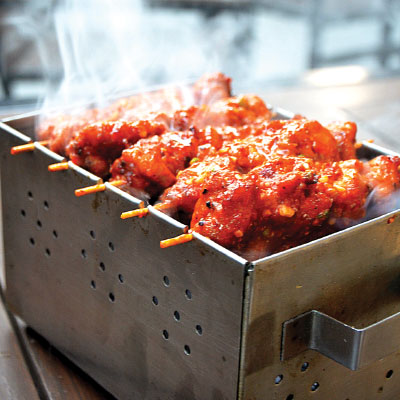 When you've had enough of remixed Chinese food, it takes a lot of goading and coaxing to revisit the cuisine. But with their food, China Bistro, at Worli, can win at least a few of the long lost fans of the cuisine, who wouldn't touch MSG loaded, spiced with artificial colours and oily dishes even with a barge pole. Because, their dishes don't have any of these. We can tell you that as we inspected the menu extensively. For starters, we ordered the Chicken Crystal Dim Sum (Rs 235), Fire Roasted Mandarin Chicken (Rs 275) and Chilli Basil Fish (Rs 315). We particularly liked the dim sums — they were light and the mince chicken stuffing, delicious. Kung Pao Vegetables (Rs 250) score over the Mix Veg in Hunan Sauce (Rs 250), for its healthy appearance — perfectly salted bright coloured steamed veggies is a rarity. Chicken in Hot Oil Sauce (Rs 285), was, as the name suggests, oily and spicy, but the Fish in Black Bean Sauce (Rs 335) worked for us.
We had our main course with Veg Butter Garlic Fried Rice (Rs 225) and Veg Hakka Noodles (Rs 215), but most of our food went better with the rice.
For the dessert, we asked the chef to recommend something, and he presented thin rolls dusted with coconut. Perhaps being unsure of what to expect made the chocolate fudge filled roles a tasty surprise. Those who don't like too much sweet would find the Coconut Spring Rolls (Rs 165) divine.
Overall, the food isn't any kind of a revelation of the ultimate Chinese for Indians, but great for those looking for a simple and good meal, or even a takeaway, that surely is not a compromise.
China Bistro has three outlets as of now, in Thane, Worli and Dadar