Is your son clamoring to get his hands on your iphone 5s? Or is your daughter refusing to eat without playing her favourite game on the ipad? You need to help your child find the right balance to embrace the real and virtual worlds, advises Sonali Gupta
Recently, when I was at a restaurant for dinner, I noticed a family— parents with two kids aged around 5 and 9 years. They barely maintained any eye contact and the only noticeable conversation was with their attendant. Everyone was glued to their respective iPads and cell phones. My heart sank as I watched this and wondered how the concept of 'family time' is fading.
Technology Tantrums
As a psychologist, I have seen clients, at the clinic, who have approached me with concerns related to their toddlers. Their complaints include: their kids don't eat meals unless there is a video playing on their parents' phone or tablet, not maintaining enough eye-contact while interacting with others.
We are in the age of digital revolution and especially over the last decade, consumers have invested in gadgets—smartphones, tablets, gaming consoles, portable gaming consoles, etc. Even at airports, everyone from a two-year-old to a 60-year-old can be found engrossed in the company of a gadget. Four-year-olds carrying their own iPads with matching bags, that seem to be specifically aimed at kids, is not a rare sight anymore. From a parent's perspective, a huge concern with kids and teenagers is learning to set appropriate boundaries and dealing with tantrums in relation to their mobile devices.
Boon or Bane?
The American Academy of Pediatrics has clearly stated that infants from 0-2 years must not have any exposure to technology. In the case of children from 3-5 years, it should be restricted to one hour a day. However, the lack of public parks, easy access to technology, poor or little monitoring has led to children spending more time with gadgets than what is recommended.
When I spoke to some parents about their views on this issue, I could hear strong voices of support and others worried about Gen Next. Some parents, on the condition of anonymity, mentioned how kids in the age group of 3-6 years, spend an average of three hours either watching TV or playing games on gadgets, in a day. This gadget time goes up to four hours, over the weekend. Renu, mother of a four-year-old girl, shares how her daughter knows the password of her phone. "In the absence of any park, sometimes it is easy to depend on a gadget," adds Renu.
However, there is no denying that applications on these devices provide learning about visual and auditory stimulation, developing puzzle-solving skills, improving vocabulary and phonetics and of course hand-eye coordination. However, this is just the tip of the iceberg. While in principle, children use them as tools of education and learning, in reality, gadgets have taken the place of an unpaid nanny or babysitter.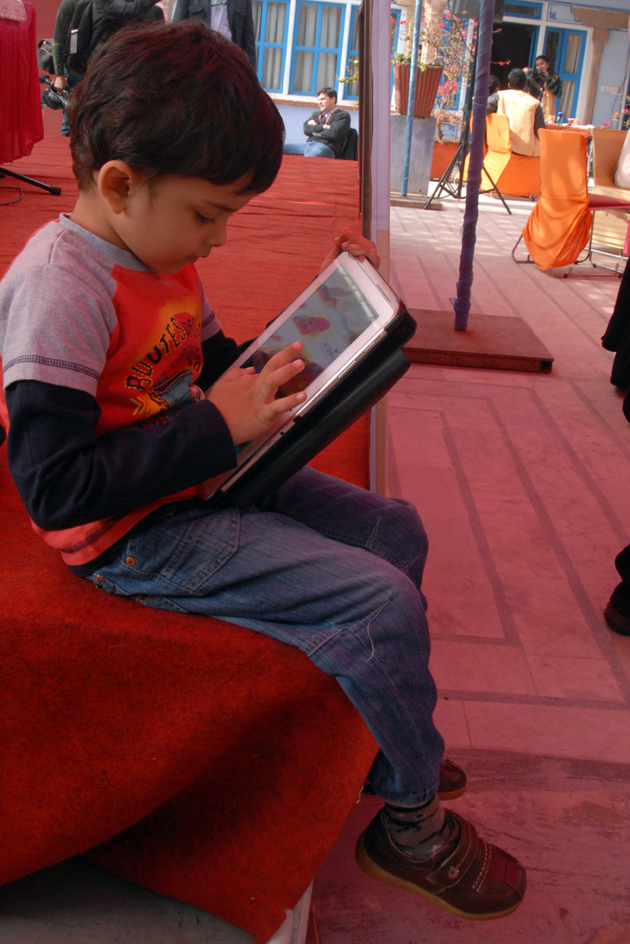 Talk to Me
Virtual interaction is what children prefer, today. The ability to find pleasure in a virtual world is distancing children from making real friends and developing real social skills.The process of making friends and learning to resolve conflicts empowers children to develop healthy social skills and develop empathy. Psychological research has shown that toddlers who spend excessive time with gadgets may show a delay in language development and also age-appropriate social skills. Metropolitan cities have seen a surge in childhood obesity cases and besides the usual suspects (junk food and TV), gadget addiction is clearly one of the culprits. While playing games or solving puzzles on an iPad, their brain is constantly overstimulated and this may impact their sleep cycle and lead to disturbed sleep. There is no longer a time where kids enjoy just being, not doing anything, just enjoying themselves.
Dr Bharat Shah, psychiatrist with Lilavati Hospital says "Specifically with teenagers, there have been few cases where parents feel that they are addicted to gadgets. The situation can be handled with parents setting appropriate boundaries early on when the child is young and modeling the behaviour".
According to research and reports, a new kind of technology tantrum is on rise—iPaddy. It is a new term making way into every mother's vocabulary. It implies an uncontrollable or sudden expression of anger or frustration in a child when the tablet is taken away from the child.
New research is now focussing on the withdrawal symptoms that children may have, when the iPad is taken away from their possession.
Digital Detox
Swati Rajgariha, a mother of two boys, aged 6 and 10 years, has a fixed 30-45 minutes screen time that her children have access to. This includes gadgets and television. "Being available at home makes a difference as I can engage with the kids, read to them and ensure they have at least an hour of physical play", says Swati.
Of course, gadgets cannot be avoided or discounted in today's day and age. However, the key to dealing with this is supervision and learning to use them moderately. There is a greater need for gadget-free time where families and kids interact and participate in shared fun-filled activities. We may not be far from a time, when children may need a 'digital detox'. Uma, a mother of two boys, has set rules for gadget time. "At home, my children have access to the laptop only on weekends for about 30 minutes." Uma and her husband consciously take holidays to resorts which are without TV and Wifi .They travel without gadgets and that is the best personal attention children can enjoy!
I recently overheard a conversation at the bus stop, where a six-year-old boy was sorely telling his mother, " I feel you spend more time looking at the phone, than me".
Maybe as adults we need to digitally detox to set the right example?
Sonali Gupta is a clinical psychologist with a private practice and conducts workshops on parents and childrens emotional well-being. Read more at www.therapysherapy.wordpress.com.Follow her @guptasonali