Are you man enough to pull off this major spring 2015 hue?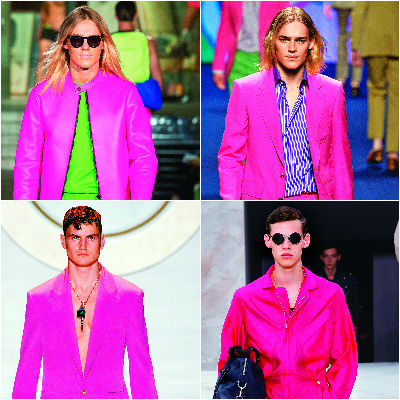 One look at Milan and Paris menswear SS2015 runways and one can see all-pink ensembles from Versace, Louis Vuitton, Dsquared2, Marc by Marc Jacobs, Etro, Kenzo and Jil Sander. Bright pink, jade pink and baby pink in separates, sometimes tonally layered from head to toe in ensembles or colour blocked with blue and green have made quite a sartorial stir. Let's learn how to rock it with finesse.
Arrival of the Uber-sexual male
Menswear designer Troy Costa, who did a cranberry pink suit in his last outing says, "The confident uber-sexual male has arrived who buys his own clothes, emphasises on looking better and decides his own closet and is not guided by his significant other."
Daring, really?
Designer Nitin Chawla says, "Pink has remarkably arrived on the male fashion scene, while it was once labeled effeminate and homosexual. in fact, pink is now making men appear more courageous and dynamic. Even though pink has been slowly but steadily finding its way back into male wardrobes, it remains stubbornly fixed in the "daring fashion" category, which is strange! Pink is easy to coordinate with almost every colour in your wardrobe. As we approach the warmer months, a pastel hue is always an appropriate and stylish choice; a blazer or a pair of trousers would be ideal for summer weddings or smart-casual events. Those wanting to make more of a statement should look toward bold, highlighter tones. Bright pink requires some confidence to pull off but it will bring a high fashion edge to one's wardrobe."
Opt for the right tones
Designer Lalit Sengar says, "One should choose shades of pink wisely and it can't be a shocking pink. Baby and vintage pinks are masculine and look good on men. The ubiquitous pink and grey combo is universal and you can go for it with your eyes shut. Other pairings can be pinks with grey, off-white, charcoal and one can also club magenta with blue. Pink also beautifully offsets a pair of camel chinos."
Accessorise with pink
If one can't commit to a more substantial item in pink, start small. "Ties, t-shirts, hats or a scarf with pink stripes would be the way to go. Take a timeless approach to this trend with a pastel pink blazer. Dress it up with a white shirt, a navy knitted tie and boutonniere for a wedding-ready look," adds Chawla.
Colours: Not gender-specific
Vikram Raizada, CEO of Tara Jewellers who wears a lot of pink says, "I don't see colours as gender-specific at all. Having said that, I'd like to add that traditionally Indian male colours were very bright with dyes being an integral part of our culture. In the Raj era, we got influenced by the British neutral palette of khaki, grey, black and white. For me, my choice of colour reflects my current mood or what disposition I want to convey on that day. It should be more influenced by the occasion, the industry you work in, the time of the day and the weather than anything else."