More and more couples are breaking away from traditional wedding cards and getting fun and quirky invites that reflect their personalities and tell the story of their romance, finds Shraddha Uchil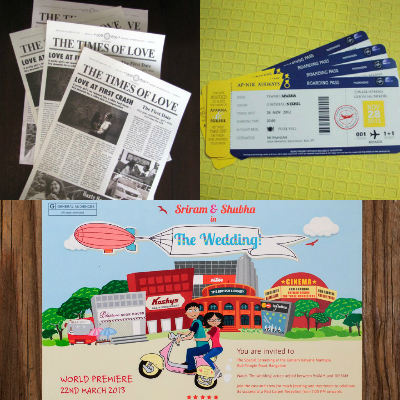 It all begins with the invite, of course. After all, where would the great big Indian wedding be without the elaborate cards that signal the beginning of celebrations? But the times they are a changing and after being flooded with a thousand seen-this-before wedding invites, every once in a while you can find in your mailbox wacky, innovative invitations that reflect the personal touch so many couples are looking for.
Like the card Gargi Shah and Mohit Thatte designed when they got married. "Initially, we met a card designer and told him what we wanted, but he ended up ruining the card. Finally, I sat down and made my own invite using basic computer tools like PowerPoint," says Gargi.
The result was a minimalistic yet detailed account of how the couple met, separated to study and finally decided to get hitched — something a traditional wedding card would never have been able to do.
Gargi and Mohit are not alone. An increasing number of couples are opting for cards that reflect their personalities and look happily different — bright, colourful, illustrated or even movie poster-like. And coming to their aid are a new breed of designers who enjoy customising invitation cards to suit the couples' needs.
"From creating an invite that resembled a movie poster to creating a 'Radha and Krishna' themed romance, we've had a lot of fun designing wedding invites," says Taaneya Balaji, co-founder at Bangalore-based Illustration Much.
Trendy and how
According to Taaneya, the trend of having quirky wedding invites has picked up in India over the last few years. "India is becoming increasingly aware of good design. With so much art and design inspiration online, couples definitely want to add their individual touch to their special day. Each of them asks for the invite to commemorate how they met, or have a little bit of their personalities in their invites."
Until four years ago, Debabrata Dey, who runs Hyderabad-based Thumbspark Creative and has done his fair share of designing out-of-the-box invites, hadn't heard of anyone veering off the beaten path when it came to wedding stationery. It was only after he designed his own invite — in the form of a comic book featuring him and his bride to-be — that requests for quirky invites started pouring in.
Since then, he has created one-of-a-kind invites — the most interesting being a tabloid-style one filled with stories about how the couple met and fell in love — for several others.
Delhi-based Vineeta Grover, who owns design firm Po Tweet, also jumped onto the wedding invite bandwagon after her self-designed engagement card turned out to be a huge hit with friends and family alike.
Included in her collection are invites that resemble flight boarding passes, cards with doodles and caricatures and even an invite in the form of a rocket box painted in loud, bold colours and with a kitschy Indian poster feel to it.
For those couples who have budget constraints or are living overseas, the e-invite has become a favourite. And if you believe that these invites wouldn't be worth a second glance, you couldn't be more wrong. E-invites include everything from static JPEGs and flash animations to web pages with detailed information about the wedding and animated GIFs (graphic interchange formats).
It was one of the options that Vineeta offered Shikha Davessar and Gaurav Bakshi. The Bangalore couple chose to go with a 'filmy' e-invite for their wedding in December last year. "The story of how we fell in love was very movie-like. We had rejected each other on a matrimonial site and gone on to meet a few other potential matches. But during that time, we grew close as friends and eventually, the friendship turned into love. After all that, it only made sense to have a movie poster for a wedding invite!" says Shikha, an advertising professional.
A niche market
Though the trend is picking up, getting non-traditional invites for your wedding is still primarily a Western concept, believes Debabrata. Vineeta agrees and says, "A lot of couples send out the funny invites to their friends and younger cousins, but they usually print separate cards for family members."
The reasons for this, she observes, is that parents of newly-weds usually foot the wedding bill. This means that the couple doesn't really have much of a say in what goes into the planning of their big day.
"There is not much appreciation for wedding invite designers. While photographers earn a lot of money during wedding season, the same cannot be said for us," says Debabrata.
This, most likely, could be attributed to the fact that the older generation doesn't see eye-to-eye with the younger lot and won't understand why they must spend so much when a traditional wedding card picked out of a catalogue would cost a fraction of what designers charge. The designers, in turn, argue that something that involves creative input and time on their part would obviously be more expensive.
Taaneya explains how the process works at their office in Bangalore. "Once a couple approaches us, we set up a one-on-one meeting. We discuss their personalities, how they met, the wedding details and look over visual references that have already caught their eye. We usually come up with ideas together, or list down ideas they have."
"After we've settled on the aesthetic of the card, we start the rough drawings, final illustrations and then complete the project with a final design layout. We also take part in the printing process if requested," she adds.
While the prices quoted by Illustration Much depend on a client's requirement and vary tremendously, Po Tweet's Vineeta charges between Rs7,000 to Rs20,000 for invites.
Although the market for unusual wedding invites is still niche and has some way to go before it becomes the norm, things can only get better as more and more couples realise the need to personalise their wedding.