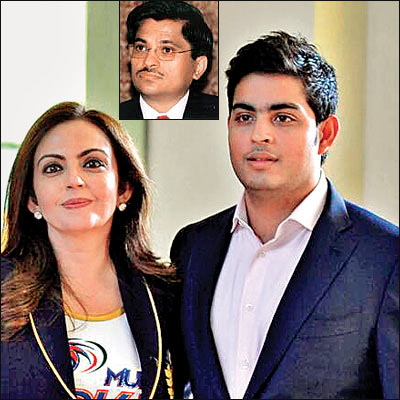 Could Dhirubhai Ambani have achieved even more success if he had not been denied higher education because his parents couldn't afford it? At least he insisted so, which is why he was extra keen to send Mukesh to Stanford and Anil to Wharton. Ironically, 24-year-old Mukesh never completed his course because his father called him back to anchor his dream project, the Patalganga plant. It's almost as if history repeating itself - Akash, who had only completed his undergraduate course at Browns, was called back by Mukesh to join the team preparing for his dream project, the 4G rollout.
After interning briefly with some departments to get a broad understanding of the behemoth conglomerate's many businesses, for the last several months Akash is now in the thick of things in the telecom project and being directly mentored by one of Mukesh's most trusted lieutenants Manoj Modi, who is helming it. Incidentally, Modi was the man who helped set up the first telecom venture of Reliance, which of course later ended up in Anil's kitty.
We hear that Modi's visiting card carries no designation and while he officially does not head any business, he's considered a part of the family and is second only to Nita Ambani in terms of influence within RIL.
So far, even Akash has not taken on any official designation in the company - though that could change almost any time this year. "There are two views of life, the helicopter view and the one you get when you get down into the water for a real feel, swim in it," Nita Ambani had once told this diarist. Though he's tried to avoid making a loud splash before he gets more comfortable in his new role, but Akash Ambani has taken the plunge.