Fall 2014 looks like a citrusy palette.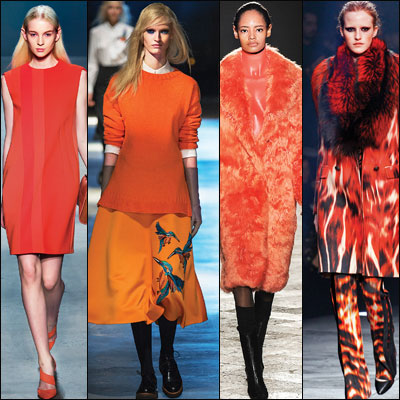 If NYC, London and Milan Fall 2014 collections are a yardstick to go by then Fall 2014 is all about the orange palette. Burnt orange, flickering flashes of rust, fruity tones and soothing ombré — this colour has dazzled the ramps at Narciso Rodriguez, Franceso Scognamiglio, Preen, Betsy Johnson, Giles Deacon, Alberta Feretti and Zac Posen. After Hrs spoke to Indian designers if this Indian staple will be a major trend in the domestic scenario too.
A powerful colour
Designer Nikhil Thampi says, "This year orange has broken the stereotypical rules on the runway. Orange as a colour has allowed for experimentation with new looks and combinations this Fall season. From strong bold statements to soft feminine looks, its versatile tones make it an ideal pick for Fall 2014."
Big in India as well?
"For sure, though not many people own orange as a colour, however, if you mix saturated colours but stick to the same tonal family such as red for instance, it's a fabulous recipe for a great look. The uniqueness of this colour is that it ranges from sophisticated to lively and fun and can add that particular element that's been missing from ones wardrobe," adds Thampi.
Feisty and festive
Designer Surily Goel says, "I do see burnt orange bordering on a bright red as a very important fall colour. Orange and red are definitely big in India as they are festive colours and at the same time complement the Indian skin tone!"
Designer Varun Bahl adds, "Bright colours do seem to be the trend this year. Red and shades of orange are going to be strong this season. These colours have always been strong in India, rather internationally it has been adopted from our palette."
Love affair with tangerine
Asmita Aggarwal, fashion columnist says, "The love affair with tangerine has continued the world over for a little over a year. Maybe it is due to the vibrancy the hue brings along with it. Internationally the colour is big, it represents growth and vivacity. It is a hue that will linger on like a fragrant memory on global catwalks. It will again be seen in India, as we as a nation love everything bright and beautiful; fruity colours are making a swift comeback. I do not think India works according to seasons, unlike the West. So there is always an overlap of themes and references."
Fall: The new Spring
"Globally the Spring colours are being accepted as Fall colours as well. The trend forecast over the years has gone through a visible change and this is well seen through the colour palette mixes over time," adds Bahl while Thampi says, "The colours work as a transition into the season. Peoples' preferences are changing and they are becoming bolder in their approach. One can recently see how consumers and designers are experimenting with different colour palette, thus leaving not just one colour for the entire season."