He learnt Urdu and soon mastered it to know the real voice of the people, Japanese scholar and shaukiya shayar So Yamane tells Manisha Pande. He even offers to translate for her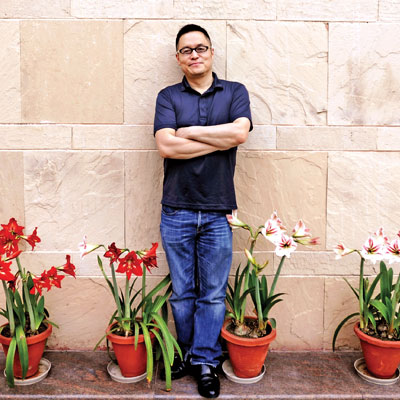 He loves 18th century poet Mir Taqi Mir and Bollywood, writes on love and loss in Urdu and was a great friend of the late Nusrat Fateh Ali Khan. Japanese scholar So Yamane also insists on speaking only in chaste Urdu.
"My work is in Urdu so I will speak in Urdu," says the shaukiya shayar, making it clear that he will not speak in English. In a role reversal of sorts, the 50-year-old, who teaches Urdu at Osaka University, offers to translate words I don't understand.
Feeling a little sheepish at my lack of proficiency, we begin talking. Yamane, who was here as one of the poets taking part at the annual Jashn-e-Bahar mushaira in Delhi last week, recited his couplets to an amazed audience. "I like the look of utter disbelief on their faces when I begin speaking in Urdu," he says, adding that people instantly warm up to him when he switches to the language.
Yamane's interest in ghazals sparked off when he read Mir. He is familiar with most Urdu poets, part of his process of learning the language, but began writing only recently.
Modest about his many achievements, the professor says he began learning Hindustani when he was 18. "I read works of Indian authors writing in English and translations but felt the only way to get to know a country and its people is by reading their literature in their language — to know their real voice."
Urdu, he says, has been taught in Japan for over 100 years. The Urdu department in Osaka University is about 90 years old and the one in Tokyo University about 105. Yamane teaches the language to about 20 students each year. "Some come to learn after watching Bollywood movies, others come just for a degree but most end up falling in love with the language," he says.
Yamane has travelled extensively in India and Pakistan, where he struck a deep friendship with late Sufi singer, Nusrat Fateh Ali Khan. "He would ask me to click his pictures with my Japanese camera, one of which was also used as an album cover," he says.
Differentiating between romantic, philosophical and political Urdu poetry, he recites one of his couplets on the familiar theme of love and loss. I ask him if he drew his inspiration from a real-life mashuka. He smile and says perhaps. And what does he make of the most celebrated theme of sharaband saaki in shayari? He laughs and says: "Mujhe bahut pasand hai peena aur pilana."
Yamane feels giving grants and talking about saving language and culture from a distance is not enough. "You have to embrace the language and its cultural ethos and feel proud about it. In Japan, we have a lot of outside influences but we remain proud about our language and culture. That is what is important," he says.
Yamane also travelled to Patna recently to take part in a mushaira and says he was pleased to see so many young people attend it. "You'd think only old people would come to such events, but it was nice to see so many young faces. I think Indians do care about the language."
And though people may have complains about "filmi culture" diluting the language, he feels it's great to hear Bollwood songs with a few odd words of Urdu thrown in. "I am also a great fan of Gulzar," he says.
Yamane likes to show Bollywood films in his class to familiarise his students with the language, its people and contemporary culture. "I showed 3 Idiots to my students and they were in tears after watching the film," he says. The professor travels to India and Pakistan every year. Does he ever plan to publish his own book of Urdu couplets? He laughs off the idea and says, "Mujhe maaf kijiye, main bahut mamooli shayar hoon."