The petition floated on social action website www.change.org, has already received over 7,000 signatures and is growing.
Often referred to as the fairer sex, women have always been associated with beauty, petiteness and a fair complexion. But this association has evolved into a stereotype that women today find hard to escape.
While this fascination with light skin is prevalent world over, we in India are best known for our obsession with fair complexion where every matrimonial ad reads "Wanted a tall, fair and beautiful girl for our son" and where parents of girls with a darker skin tone spend sleepless nights worrying about finding grooms for their daughters.
This is where fairness creams come to the rescue. These 'magical' products not only promise a fairer you, but also a successful career. Remember a commercial that shows a talented but dark girl winning a singing competition after using a certain fairness product.
However, the obsession with fair skin has reached new levels as now men too are being targeted by such companies.
Voicing concern about this seemingly harmless but dangerous trend, Women of Worth's campaign called 'Dark is Beautiful' has petitioned Emami, the makers of Fair and Handsome cream for men, and actor Shah Rukh Khan to stop running ads for the product.
The petition floated on social action website www.change.org, has already received over 7,000 signatures and is growing.
A recent Fair and Handsome ad (see video, below) shows SRK telling the viewers that he became a superstar because he wanted more out of life.
And what helped him realise his dreams is Fair and Handsome cream. The ad then shows the actor tossing a tube of Fair and Handsome towards an aspiring young man.
"Could this ad be telling our nation's youth that success depends hugely upon fairness?" asks Kavitha Emmanuel, director of Women of Worth (WOW).
Objecting to the ad's suggestion that fair skin is essential to success, the petitioners have urged the makers to stop marketing such products through "unfair" and "discriminatory" advertising.
Emmanuel adds, "Isn't the baton we wish to toss to our nation's youth one that says yes to dreams and hard work, and no to discrimination that makes skin colour a liability? More than half of India's population is under age 25. We don't want to see this generation grow up believing that they need fair skin to succeed."
A part of the petition reads, "While the re-launched "Fair and Handsome" claims to offer "more" of what the Indian consumer wants, the reality is that we have had enough of products aimed at lightening Indian skin. While the product has more sunscreen, more oil control, etc., why is fairness still the main attraction?"
With actors such as John Abraham, Katrina Kaif, Shahid Kapoor, Sonam Kapoor and Deepika Padukone endorsing skin whitening products, the campaign has found a supporter in actress Nandita Das.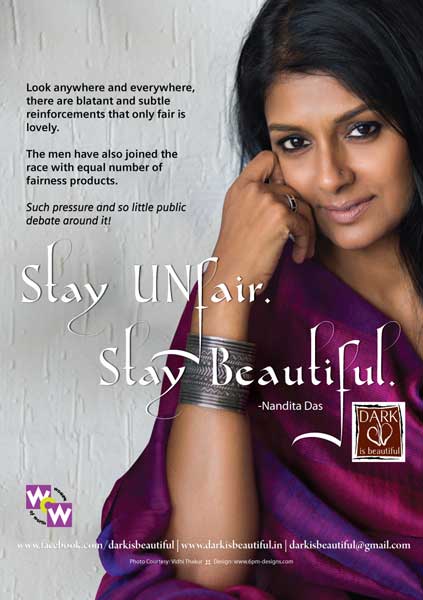 In a blog post titled, 'When Fair is Lovely', the critically acclaimed actress has observed, "Now the insecurities of men are also surfacing with equal number of fairness products for them. Such pressure and so little public debate around it!"
However, Emmanuel clarifies, "This is not an attack on brands or brand ambassadors, but on the toxic belief that only fair skin is beautiful. As a nation, we all need to take the responsibility to bring about change. We are hoping that Emami and Shah Rukh Khan will lead the change in celebrating every shade of beautiful. We're sounding a wake-up call to all brands; it's time for responsible advertising."
Worried about this disturbing trend, Kalpana Abhijith, a freelance architect at design dynamics, has launched a similar petition against fairness creams via http://www.avaaz.org/.
The petition, 'Stop advertising fairness creams', addressed to the Government of India, has garnered over a 100 signatures.
On the Facebook page dedicated to the cause, one Julius DeSilva has posted, "Fairness is given too much importance .... Have always hated the fact when a child is born and the first thing people say is 'kitna gora hain'. Like the child being born healthy didn't matter. This is a small step in the right direction if we end up making a difference somewhere.
On a blog post, Kalpana writes, "There is a larger issue. Are these ads rascist? Is being fair an advantage? Why is it so? Should it be so? Its a viscious circle but now the tables have turned. These commercials ensure that our children remain caught in the cycle of thoughts, reinforcing bias based on skin colour."