Not just in the temples, but in music, dance and the popular arts too! The remover of all obstacles, the mighty Ganesha whose season of celebrations begin tomorrow, appears to be the muse of all beginnings, as artistes across genres unfailingly invoke his blessings before their performances. Yogesh Pawar reports...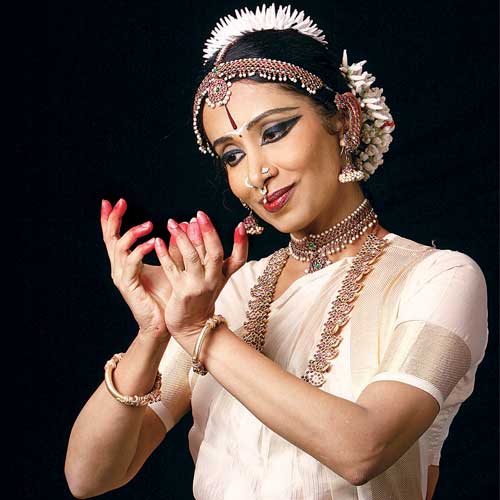 Mudakaraatha Modakam Sada Vimukti Saadhakam / Kalaadharaavatamsakam Vilasiloka Rakshakam / Anaaya Kaika Naayakam Vinasitebha Daityakam / Nataasubhasu Naashakam Namaami Tham Vinaayakam.
I salute that remover of obstacles, who has modakas in his hand, who bestows salvation / Who wears a crescent moon on his head / Who protects this world which is varied / who is the leader of those who cannot be lead / I bow to Him who is the cause of destruction of asuras and who destroys all things which are not good
Mythological musician
Pandit Jasraj's voice invoking the God of all beginnings in a 2,500-year-old Adi Shankaracharya composition on the music system adds to the atmosphere the many bronze and brass Ganesha idols create at a Tamil Nadu handicrafts development corporation exhibition in South Mumbai. Manager Anand Subaiyya is supervising the display of exhibition's piece de resistance - the 16-idol sculpted-in-stone set which forms the shodasha upachara Ganesha explains. "The worship of Lord Ganesh involves a 16-step puja representative of the various forms of reverence. These idols are made strictly in keeping with Ganesh Purana prescriptions by artisans who don't only see their work only as a means of livelihood but as devotion too." He adds with lament, "Unfortunately, the younger generation is not taking up sculpture as they find it less lucrative."
Despite his valid concerns, the serenading alaapi in the background by the Mewati maestro makes ones thoughts drift back from the routine to the elephant-god. The music travels with us as we travel from South Mumbai to the classical vocalist's Lokhandwala residence. "Shiva is the Adideva (the first among Gods) and his son Ganpati the leader of Ganas. So its understandable He commands respect from all. Besides who better to invoke than the Lord with the expertise in 14 branches of knowledge and 64 art forms to begin a performance?" asks the legend whose personal favourite is his late father and guru Pandit Motiram's raga gaud-sarang composition praising Ganesh which he demonstrates.
Divine dancer
Over a thousand km away, Bharatanatyam exponent Alarmel Valli, conducting class, seems tied to the same devotional thread. While explaining the origin of the jati chol kattu or bols (rhythmic solfa syllables like ta-da-gina-thha) to students she narrates a story she heard from late archaelogist T N Ramchandran. "This shows how primordial Ganesh is to dance." Legend has it that once Shiva was doing the tandav (Shiva's cosmic dance to restore order) when he was joined by his consort Parvati doing the lasya (the feminine principle in dance). Katrikeya, the elder son decided to join in with his mount -the peacock. Feeling left out, his younger brother Ganesha too joined in swaying his trunk rhythmically. Scared of the peacock's proximity, a serpent coiled around Shiva's wrist slunk away to hide and crawled up Ganesha's trunk. Unwilling to break the dance routine suddenly, He made sneezing sounds like taam, thoom to dislodge the snake. These emerged as the rhythmic sounds that accompany classical dance across genres.
Valli says there are a profusion of compositions devoted to Ganesh which are used as an invocatory prayer in the beginning of every performance because of His manifestation as the benign and benevolent remover of obstacles. "On my way out of the house, I too always pray at the small Ganesh temple down the lane," admits the danseuse legend who has a huge collection of Ganesh idols in terracotta, wood, stone and bronze in her house.
Lord of the masses
Yet, it is not like Ganesha's shadow looms large over classical music and dance alone. At any Ganesh pandal, along with the newer chart busters like Deva Shree Ganesha (Agneepath 2012) and Sada dil vi tu (Any Body Can Dance, 2013) the number which plays out maximum is Deva Ho Deva Ganpati Deva from the 1981 multi-starrer Hum Se Badhkar Kaun. Ravindra Rawal, the lyricist who penned the ever-green ditty says he'd never imagined it would catch popular imagination the way it has. ""I was told that the situation was of thieves trying to steal a diamond from the Lord's crown at a pandal and how the hero foils their attempt. I simply wrote to the situation given. This is only an indication of how much Ganesh as a God holds sway over masses."
The extent of what Rawal says comes across in the fact that Shankar Mahadevan's rendition of the traditional shloka Ek dantaya vakratundaya gauri tanyaya dhimahi in Mahesh Manjrekar's Viruddh continues to be the most downloaded song since 2005. Modestly, Mahadevan folds his hands and calls this Ganesh's blessing. "Everything I have ever achieved is His doing," he says.
Incidentally frantic preparations were on in Mahadevans' Navi Mumbai household to welcome to Lord on His annual visit. In keeping with the mood, Mahadevan hums the traditional Muthuswamy Dikshitar composition Sri Maha Ganapathim Manasa Smarami...
The Mighty God
# Total number of Ganesh pandals in Mumbai 10,190 with collective turnover of Rs 125-150 crores per year
# First references of Ganesh worship in Western India come up in the Shalivahan era (Circa 78-102 AD). Many regions fell under elephant corridor connecting habitats in Central and South India. As more and more areas were brought under agriculture, this heightened man-animal conflicts, as still seen in southern Sawantwadi.
# Worship of Ganesha gained popularity in the reign of Shivaji and grew into a whole ashtavinayak pilgrimage under the Peshwas who were big time Ganesha devotees.
# To get around the British rulers' diktat disallowing large assembly of people, Bal Gangadhar Tilak struck on the idea of sarvajanik Ganesh celebration in 1893 and installed the first idol at Keshavji Naik chawl in Girgaum. A whole 120 years later, this unbroken tradition has endured.
# The biggest draw in Mumbai is the mill district's Lalbaugcha Raja. The towering idol seated on the throne has not seen a change in form from 1934 when it was first installed. Over 1.5 million devotees brave 18-20 hour queues through the 10-day festival.
# In 2012, cash donations at Lalbaugcha Raja were in the excess on Rs 10.2 crore, while gold donations amounted to an additional Rs 3.8 crore.
# On immersion day Lalbaugcha Raja's procession takes between 12-14 hours to cover the 7 km route from Central Mumbai to Girgaum Chowpatty and is among the last few idols immersed in the sea.
#While the RK Studios in Chembur sees one of the oldest Ganesh installations started by the late showman Raj Kapoor himself, other Bollywood Ganeshas which attract a lot of attention are the homes of Nana Patekar, Salman Khan and Ekta Kapoor.
#The festival sees a record number of drummers (dholwalas) migrate to the city from Nashik, Manmad and Pune as most processions are accompanied by live dhol and cymbal ensembles. In what lends a secular ethos to the festival many of the dhol players are Muslim youth.