Designer Payal Singhal, who recently launched a festive line for children, talks about the challenges of designing for kids.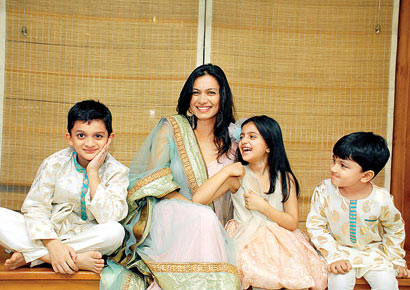 For Payal Singhal venturing into children's wear wasn't just about cashing in on the growing kids wear market. She wanted to create a unique line that provides options for those who shop at high street brands like Zara or GAP.
"We've been passively working on our kids wear line for more than a year, as mothers who shop with us started asking for similar clothes for their sons and daughters. The challenge was in the feedback, kids wanted something that was practical, wearable yet stylish," says Payal, who observed and learnt from her own son Sumehr. Her current festive line, deviates from the typical traditional wear for kids with bandhini work and in vivid shades of red and green. Instead, hers is more fusion wear with bubble dresses with leggings for girls and graphic kurtas with bursts of young colours like cyan and lime for the boys. In Payal's signature style, each outfit can be worn four different ways with detachable neckpieces for girls, dresses that can be worn solo or with a dupatta for the desi touch.
"I've observed that kids generally hate Indian wear as they feel very hot and uncomfortable in them. Keeping that in mind, I went low on embroidery, and stuck to more funky elements in colours and designs. Further, price points were important. Since children tend to outgrow clothes quickly, we had to keep them pocket-friendly," adds Payal. Explaining her growth, from adult to kids wear, she says, "Women who started shopping with me in their early 20s are now all mothers now, as am I, so it was a natural progression."
Currently, the designer is busy with her bridal line, an Indo-Western and kids wear collection but soon plans to try her hand at menswear. She feels her designs stand out as they're "a lovechild of an Indian and Western person," something that's Indian, yet less traditional and more contemporary. "I'm also working on expanding my label in the online space as there are many NRIs and net-savvy Indians who seek such designs," ends Payal.