The weekend I'd been waiting for finally arrived. It was time for Crooners of the Night—a trek to Thanale Caves with Travel Master Gogo. As an amateur trekker and camper, my first night trek, with an acoustic band performance high in the mountains gave me different kind of high.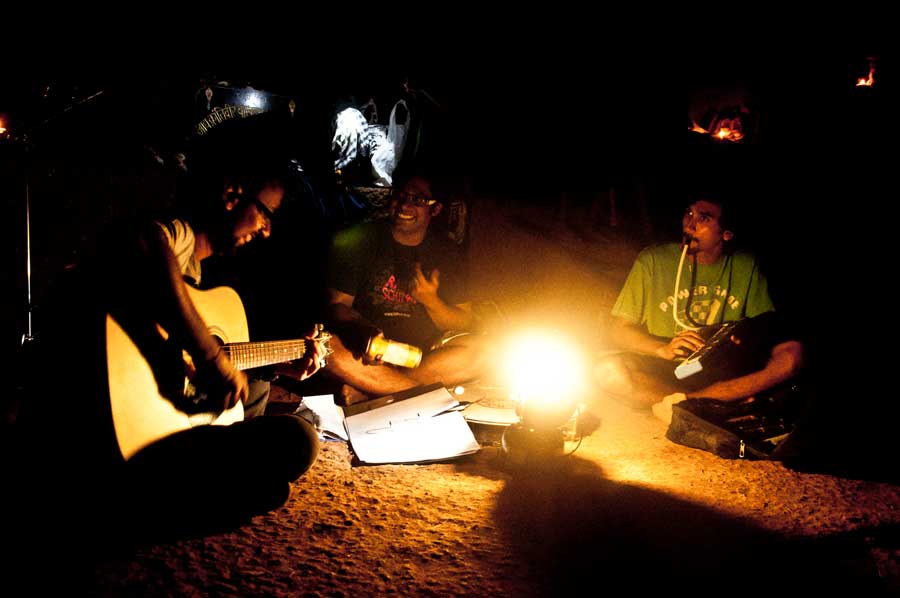 An acoustic band performance in a cave high in the mountains. Image Courtesy: Avril-Ann Braganza

On reaching Thanale village, in Sudhagad near Pali, the wheels in my head started turning—How will my little bod carry this big bag to the top? If I roll down will someone have my back? Will I return with cuts and scars? But the heart ruled over the head. Finally, an opportunity to camp!

Before setting off on our trek, we enjoyed a delicious and simple dinner at one of the locals' home. Armed with flashlights, we began on our mission, to get to the caves(1,200 feet). Some of the oldest in India, they date back to first century B.C. Spotting fireflies, scorpions, ant-hills and wild saffron by the glow of our torches, we traipsed through the pitch black forests on flat and uneven terrain; sometimes on one-foot-at-a-time paths and at other times wading through knee-deep streams. The only sounds accompanying us were—the gushing water that we couldn't see, chirping crickets and our local guides calling out to one another, keeping us together.

We finally accomplished our mission at 1 a.m. A downpour made the already narrow and slippery path to the main cave, unsafe. With a steep drop below, we climbed across the partitions to our cave. After a quick change into dry clothes, we gathered around our three piece acoustic band--Kunal on guitar, Alok on flutes and pianika and Nelson on the hand drum. A few popular English and Hindi songs later, we were dancing around a kerosene lamp. At 5.30 a.m seven of us were still singing, oblivious to the other sleeping campers.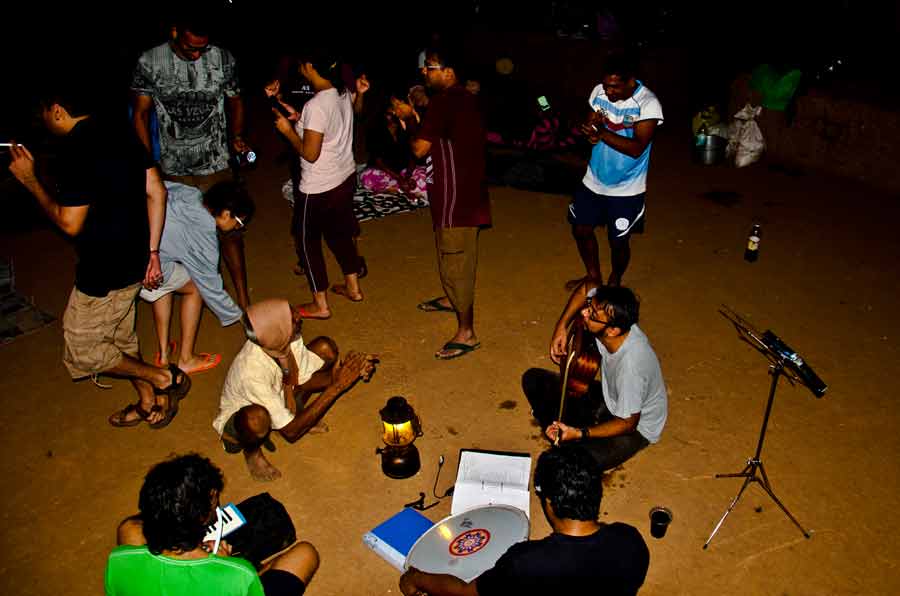 Dancing the night away-. Image Courtesy: Avril-Ann Braganza

As the morning rays filtered into the cave, sleepy heads popped up and snores turned into stares, caused by the stunning view of the green valley and dense forests around us. For a city slicker this was a refreshing change. Soon after a breakfast of piping hot poha and black tea, we started our journey down only to stop at a waterfall for a dip.

At end of our trek, a few hours later, our legs were sore but the heart was left longing for more. We ate a quick lunch of bhakri and zunka at the villagers' home, and said our goodbyes.

Travel Master Gogo organises Crooners of the Night every two months at different locations. For further details check www.facebook.com/TravelMasterGogo