Sporting a full beard, Britain-based Harnaam Kaur boldly defies the stereotype of what a girl ought to look like. She was once self-conscious and almost suicidal but found strength and grounding in Sikhism, finds Averil Nunes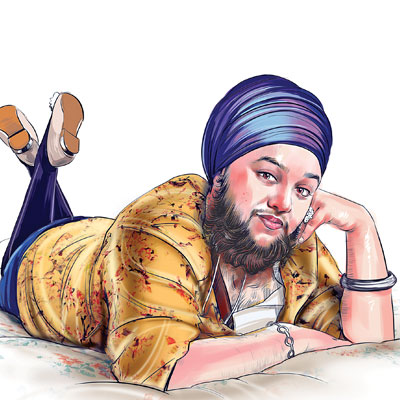 Expressive eyes, a ready laugh, a gentle voice… she would be really pretty if she shaved that beard, you think. But then, as our Skype conversation gets underway, she says, "My beard gives me confidence." Yes, it's time to rethink old stereotypes and prejudices of what should be and shouldn't.
"I'm more social, more confident, happier," says 23-year-old Harnaam Kaur, who at one point didn't want to leave her home in for fear of how people would react. The nursery school teaching assistant at Slough, Berkshire, about 20 miles west of Central London was diagnosed with polycystic ovary syndrome (PCOS) at 11; the accelerated hair growth on her face meant there were times she waxed her face twice a week. Ouch! But that was not the most painful part. 'Beardo', 'shemale' and 'sheman' — we all know how cruel secondary school kids can be — were just some of the insults flung at her as she was growing up in. "It got to the point where I had enough of feeling like rubbish and wanted to end my life. But it takes a lot of courage to end your life, right?" recalls Harnaam, who was not quite ready to lose her family, her friends and her life.
She would get furious with people who stared or asked about her facial hair. "Then, I thought to myself, hold on a second. They are asking because they genuinely don't understand. It's weird. People see my beard and then hear my girly voice; they start looking around my face, at what I'm wearing and wonder, is that a man in a girl's clothes or a girl with a beard who also has breasts..."
The once reserved, self-conscious Sikh girl, who rarely spoke her mind or laughed out loud, found strength and grounding in her religion; more when she decided to become a baptised Sikh, which meant strictly following the code of conduct, including not cutting her body hair. "Now, I'm just myself. I go out with my friends and have a laugh. I like to flirt with guys, regardless of where I am and what I'm doing. If someone's walking down the street and they say something, that's just two seconds of my life."
Given that she can't enter a public loo without someone telling her, "Sorry, you're in the Women's!", she has learned to bring humour to awkward situations by replying in her best bass voice, "No! This is the Gent's!"
But it's the curious observations of the children Harnaam works with, as a teaching assistant, that make her day. She recalls some of them with a smile — 'My dad has that too. He shaves his!', "Is that your Halloween costume? Where did you buy it?'.
"When the semester started, they had a lot of questions. Sometimes they have hilarious comments. Mostly, they've come to terms with Miss K having a beard."
Many questions also troubled her family when she decided to get baptised. How will you find a job? What will people say? Who will marry you? But she reassured them she would be okay. And she is. "In the UK, people are more open-minded. I think I'm more accepted here, than I would be in India," she says.
"Being baptised has given me discipline, courage, strength and confidence that I didn't have before. The teenagers who were baptised with me accepted me. They taught me how to accept myself," she explains. Of course, life is not perfect. Her choices have caused her to lose friends along the way. There are still people who tell her she looks horrible and others who say they wouldn't send their children to the school she teaches. What's changed the most, she says, is probably "the way I perceive myself. I've realised that we're all different; there is no 'normal'".
"Being a woman has nothing nothing to do with looks," says Harnaam, who loves to dress up, accessorise with rings and necklaces, go shopping and get her nails done as much the next girl. "No facial hair, slim, tall, lovely hair, make-up done to perfection — that's the picture of a woman that the media, newspapers and magazines sell and that men (and women) seem to believe is real. I'm all for people being who they are; but it has to include women who don't want to be hairless, and don't want to wear make-up."
Taking a stand has gotten her a few online death threats, but it has also gotten "overwhelming" support from around the world, across Europe, Africa, America and the land of her ancestors, India. People who have been bullied write in to tell her how her story has boosted their confidence and helped them to accept themselves.
Her life is as 'normal' as it could be. She wakes up, goes to work, comes back, cooks... She's into R&B and hip-hop and is a fan of Beyonce, Kanye West, Jay Z, Lady Gaga, Rihanna and Eminem. Horror is her favourite movie genre with Insidious and The Conjuring topping her list. While she doesn't read a lot, some books have blown her away. Khaled Hosseini's A Thousand Splendid Suns is one of them. You're unlikely to find her hitting the gym or the running track; running around with the three-four-year-old children at the nursery exhausts her quota of physical activity for the day. Chilling out with her brother, nibbling pizza on movie nights, shopping, spending time with friends and meeting new people are high on her list of life's pleasures.
What's her take on romance? "I've had a lot of interest from guys, but they are in different countries, so it's a bit hard to go and meet them. I hope to get married one day. The average age for Indian girls to get married is 25-26, so I still have two-three years left. But right now, I'm just concentrating on work and have no time for a boyfriend".
Given that we had to go through her agent Barcroft Media to get an interview with her, we're curious if there's a book in the writing. But Harnaam says she's more intent on starting an anti-bullying campaign for kids and is hoping to make a short film on bullying.
While her brother, who has been her staunchest supporter, will be heading off to university later this year, Harnaam is taking things one day at a time. "I'm just going to stay a teaching assistant for now and see how my world revolves. I've got a few ideas, but there's nothing set in stone".