Shehzad Zaveri, Creative Director at Minawala Jewellers, picks his fave pieces, which are bound to leave every bride wobbly-kneed.
Shehzad Zaveri
With a style that is synonymous with luxury and excellent craftsmanship, Shehzad Zaveri has carved a niche for sophisticated jewellery
Ring in a croquembouche style with emeralds and diamonds in 18 K gold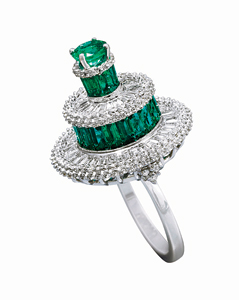 Croquembouche has its origin as a fanciful, edible architectural structure displayed on the medieval tables of the French royalty and nobility. This ring holds the potential of joy, celebration and unity of a glorious future. Croquembouche is a wedding cake on the finger. It signifies the most beautiful day in a bride's life.
Earrings crafted in yellow gold with amethysts, diamond and ruby 'baguettes'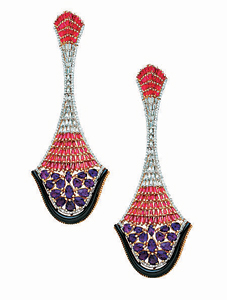 Undulating, colourful amethysts, diamond and ruby 'baguettes' set in yellow gold and bordered with custom-cut black onyx hypnotize and mesmerize the viewer. These earrings are my tribute to the glamour and joie de vivre of the women of the world. I like this piece mainly because it brings a lot of attention to the lady wearing it.
Ring in pink gold studded with diamonds and rubies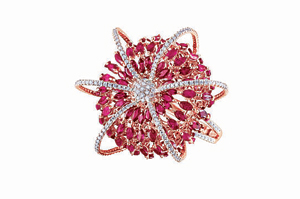 An attractive combination of vitality and glamour, this creation stands for innovation and excellence in design. The intricate design sensibility along with the artistic formation makes this ring a novel one. I crafted this ring for the presence it creates on a lovely finger.
Pendant in 18 K yellow gold with diamonds and rubies
This piece called Ranthambore is an ode to the tiger. The number of tigers is dwindling increasingly due to various activities of humans. This is a sign to save tigers, for all of us to be awake and create awareness. The tiger skin enamelling is painted with minor detailing along with shading. I created this piece for my love for tigers and to see how we can incorporate this majestic animal in our jewels.
Cuff in white gold detailed with diamonds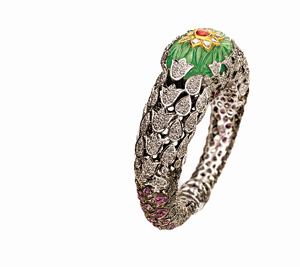 This luminous cuff with incomparable beauty and excellence in craftsmanship is a noble attempt of the artist to truly capture and illustrate the beauty of lustrous diamonds. I love this cuff because of its grandeur and the glamour that it brings.
—Compiled by Manish Mishra